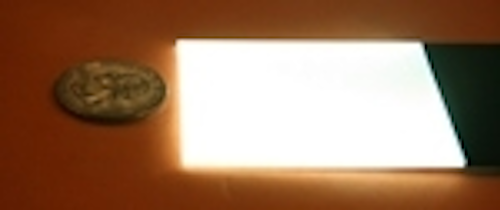 Oree, the Israel-based developer of planar solid-state lighting (SSL) technology, and Future Lighting Solutions, a distributor of LED lighting components and support services, have announced a worldwide distribution agreement.
As a result of this agreement, Future Lighting Solutions will market, sell and support Oree's LightCell products to customers around the world. The LightCell is a thin, flat and uniform SSL source with an illuminated surface measuring 50 x 50 mm. Oree says the product is ideally suited for decorative and architectural lighting applications.
The first LightCell products are being offered in color and tunable white versions. Samples will be available from Future Lighting Solutions in March.
"The Oree LightCell is an innovative light source that enables designers, architects and lighting manufacturers to develop new applications," said Jamie Singerman, Corporate Vice President of Future Lighting Solutions. "Oree's technology is a lighting system that enables customers to create thinner, evenly illuminated surfaces with design flexibility."
"This agreement allows Oree to offer target customers easy access to our products through Future Lighting Solutions' global network of expert sales and technical representatives," said Eran Fine, Founder and CEO of Oree. "It also provides Future Lighting Solutions with a different light source that will enable its customers to explore new applications."
Planar lighting delivers large, flat, uniform surfaces of light in a highly-efficient way while enabling full control of colors and illumination patterns. Planar lighting is ideal for applications and projects in environments where there is a lack of physical depth or space for lighting fixtures, and where uniformity and thin form factor are an advantage.