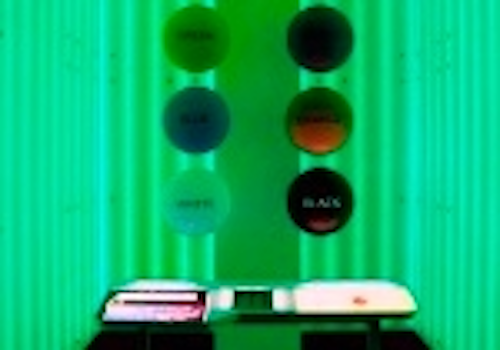 A new interactive exhibit that is part of the Science Storms exhibit at the Museum of Science and Industry in Chicago, Illinois, seeks to explain to children and adults how people see and perceive all colors, and color changes, owing to differences in the wavelength of light. The exhibit further shows how light reflects, yet also creates shadows, while demonstrating how light behaves when seen through dichroic filters or mirrors.
Using slider controls on a DMX center console, visitors can adjust red, green and blue (RGB) LEDs to view how colors change and mix in nearly limitless combinations. The 15-foot-high x 9.9-foot-wide, 9.9-foot-deep room features translucent, vertically striped walls that contain 18,000 RGB LEDs. Display designer Lexington Acquisitions, a Los Angeles, California-based firm, provided the design that incorporated RGB LED DL-Flex-Up vertical striped lighting systems manufactured by Jesco Lighting Group LLC based in Glendale, NY. Jesco is an international manufacturer of energy-efficient decorative lighting products.
LED lighting was chosen for this application because of the long operating life, consistent illumination levels and low heat generation required in the small exhibit. The Jesco LED strip lights are compact, lightweight and curvable, while featuring a 70,000-hour estimated lifetime. "They were ideal for providing inconspicuous low-scale, low-energy display lighting for the Light Room interior in a commercial/institutional application," noted Howard K. Smith, senior project manager for "Science Storms" at Lexington Acquisitions. Over the next year, the exhibit will endure near-constant use and manipulation by visitors.
Stable low-voltage constant-current technology for LED drivers ensured Lexington Acquisitions and the museum of consistent illumination levels, as designed. The curvable mounting channels offered clear dust covers and other lensing options. The light strips were mounted end-to-end in continuous rows with 18 LEDs per 11.75-inch section. The product was field cuttable, is constructed from durable, high-temperature, extruded circuit-board mounting channels, is ETL dry-location listed for electrical safety to UL and CSA standards, and is RoHS compliant.
Exhibit viewers outside the room can see the changing colors of the translucent walls as well as the changing appearance of large-scale color disks that are labeled yellow, red, green, etc., featured inside the room. The goal is for visitors to understand how light creates, affects and defines what we see and refer to as color.