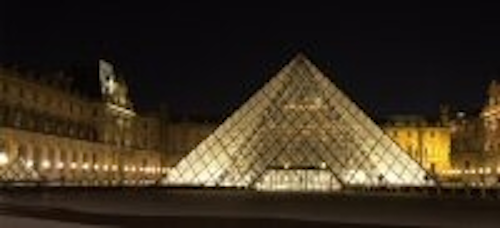 Toshiba Corporation has completed the first stage of a project to replace the external lighting at the Louvre Museum in Paris with LED lighting.
The first stage involves the lighting in the iconic central Pyramid, as well as the three surrounding pyramidions (small pyramids) and a section of the façade of the Colbert pavilion, part of the main museum building.
The lighting was switched on during a ceremony on December 6 by Norio Sasaki, president and CEO of Toshiba Corporation, and Henri Loyrette, Director of the Louvre Museum.
The ceremony, and the project itself, make a clear statement about Toshiba's intention to expand into the European market. All the company's products in Europe are LED-based. François Séguineau, President of Toshiba Lighting Europe, said that Toshiba is now "top-3 supplier of LED lamps in Europe," having made a high-profile debut at Light+Building in April 2010.
The partnership between Toshiba and the Louvre Museum, which will run until 2023, was first announced in July 2010. In the next phases of the project the remaining facades of the Napoleon Court will be completed in the first half of 2012, and the courtyard will follow in 2013.
Toshiba will provide a total of 3,200 LED light fittings to replace 4,500 xenon light fittings. These will cut annual power consumption for the exterior lighting by 73%, from 392,000 to 105,000 watts.
Six different fixture types were purpose-designed for the Louvre installation. The lighting had to meet various technical specifications, but also meet the more subjective and aesthetic requirements of the museum Director and France's Historical Monuments Committee.
The fixtures used inside the Pyramid have a color temperature of 2700K, and are IP65-rated in case of water ingress during storms (there are no artworks beneath the pyramid!). The 15-LED fixtures replaced fittings that contained five 20-watt metal-halide lamps. The luminous flux remained the same, at just over 1300 lm, but the overall power consumption decreased from 120W to 29.5W.