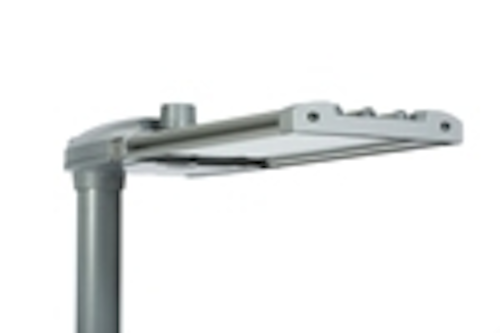 Philips Roadway Lighting announced the new RoadView luminaire series designed for use in place of up to 400W HID sources. The sleek luminaire design relies on the company's LEDgine modular solid-state-lighting (SSL) platform that is used in a number of other street- and area-lighting products.
The modular approach allows Philips Roadway to address a broad range of application requirements with the RoadView series. The family can provide light output as high as 27,000 lm with configurations offering from 32 to 160 LEDs. Generally, the fixtures consume about half the power of the HID systems that they would replace.
The RoadView series features a 4000K CCT, and a CRI of 70. The design allows tool-free access to the electronics (see photo) and no tool is required to install or adjust a photocell.
The LEDgine module relies on total internal reflection (TIR) lenses to form the beam pattern required in an application. Philips adds a layer of tempered glass to protect the LEDs and reduce dirt depreciation.
Thermal design
The luminaire features a partitioned design that thermally isolates the driver electronics and LEDs – both of which must be cooled. The drivers are mounted on the hinged access door that acts as a heat sink with the outside or bottom surface of the door exposed to the air. The LEDs are cooled by an extruded heat sink made out of A6063 aluminum that Philips says is "90% more thermally conductive than a typical A380 casted housing."
"With the new RoadView Series we are offering governments, utilities and municipalities more choices in flexible, energy- and cost-efficient LED solutions that can significantly improve the quality and longevity of roadway luminaires," said Denis Lavoie, General Manager, Philips Roadway. "It not only underscores our ongoing commitment to delivering innovative lighting solutions, but also gives local governments a great tool to reduce their energy usage, increase sustainability and offer citizens a better quality light."
Controls and dimming
Optionally Philips supports adaptive controls and dimming in the RoadView series to achieve even greater energy savings. The company offers programmable drivers and three levels of intelligence in luminaires. What the company calls Smart Luminaires are autonomous but can be programmed for operating hours and light levels.
Philips also offers what it calls Smart Systems that include a local PC to control small to medium SSL installations. And Philips Smart Cities technology adds city-wide networking.
The RoadView series is based on Philips Lumileds Luxeon LEDs. And the luminaires utilize Philips Lighting's Xitanium driver family.