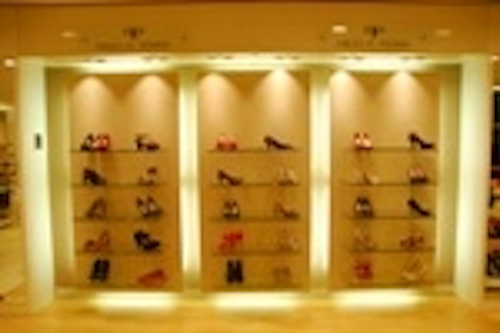 Would you buy a shoe based on the way its color is rendered? A new research study says you just might.
San Jose, CA-based Xicato, a manufacturer of LED modules, commissioned a study from independent researcher Colette Knight in order to evaluate the effect of lighting quality on the attraction towards, appreciation of, and sales of, merchandise.
The experiment found that shoppers and lighting designers were more attracted to retail shoe displays that used spot lighting with better color-rendering ability, in particular enhanced rendering of deep reds.
Shoe display study
The experiment was performed at House of Fraser, a retail store in London. The test location was a Pied A Terre ladies shoe display with three identical alcoves (see photo).
The alcoves were illuminated with halogen lamps, Ra 80 LEDs (R9=16) or Ra 95+ LEDs (R9>95). The LED sources were based on Xicato's Standard modules for Ra 80 and the Artist Series modules for Ra 95.
As well as being able to switch between these three scenes, it was also possible to have each alcove lit with a different source for direct comparisons. The experimental design concentrated on making the color rendering the sole variable.
Other contributors to the project included luminaire provider Gamma Illumination (Dewsbury, UK) and power controls provider Rena Electronica BV (Zundert, the Netherlands).
Quantitative research was conducted over several weeks with 19 targeted shoppers and 31 lighting designers using a consumer-research agency and a designed protocol. Participants were asked to rate, on a scale of 1 to 10 (10 being most effective), the effectiveness of the lighting in terms of grabbing attention and making the shoes stand out.
Results
With both shoppers and lighting designers, there was no statistical difference between the rated lighting quality of halogen sources and the Ra 95 LED sources; both made colors appear vibrant and attractive.
However, a statistically-significant lower rating was given to Ra 80 (R9<20) LED sources, compared with halogen or Ra 95 (R9>95) LED sources.
The color-rendering difference translated directly into a poorer rating of the display in terms of its attraction. The study was peer reviewed by Peter Raynham of University College London.
Shoe sales are being tracked as the three light sources are switched on a weekly basis; this will be the subject of a follow-up report.