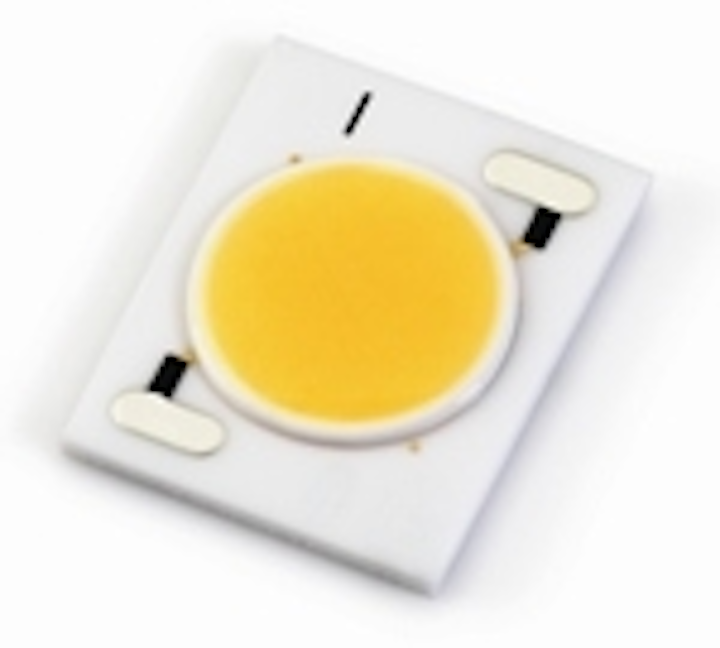 Sharp Microelectronics continues to expand its packaged LED offering, including products in the chip-on-board (COB) Zenigata-branded family. New Mini Zenigata LEDs, announced by the company's European organization, offer solid-state lighting (SSL) lamp and luminaire developers more flexibility with forward voltage. The European division also said that it will offer complete SSL evaluation kits for the larger Mega Zenigata LEDs.
The new LEDs fit in the already-established Mini Zenigata 12×15-mm footprint with a 10-mm light-emitting surface (LES). The products in the GW6BxxxxHED family include 6W, 7W, 9W, 12W, and 15W LEDs with efficacy topping out at 100 lm/W.
The 12W products, for example, are offered with a choice of 18V or 36V configurations that are established by the series and parallel connections of many LEDs integrated in the COB array. Existing Sharp products in the 12W range haven't supported the higher voltage. All of the new products offer a 36V version with the exception of the 7W product that is limited to 15V.
High forward voltage in multi-emitter LEDs can simplify the design of driver electronics. For example, the 36V input lessen the large voltage drop from the AC line voltage and can result in a smaller, more-efficient driver. That can be especially important in regions such as Europe with a 220V AC line.
Efficacy ranges from 82 lm/W for 2700K warm white LEDs to 100-lm/W 5000K LEDs that Sharp calls Pure White. In terms of luminous flux, the 6W LEDs top out at 830 lm and the 15W LEDs top out at 2055 lm. The products target applications ranging from retrofit lamps to recessed luminaires.
Mega Zenigata evaluation kits
Sharp Micro Electronics Europe also said that it would offer an LED Evaluation Kit for all 3000K Mega Zenigata COB LEDs in the range of 15W to 50W. Those larger 20×24-mm LEDs include new products announced recently with flux output as high as 6930 lm.
The kits will include the chosen LED, a heat sink matched to the LED, thermal paste, and a driver that's appropriate for the specified LED. "With the new LED Evaluation Kit, we want to let our customers themselves experience the potential the new Mega Zenigata LEDs have to offer," said Marc Linnert of Sharp. "Because nothing convinces a customer more of a product than the product itself."
The Mega Zenigata LEDs also target indoor application , although many of the products offer the higher lumen output required in outdoor applications such as roadway lighting. Sharp is asking that potential customers share details of a potential project for the LED to get a kit.
While these two announcements were issued by the European division of Sharp Electronics, the LEDs and kit are likely to be available in other regions as well.