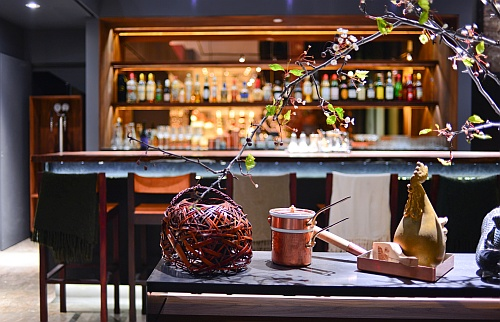 Hospitality venues such as fine dining establishments have been one application segment that LEDs have struggled to crack, even with energy-efficiency concerns and regulations. Soraa, however, has found substantial recent success in the sector with its gallium-nitride-on-gallium-nitride (GaN-on-GaN) LEDs that are the basis for the company's MR16 solid-state lighting (SSL) products. The high-CRI products have been utilized in a number of high-end restaurants including Hakkasan in San Francisco, California (featured on our November/December 2013 LEDs Magazine cover).
Soraa asserts that its LEDs that use a violet emitter and a mix of three phosphors deliver more uniform spectral energy across the human visibility range. The result is presumably more vibrant and natural colors that look close to how they would appear under natural daylight, and therefore more appealing to customers.
"The design of the restaurant is as important as the food -- we're providing an experience that stimulates all five senses," said Bruno Veninga, director of design and development at Hakkasan. "Everything is conceived as a whole design, and lighting is extremely important. We got started with LEDs originally in California with the need to meet Title 24 requirements. The LEDs at the time gave us problems with dimming, transformer compatibility, and color, especially consistency. We have had no issues with Soraa's performance -- we're getting everything we need. The color rendering and consistency are great -- it's a win-win all around."
Peter Veal of Firefly Lighting Design in London handled the lighting design at Hakkasan, and said the California Title 24 requirements were a particular problem and eliminated halogen lamps as an option. Veal added, "We chose the Soraa LED retrofit lamp because it ticked all the boxes: easily dimmable, good CRI, and no need for a fan to cool it." He also noted that there are new Soraa lamps with an even narrower (10°) beam that he anticipates as being very valuable in accent lighting.
Other noted restaurants that use Soraa lamps include Saison in San Francisco (pictured nearby), and the Modern at MOMA in New York City. "At Saison, everything we do is handcrafted with care," said Saison chef Joshua Skenes. "We decided to work with Soraa because we needed quality LED lighting that matched our efforts. A good light spectrum makes all the difference."
The Modern at MOMA restaurant actually replaced existing halogen lighting with LED lamps. "The Soraa LED lamp was the best replacement for The Modern at MoMA's existing halogen MR16s," said Dan Weinreber, partner at Kaplan Gehring McCarroll Architectural Lighting. "Its color rendering, color consistency, superb dimming, and long lifetime made it our obvious choice."