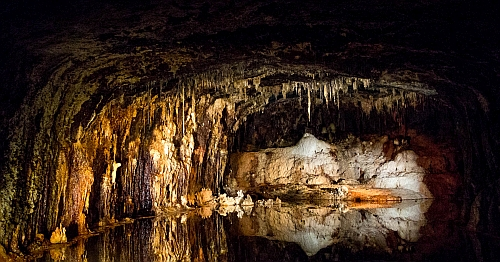 The Saalfeld Fairy Grottoes in Thüringen, Germany have been lit with LED-based lamps from Soraa that now fully reveal the natural colors of the mineral formations in the caverns.
Soraa has announced that its LED lamps based on gallium-nitride-on-gallium-nitride (GaN-on-GaN) LED technology have been used in an unusual project to light the famous Saalfeld Fairy Grottoes (Saalfeld Feengrotten) in Germany. The high CRI of the LEDs, including an Ra value of 95 or more and an R9 value of 95 or more, fully reveal the colors of the stalagmites and stalactites whereas prior lighting resulted in what the caretakers felt was an industrial look with monotone colors.
Interested in more articles & announcements on LED lamps?
The Saalfeld Fairy Grottoes are located in the German state of Thüringen. Located in the Thüringian Slate Mountains near Saalfeld, the caverns were left from gold and silver mining operations followed by excavation for alum and vitriol. Later, the mines were abandoned and the mineral formations occurred naturally over many years with the Grottoes opening as an exhibition in 1914.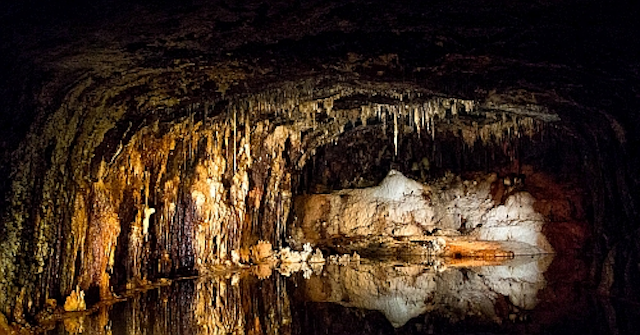 Visitors experience Grottoes in new light with Soraa LED lamps
Given what had been a monotone look, the Feengrotten GmbH organization that cares for the caverns decided to turn to a lighting designer to relight the formations with the goal of an artist-like approach. The lighting is beautiful. About the result Yvonne Wagner, director of the Feengrotten GmbH, said, "The real colors in the caves are much more striking and the subtler tones can be seen for the first time."
Wagner hired Rolf Zavelberg, a lighting artist and founder of Cologne-based light artistry firm Aktivraum. Zavelberg ultimately selected Soraa GU10 (MR-16 form factor) LED lamps for the project because of the color reproduction capability combined with energy efficiency and low maintenance.
"Our approach is poetry in light, searching for hidden beauty that can be amplified by light and shadow," said Zavelberg. "We want visitors to be in awe of nature's beauty and creative forces in the Saalfeld Fairy Grottoes."
The benefits of Soraa's LED technology in the cavern application are enabled by the LED architecture that the company calls Violet-Emission 3-Phosphor (VP₃). The LEDs rely on a violet emitter rather than the more common blue-pump found in phosphor-converted white LEDs. And a three-phosphor mix provides more uniform energy across the spectral power distribution (SPD) in the human sensitivity range. The downsides to the Soraa LEDs remain the high cost of GaN substrates and efficacy that significantly trails leading sapphire- and silicon-carbide-based LEDs.
Still, the color performance has won Soraa projects in a number of applications where quality of light trumps efficacy such as in hospitality, high-end retail, and museums. For example, the Hakkasan Group has used Soraa products in some of its trendy restaurants in the US and globally. And earlier this year, Soraa won two projects in high-end showroom applications.
The German caverns, however, were the first instance we know of where Soraa won a project in such a nature setting. Soraa said in the case of the caverns, options in color temperature and optics enabled Saalfeld Feengrotten to deliver "a lighting production that does not alter the character of the grottoes, but enhances the majestic formations."
Clearly the artist agreed. "There is an artistry in the caves that is only perfectly illuminated with Soraa LEDs," said Zavelberg. "There are thousands of variations in single colors that can be seen now."