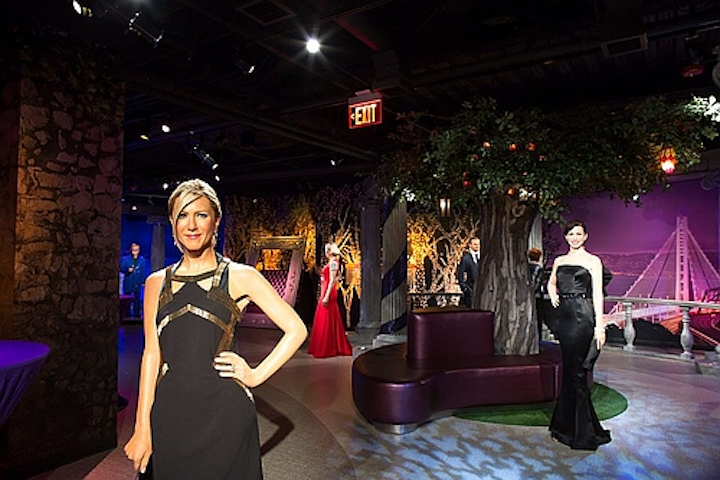 Famed San Francisco wax museum turns to AC-powered, MR16 GU10 LED lamps to spotlight life-size representations of actors, politicians, and more, while the Staten Island Museum turned to PAR30 SSL products to light its historical exhibits.
Soraa has announced two new museum products in which the company's LED retrofit lamps were utilized to improve viewing of exhibits and slash energy usage. Madame Tussauds in San Francisco, CA turned to GU10 LED lamps, line voltage lamps in the MR16 form factor, to light more than 100 wax figures including actors, politicians, and other celebrities. In Snug Harbor, NY, the Staten Island Museum used Soraa PAR30 lamps to present the historic exhibits in a manner that optimizes the viewing experience for visitors.
Interested in articles & announcements on LED lighting for museums?
Soraa has focused its solid-state lighting (SSL) efforts on applications where light and color quality trump absolute maximum energy efficiency. Examples include museum, high-end retail, and hospitality lighting. The company makes its own LEDs using a homogenous gallium-nitride-on-gallium nitride (GaN-on-GaN) manufacturing process that yields better current density and more light out of a smaller die. Moreover, the company's so-called Violet-Emission 3-Phosphor (VP₃) technology combines a violet emitter and a mix of three phosphors that yields high scores in general CRI or Ra of 95, and also a score of 95 for the saturated red R9 color sample.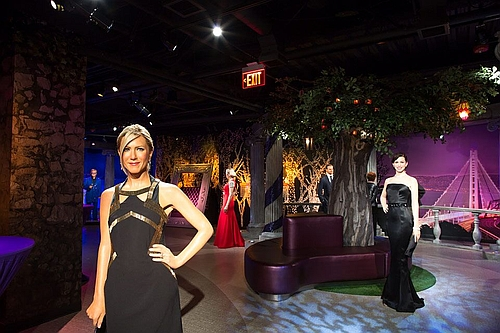 Soraa MR16 and PAR30 LED lamps shine in new museum projects
Soraa MR16 GU10 LED lamps illuminate stars' likenessess at Madame Tussauds San Francisco. (Source: Curtis Myers Photography.)

The tradeoff for Soraa is more expensive wafers, a more expensive manufacturing process, and efficacy that trails mainstream phosphor-converted white LEDs. But in many applications, the color quality wins out as being more important. For example, we recently covered a story where Soraa lamps were used to light some historic caverns in Germany.
In the new wax museum project, the choice of Soraa LED lamps was made by lighting designer Emphasis Lighting of Cambridge, MN. "Madame Tussauds San Francisco is an interactive must-do attraction, providing guests with unique opportunities to create memories with some of the world's biggest icons," said Mark Frank, principal at Emphasis. "Countless hours are spent to make these figures impeccable. Perfect lighting in the attraction is essential to bringing out the fine detail of these figures and to the guest experience. Soraa's lamps light these stars perfectly."
The selection was driven by the lamp quality and also the flexibility that Soraa's Snap system of optical accessories offers. The Snap accessories attach magnetically to the lamp face and the designers attached specifically chosen colored lenses in the various vignettes to emphasize colors and make the figures pop.
The GU10 lamps also proved a good choice because the AC-powered lamps could be retrofitted into existing track fixtures with no need for the addition of transformers, thereby simplifying the buildout. The lamps generate almost no heat relative to legacy directional lighting and are a perfect match for the wax museum. The project announcement did not detail energy efficiency, but the Soraa MR16 lamps would surely be significantly more efficient than legacy halogen or ceramic metal halide (CMH) options.
Mariner museum
Energy efficiency played a larger role in the project at the Staten Island Museum. The operators sought to transform the historic building to achieve LEED (Leadership in Energy and Environmental Design) Gold status and overall building energy efficiency is a key component of winning LEED status. The renovation expanded the facility to 22,000 ft2 of space while maintaining the historic exterior of what was once a sailor dormitory, and meeting the environmental requirements of the American Museum Association.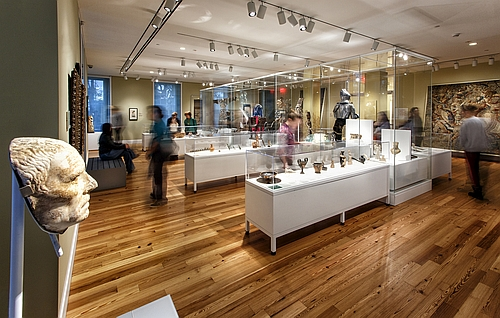 Energy efficiency goals were met at the Staten Island Museum by incorporating Soraa's PAR30 LED lamps into the lighting design. (Photo: Opening the Treasure Box, Staten Island Museum at Snug Harbor; Source: Amessé Photography, 2015.)

Still, the quality of the attendee experience was paramount as well. "It was our goal to create a museum that the local Staten Island community deserved. Our commitment to being a good community partner was an important element in how we approached our expansion and the building's lighting," said Cheryl Adolph, president and CEO of the Staten Island Museum. "The difference the Soraa LED lamps brought to the galleries and our exhibits is substantial — both in quality of lighting and energy efficiency."
Lighting designers from Technical Artistry worked with exhibition designers Ralph Appelbaum Associates and museum staff on the project. "Our goal was to find the right lighting solution to illuminate these colorful pieces amidst the abundant natural daylight and with the right color temperature," said lighting designer Kyle Chepulis of Technical Artistry. "Soraa LED lamps help to create a mood that enhances the patron experience, allowing them to connect to the images."
Technical Artistry worked with lighting manufacturer Litelab to develop a custom track fixture for the project that Litelab has now added to its standard-products portfolio. The project encompassed around 400 of the PAR30 LED lamps based on VP₃ technology.