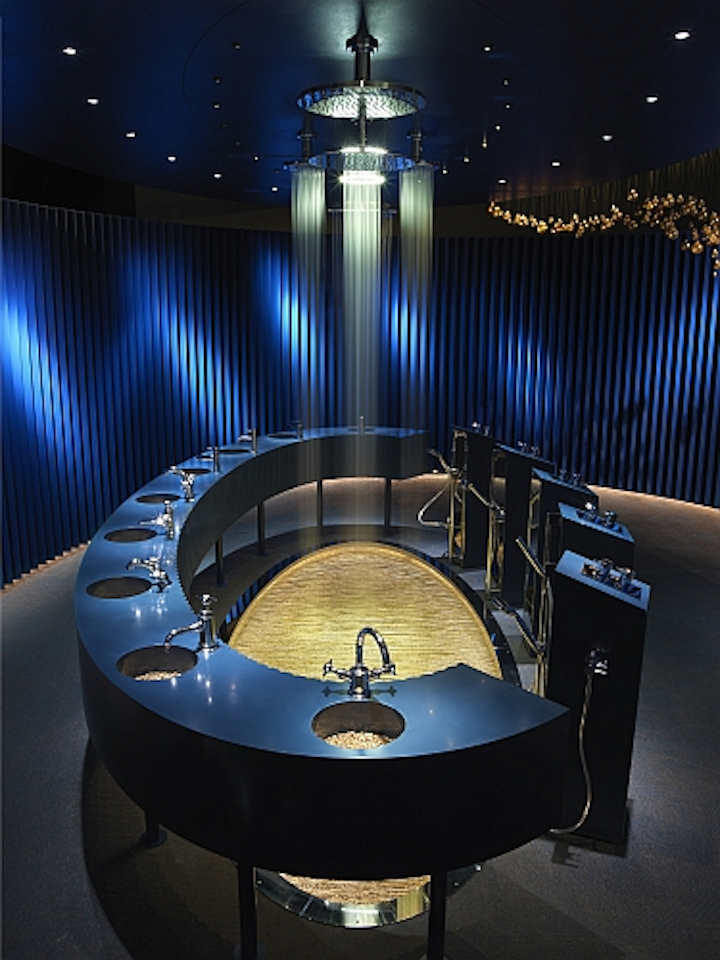 The violet emitter and three-phosphor formulation used in Soraa's SSL products are finding success in color-critical applications such as the Crosswater bathroom fixture showroom and in similar retail and gallery settings.
Soraa has announced a new project using its MR16 LED lamps at a new Crosswater UK bathroom products showroom where the solid-state lighting (SSL) is intended to render both white and color products in the best possible manner for discerning customers. Moreover, Soraa has recently announced projects in a textile showcase and in a California photographic gallery.
Interested in more articles & announcements on LED lamps?
The Crosswater retail showroom in Dartford, Kent, UK uses 635 Soraa MR16 LED lamps with the retail business striving to "enhance a memorable experience" for visitors. The showroom includes 32 carefully-designed vignettes created by architects from Coppin Dockray and lighting designers from Lightplan. The lamps are housed in Prospex Spot Midi fixtures from Lucent.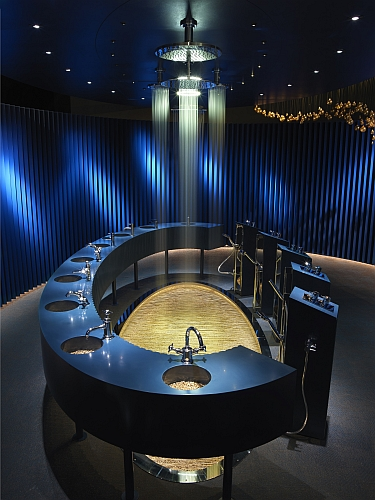 Soraa LED lamps make plumbing fixtures sparkle
"Soraa lighting makes the journey through the showroom a sensory experience for visitors," said Baris Gursen, with Lightplan in London. "Because Soraa LED lamps provide a high-intensity beam from a small source, we were able to create perfect, focused lighting on the fixtures and objects on display in each of the 32 uniquely appointed bathroom display areas. The snap-on attachments, spreader lenses, are great tools to shape the light beam for a particular object, preventing any spillage."
The Soraa LEDs deliver more light from a smaller source because of the fact that the gallium-nitride (GaN) epitaxial layers are grown on a homogenous GaN wafer or substrate. The GaN-on-GaN approach yields fewer defects and supports higher current density. Meanwhile, the phosphor formulation and violet chip, a technology platform that Soraa calls VP3 (Violet Emission 3-Phosphor), delivers 90 CRI and a value of 96 for the R9 red color. The violet emitter is key to great white rendering, especially with textiles that have been treated with optical brightening agents.
And speaking of textiles, Soraa MR16 lamps were also used to light the textile showroom at the Maibom Innovation Center in Hamminkeln, Germany. Lighting design firm Thomas Kolbe Design handled the project that was intended to accentuate Maibom's array of fabrics.
"Creativity is the driving force behind our passion and the Maibom Innovation Center reflects this," said Faiban Maibom, founder of Maibom GmbH Textilvertreib. "Soraa's lighting in our Innovation Center is very important for the visual presentation of our fabrics and to create an atmosphere in which our customers feel comfortable and we feel inspired."
In the US, the most recent Soraa project was at the Andrei Duman Gallery in Topanga, CA near Los Angeles. Duman is a well-known aerial, travel, and nature photographer and the gallery needed lighting to perfectly light his work.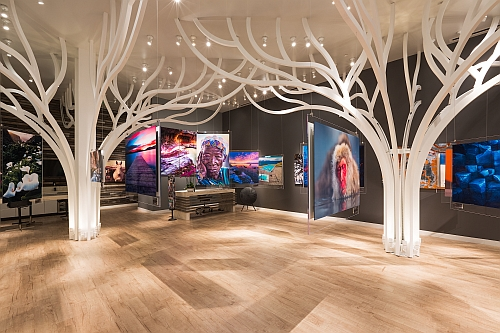 "Great photography deserves great lighting," said Duman. "Colors must pop, and Soraa's lamps are simply perfect. With Soraa LEDs, I could bring out the true green and the detail that is important in my image 'The Ghost Door' shot in a diamond mining town in Namibia. Lighting also sets the mood in the gallery and helps the customer connect to the image."
Previously, Soraa has had success in other demanding applications. For example, the Hakkasan Group has used Soraa products in some of its trendy restaurants in the US and globally.