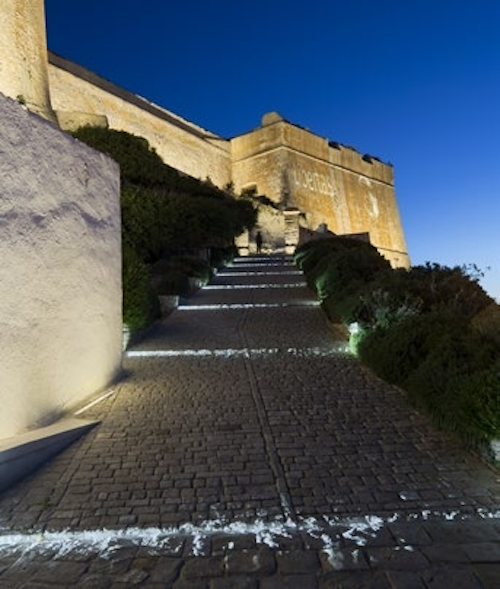 Iconic fortress on Corsica ranges upwards from the Mediterranean with LEC Lyon SSL products highlighting elements of the façade and serving as a guide to the entrance of the Citadel.
LEC Lyon has announced an outdoor architectural lighting project at the Citadel of Bonifacio, on the island of Corsica, that uses LED projectors to highlight the façade and tunable solid-state lighting (SSL) to serve as a guide to visitors. The historic fortress walls can be bathed in white or color light while the installation can safely take pedestrians from the entry of town up to the Door of Gênes.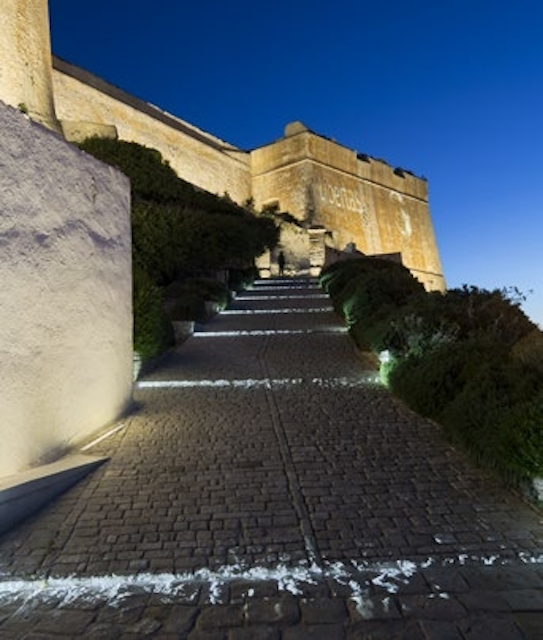 LED projectors cast new light on the historic Citadel of Bonifacio
Lighting designers from L'Agencelumière worked with LED luminaires customized by LEC. In total, around 200 LED projectors now deliver uplight onto surfaces such as Saint-Roch Hill, the Citadel's walls, the Door of Gênes, the bastion, and Sutta Rocca cliff. While the façade effects beautify from near and far, at a miserly 0.2W/m2, the project is meant to transform "an ordinary visitor to becoming an actor of one's own experiment of the site" according to L'Agencelumière architect Stéphan Legois. For example, a so-called ladder of light guides visitors toward the upper area of town through what are called "lively and sensory experiments."
Interested in more articles & announcements on lighting?

LEC Lyon has substantial history working in older municipalities in Europe and with iconic architecture. For example, the company was behind the SSL project in Nîmes, France that took unique approaches to light roadways without disturbing the aura of the historic city. The company also was behind the lighting of the UNESCO-recognized walls of Rabat.

The architectural project relies on 78 4660-Corsica LED projectors, each of which is equipped with 42 Superwatt LED modules. The luminaires can light the façades in red, green, blue, or 3000K white hues. Each luminaire is controlled over a dedicated DMX channel and can be mechanically rotated while also offering the tunable light features.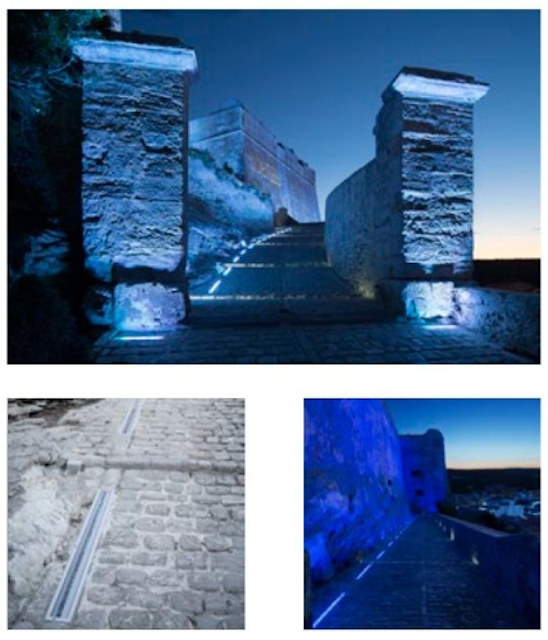 The Saint-Roch Chapel serves as the entry point of the glowing route to the Citadel. That route is lit by in-ground 5760-Passy luminaires, 4020-Luminy projectors, and one 5635-Ligny light bar. Inside the Citadel, the walls are lit by linear 5760-Passy products of varying lengths. All of the luminaires can produce the same four colors as the main LED façade projectors.
The partners on the project faced challenges that are common with historic sites. The Citadel is classified as a Heritage Monument and the project required the blessing of the Architectes des Bâtiments de France. There are also many difficult-to-access locations where luminaires had to be installed. The result is a celebration of the local heritage that welcomes more than 1.8 million visitors per year.