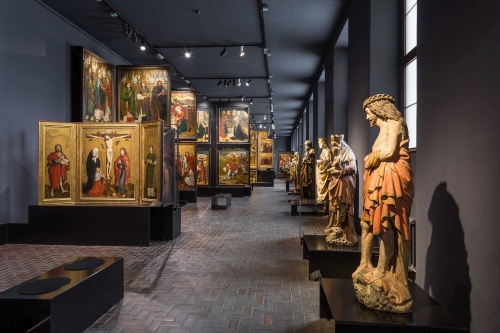 The WNM is the first museum to use LED spotlights with tunable white-point CCT aimed at improving the visual appeal of a diverse array of artwork.
Museum directors continually struggle with the need to preserve the great works under their care while displaying them in lighting conditions in which visitors can best appreciate the treasures. The Warsaw National Museum, which recently began an upgrade to all-LED lighting, is no exception. This vast collection includes over 800,000 works by Polish and European artists that date from as early as the 8th century to modern times. When the WNM directors set out to upgrade the museum's lighting, the key goals were to employ state-of-the-art preservation techniques, bring out the character of the works using the highest quality light, and limit greenhouse gas emissions as much as possible through reduced lighting energy use.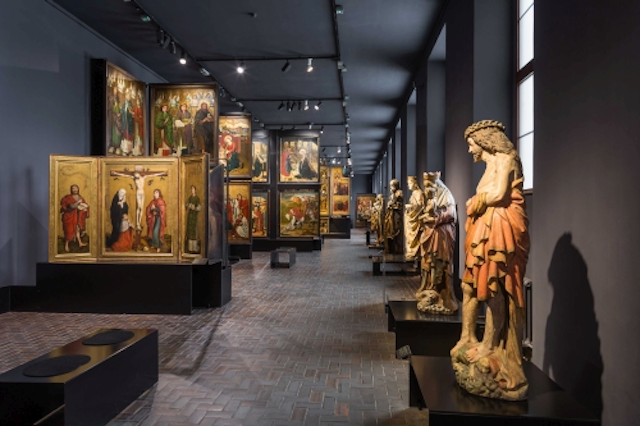 Warsaw National Museum preserves art while enhancing mood with tunable lighting
Flexible spotlights, tunable white light
The Warsaw National Museum features many exhibit types, including sculptures, coins, documents, and photographs. The museum chose Zumtobel's Arcos LED spotlight for its flexible design, which may be quickly configured for a new target (the company previously used a version of these LED lighting products to great effect in an Italian museum project). Zumtobel modified the LED spotlight for museum applications, producing the Arcos 3 LED spotlight with tunableWhite technology. In addition to dimming and adjusting CCT, each spotlight can use a wide variety of optical components to optimize the beam distribution and diminish glare. Throughout the National Museum's five galleries, 1100 halogen fixtures using 100W each will be replaced with 970 20W and 120 25W LED spotlights featuring tunable lighting.
Zumtobel's tunableWhite technology is based on PI LED technology originally developed by Lumitech and now co-marketed by Tridonic, which allows efficient production of the full spectrum of white light using multiple LEDs which are controlled using DMX channels or a DALI (digitally addressable lighting interface). In the Arcos 3 tunable lighting fixtures, Tridonic provides the light module and integrated DALI controller in its Talexxengine Stark SLE Premium system. The LED module combines blue LEDs with greenish phosphor with red and blue LEDs, and DALI allows light selection of CCT from 2700K to 6500K at constant lumen output and a color rendering index greater than 90. Tridonic specifies the color tolerance at 3 MacAdam Ellipse. Module output is 1350 lm at an efficacy of 61 lm/W.
In practice, the CCT and light output (dimming) can be adjusted at the spotlight or using the DALI lighting control system. CCT is chosen to enhance the mood of the art, for instance, using warm tunable lighting to highlight gold tones in paintings from the medieval era (see photo above). One can see how only the artwork is illuminated, not the entire room (see photo below).
Unlike many other museums around the world, the Warsaw National Museum uses almost no natural light from the outdoors, and during certain hours LED lighting is triggered by proximity sensors, so light exposure occurs primarily when visitors are present. Such activity, as well as lighting programs throughout the museum, is managed by the Butler XT lighting management system.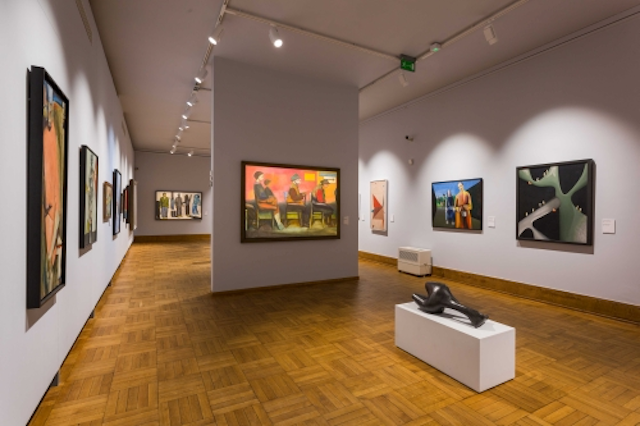 So far, three of the five main galleries of the Warsaw National Museum have been renovated and a 40% reduction in lighting energy use has been realized. However, the reduction in energy load from 110,000W to 22,400W indicates a potential energy savings closer to 80%.
Artwork preservation, direction for museums
At the National Museum, eliminating UV and IR light from the illumination spectrum was a key criterion. UV causes color fading of organic paints, while IR causes heat damage. In fact, a 2014 survey of museum directors, curators and conservators conducted by the Pacific Northwest National Laboratory showed that the desire to use a light source that provide equal or lower damage potential to artwork was the highest priority when considering a lighting upgrade, followed by:
Saved energy and reduced cost/maintenance
Improved color quality compared to standard
Match color quality of standard museum lighting
The 2014 report "SSL Adoption by Museums: Survey Results, Analysis, and Recommendations," published by the US Department of Energy, also indicated that among museum respondents worldwide, 40% were using LED lighting in 2014. Among those who had implemented LED lighting, 71% they would consider another LED installation and 32% said they already had.
Museum lighting continues to be an increasingly attractive application for LED lighting, offering superior lighting performance to halogen, longer lifetime, and reduced energy and maintenance costs. You can read more about the benefits and challenges to museum lighting in the aforementioned DOE report.