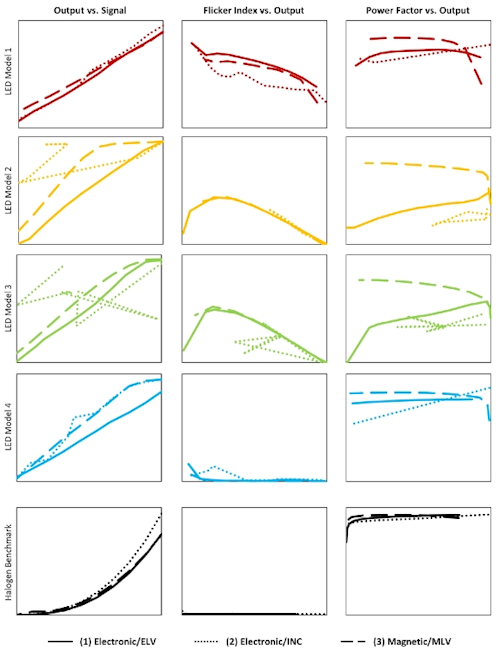 A new Caliper report focused on LED-based MR16 retrofit lamps reveals that the lamps don't match the dimming response of legacy halogen products and incandescent dimmers present a particularly problematic scenario.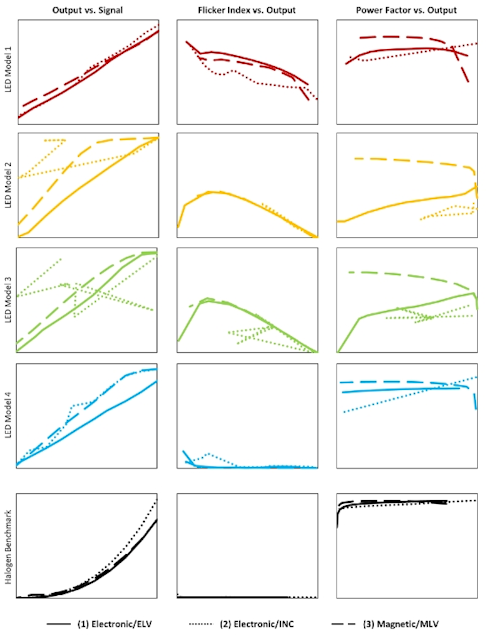 DOE reports additional concerns about LED MR16 lamps performance
The US Department of Energy (DOE) has released a new Caliper report focused on photoelectric testing of LED MR16 lamps connected in various configurations with electronic and magnetic transformers and with different types of dimmer controls. The testing effort was a follow-on to earlier Report 22 MR16 work, and documents issues that lighting specifiers/designers may encounter when installing MR16 solid-state lighting (SSL) products in applications that have previously used halogen lamps.
Interested in more articles & announcements on services & testing?
The prior Series 22 report was issued in mid-2014, and focused on the photoelectric performance of LED MR16 lamps when driven by laboratory power supplies. Testing of MR16 products is inherently complicated by the fact that the lamps are designed to work from a low-voltage (12V) power source unlike products such as PAR or A-lamps. MR16 lamp installations require the lamp, a transformer, and often a dimmer to interoperate properly.
The new document — "Report 22.1: Photoelectric Performance of LED MR16 Lamps" — included testing of the same lamps evaluated in 2014 in five configurations:
Electronic/ELV – Operation of each lamp model with an electronic transformer selected from the lamp's compatibility list (if available), and an electronic low-voltage (ELV) dimmer. The goal was to specify a system where the lamp, transformer, and dimmer were all listed as compatible, but limited available information often made this difficult.
Electronic/INC – Operation of each lamp model with an electronic transformer and a typical incandescent dimmer. The transformer was listed as compatible with the dimmer.
Magnetic/MLV – Operation of each lamp model with a typical magnetic transformer and a magnetic low-voltage (MLV) dimmer. The transformer and dimmer were considered compatible.
AC Supply – Operation of each lamp model using a laboratory power supply delivering RMS (root-mean-square) 12V AC.
DC Supply – Operation of each lamp model using a laboratory power supply delivering 12V DC.
As always, the DOE report includes great detail about the tests and the performance of the LED MR16 lamps. You can download that report from the agency's SSL website.

The key conclusions of the new work relate primarily to the performance expectations set by legacy halogen lamps. The tests revealed that none of the lamps in any of the test scenarios delivered dimming performance that mimicked the halogen lamps' dimming curve. Specifiers clearly must be aware of that fact when installing the LED products with expectations set appropriately.
In some scenarios, the dimming experience is even worse. For example, few of the LED-based products performed reliably when connected with dimmers designed for incandescent lamps. But many installations have halogen lamps connected to such dimmers.
The new study also warned that the work has revealed that test data derived purely from lamps driven by laboratory power sources is not indicative of real-world installations. The report positively lauded the transformer and dimmer compatibility list provided by many lamp manufacturers as being critical to high-performing installations.
The MR16 category remains the toughest challenge for manufacturers of LED-based products due to both the small size of the lamps that constrains the driver implementation and the variety of transformer/dimmer scenarios. Other directional lamps such as LED PAR lamps have also been slow to match legacy lamps' performance, although those products have improved more rapidly than the smaller LED MR16 lamps. The DOE issued an addition to its PAR work early this year.