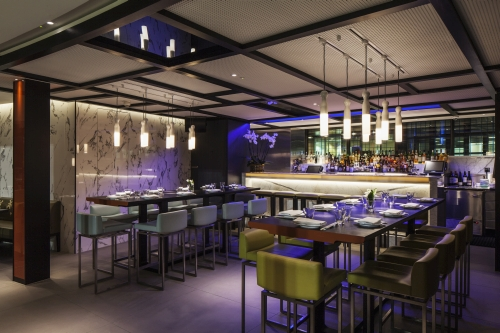 The Yauatcha City restaurant in London's Broadgate Circle features an SSL design by Paul Nulty Lighting Design that delivers precise and color-accurate light for each dining seat.
Soraa has announced that its LED-based lamps have been used in the new Yauatcha City restaurant that hospitality-focused Hakkasan Group describes as a "contemporary dim sum teahouse." The restaurant is located in London's Broadgate Circle, which has becomes a popular area for restaurants and elements ranging from food quality to lighting design are critical in a restaurant standing out in the competitive environment. The solid-state lighting (SSL) project delivers in a subtle but visually compelling manner.
Interested in more articles & announcements on LED lighting?

"Lighting is a critical element for enhancing the Yauatcha City brand and patron experience," said Claire Hamill, senior designer for Paul Nulty Lighting Design. Soraa LED lamps have found success in a number of high-profile restaurant projects including in other Hakkasan Group restaurants. Soraa's violet gallium-nitride-on-gallium-nitride (GaN-on-GaN) LED technology combined with a three-phosphor mix that the company calls Violet Emission 3-Phosphor (VP3) delivers precise beams and high CRI of 95 and a high R9 value of 95.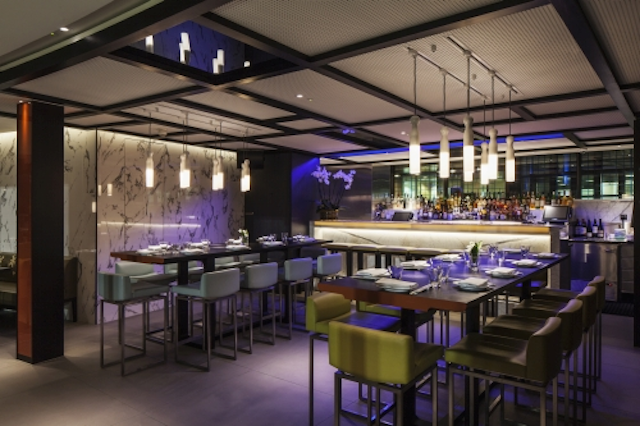 Hakkasan turns to Soraa LED lamps again in London restaurant
"We chose Soraa lamps because of their specialty illumination quality, functionality, and versatility," said Hamill. "Soraa's unique technology casts more light from a smaller source and renders truer colors, which helped us create a unique atmosphere, while maintaining a level of intimacy for diners."
The Soraa LED lamps are installed in custom-developed, bone-white-china pendant fixtures. The design provides seemingly individually tailored light for every seat, allowing the food to be perfectly revealed and rendered while maintaining the ambience of relatively low light levels. The tight beam enabled by the Soraa LEDs and the color capabilities add to the experience for patrons.
Hakkasan clearly believes that the investment in LED lighting gives its restaurants a competitive edge. "With the restaurant's unique shape and exclusive location in London's recently redeveloped culinary destination, Broadgate Circle, Yauatcha City is unlike any of the other restaurants," said Bruno Veninga, head of architecture and interiors at Hakkasan. "Lighting is always a critical element in our restaurants and Soraa LED bulbs with their GaN-on-GaN technology provide us the best balance of color consistency, environmental consideration, and product longevity."