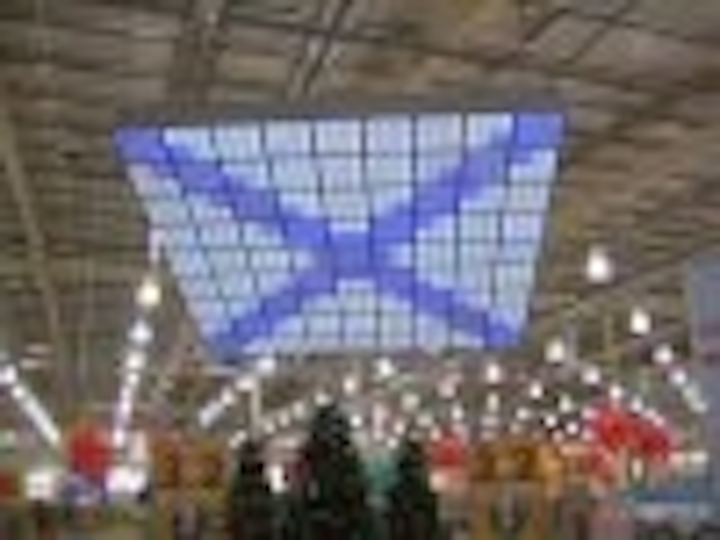 The newly refurbished Woolworths stores in Tamworth and Norwich, UK have been equipped with gigantic Mood Light™ Classic displays.
These set-ups of Mood Light Classic LED panels, supplied by Traxon UK, is the largest suspended installation to date.
In each store, a total of 81 Mood Light Classic panels are currently suspended in a 9 x 9 matrix from the ceiling. Connected by a unique DMX set-up, the panels wash and sweep across the promotion sales area in a myriad of colors.
Each panel is made up of 4 sectors, providing a total of 324 pixels for each very low resolution display.
Pre-defined patterns and sequences can be changed by a touch of the control panel, situated at the hands of the service desk operator, to highlight current promotions or simply act as a phenomenal eye-catcher floating above the heads of Woolworths' customers. A total of 972 DMX channels can be remotely addressed and controlled by the installed e:cue software.
Flashing, pulsating, sweeping or slowly fading, the Mood Light installation brings additional color and life to the flagship stores of one of the UK's most successful retailers.
From the display of national flags to sales promotions or random ticker texts, the display has the flexibility to suit any promotional event or happening.