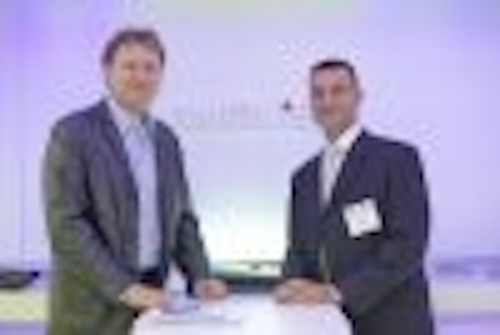 Anolis Lighting, an LED lighting products supplier with manufacturing operations in the Czech Republic, was launched at the arc05 trade show earlier this week.
The company is a collaboration between Robe Show Lighting of the Czech Republic and ULA, an Australian lighting distributor. It has been established to design, manufacture and distribute a top-end range of LED products worldwide.
The manufacturing operation is based in the Czech Republic at Robe's state-of-the-art 27,000 square foot facility in Roznov. The brand will benefit immediately from Robe's 14 years' experience as a moving light manufacturer and its comprehensive supply infrastructure, plus ULA's 15-year track record as a leading Asia Pacific lighting distributor.
'Anolis' - Latin for Chameleon – is the brainchild of Robe Show Lighting's Josef Valchar and ULA's Con Biviano. They germinated the idea at PLASA 2004, and now, less than 6 months later, Anolis is the result.
The company was officially launched at the arc05 trade show at London's Business Design Centre, complete with a whole new range of LED lighting fixtures aimed at applications in architectural, retail, transport, leisure and entertainment markets.
"We've followed the recent trends in LED lighting closely" says Valchar. Anolis' general manager and CEO. "There's clearly a real demand despite the existence of strong competition, so we decided that the best solution was to start our own company."
The first Anolis standard range products are ArcLine LED strips, ArcSource 3, 6, 7 and 12 LED fixtures – all using Luxeon emitters from Lumileds - and the proprietary ArcPower series of controllers. All Anolis fixtures are also compatible with the most popular existing environmental control systems. Custom fixtures can be produced as required.
Con Biviano, the company's managing director, says, "Anolis is dedicated to making top quality products with the best available components. New attitudes and a massive growth in interest in architectural lighting, the built environment and mood lighting across all areas from the home to the workplace, has transformed the lighting industry over the last 5 years."
Biviano says that Anolis will be at the forefront of developing this exciting technology, adding that the company's aim is to be the 'specifiers choice' of fitting.