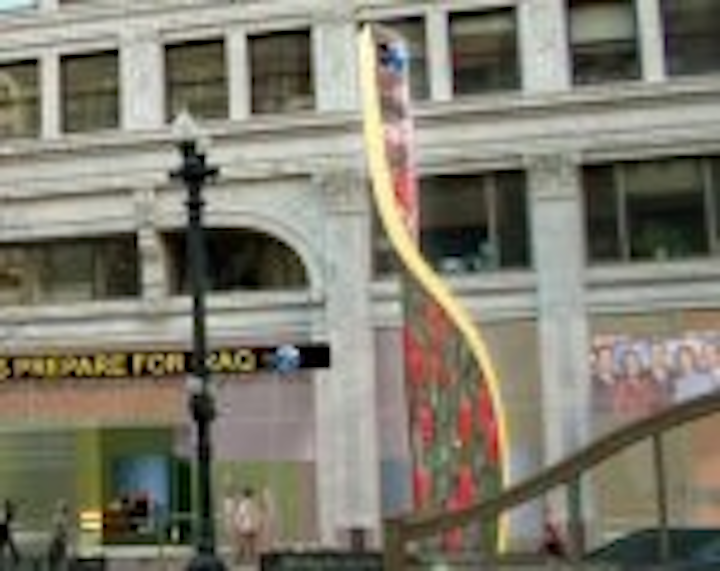 BillBoard Video, Inc. (Dallas, Texas) has won a contract to design and manufacture a custom LED sign for WLS, the ABC television network in Chicago
The LED sign is a 40-foot tall curving sculpture that will stand on the sidewalk outside of WLS' new studios facing pedestrian and automotive traffic on downtown Chicago's historic State Street. Installation is scheduled for June 2005.
The 10mm eVidia LED display represents BillBoard Video's most powerful line of outdoor displays. With a nit rating of over 10,000, the company claims that its product is the world's brightest outdoor LED sign. The eVidia features live, high-resolution video capabilities with over 4.4 trillion RGB colors and user-friendly software.
"Our partnership with WLS serves as a primer for fully entering the robust television and radio station market," said David Tetreault, BillBoard Video senior VP of marketing and corporate development. "In this arena, we are committed to educating [customers] on the 24/7/365 branding power of LED displays. TV stations can strategically enhance their local marketing efforts with vibrant colors, motion and state-of-the-art graphics with a visual messaging tool that delivers the coveted stickieness factor to advertising campaigns."
OnScreen Technologies gains first sale for Living Window
OnScreen Technologies Inc., has received its first commercial order for its living window from the Concord Mitsubishi car dealership in Concord, California. The Living Window is a 15 to 30 square foot, lightweight, see-through sign that can be easily deployed in any window and can display a three-to-six-line text message.
John Arnaudon, President of Concord Mitsubishi, commented, "Our ongoing quest to maximize our return on our marketing budget led us to OnScreen's technological signage solutions; which we believe are both innovative and exceptionally high in quality. We are very enthusiastic about the potential to attract more customers into our stores through the Living Window's unique eye-catching signage, and look forward to a continued relationship."