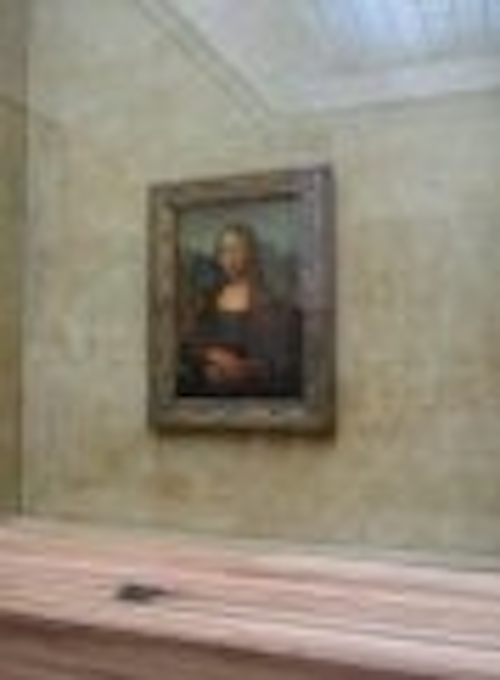 One of the most famous paintings in the world, Leonardo Da Vinci's "Mona Lisa" (La Gioconda), is now being seen in a whole new light, thanks to an LED-based lighting fixture developed by an international team including Fraen Srl of Milan, Italy, the R&D Division of Fraen Corporation in Reading, Massachusetts.
The "Mona Lisa" is displayed in the Louvre Museum, Paris in a new gallery that took four years to complete at a cost of some 4.81 million Euros ($6.2 million).
The painting is now lit by a single fixture containing 7 LEDs, a mix of Luxeon I and Luxeon III lambertian emitters from Lumileds. For proprietary reasons, Fraen was unable to reveal the colors of the LEDs.
However, Scott Grzenda, sales manager with Fraen, told LEDs Magazine that the project called for a color rendering index (CRI) of over 90, as well as a color temperature range from 2800 to 6000K.
A news item published by Agence France Presse quoted Marc Fontoynont, a professor at the state university of public works, as describing the light as follows: "It's very subtle, it cuts the reflection and compensates for the slight greenish tinge from the glass. We wanted to bring the color closer to that in daylight."
After a visitor's attack with a stone in 1956, the 500-year-old "Mona Lisa" has been protected for decades behind glass in a modestly lighted gallery at the Louvre, where the reflections and dimness often frustrated the millions of visitors.
Now in its new, environmentally controlled installation, the "Mona Lisa" is displayed behind thick glass and is clearly, yet subtly, illuminated. The use of high-powered LEDs eliminates the harmful effects of ultra-violet (UV) light and infrared (IR) radiation.
To achieve the precise color rendering, Fraen's designers used computer simulations to determine the optimum quantity and color of the LEDs, while producing the exact rectangular shape of the area to be lighted.
For Fraen, the color and intensity of the LED beam were especially challenging due to Da Vinci's unique painting style in the "Mona Lisa," which features soft transitions of color, giving the painting - and that famous smile - a mysterious misty atmosphere.
In addition to Fraen Corporation, the "Mona Lisa" technical group included other engineering leaders in Europe, coordinated by the project's lead company, Sklaer of Germany. Sklaer produces high quality lighting systems for museums, the automotive industry and architectural projects.
Fraen designed and manufactured all of the fixture's mechanical components and all the light engines," says Grzenda. "The light projection system was developed by Sklaer, which holds several patents on image projection systems."