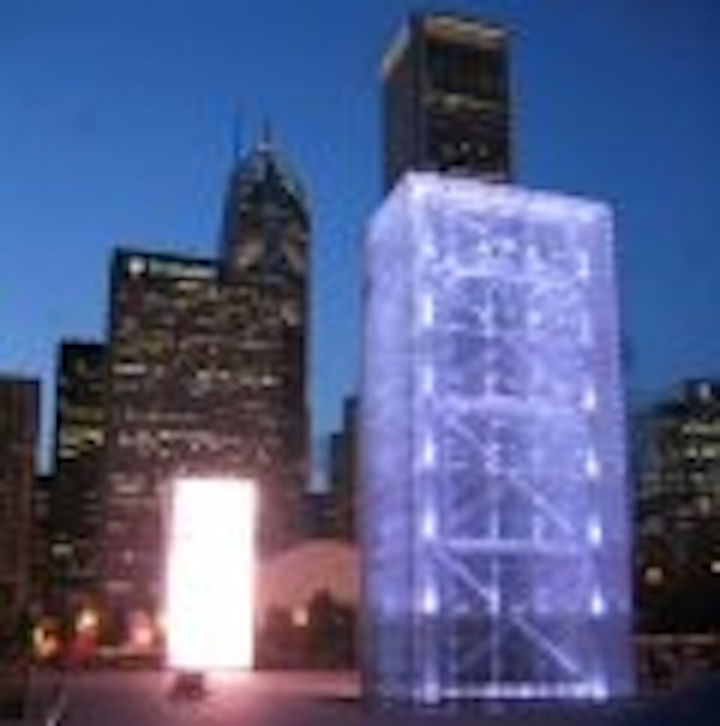 As the centerpiece of Chicago's Millennium Park, the Crown Fountain is rumored to be one of the most expensive pieces of public art ever undertaken. The fountain consists of two 50-foot-high glass-block towers facing each other across a shallow 232-foot-long reflecting pool.
On three sides, the towers glow from within thanks to color-changing LED lighting fixtures - approximately 70 units per tower - supplied by Color Kinetics, while the fourth sides feature Barco LED display screens that face each other across the reflecting pool. The screens feature the expressive faces of almost 1,000 Chicagoans, changing at short intervals and spouting water from giant mouths.
Designed by Spanish sculptor Jaume Plensa, the Fountain is a gift to the city from the Crown and Goodman families of Chicago. Krueck + Sexton Architects and Crystal Fountains helped design and construct the structure.
Plensa and his team of designers painstakingly videotaped hundreds of people to create the required images. A Barco Show Controller randomly selects each face out of an inventory, then randomly selects one of eight LED colors programmed into an ETC Emphasis® control system to light the tower. Each face appears for five minutes at a time, smiling and grimacing until it purses its lips like a playful modern-day gargoyle and spits water out onto fountain revelers.
At night the towers' faces are replaced by nature images and vivid walls of color. ETC's Sensor®+ dimming system with its new CEM+ control modules allows the Emphasis system to speak directly to the dimmer racks via Ethernet and then convert to DMX in each rack to feed data to the Color Kinetics ColorBlast LED fixtures. (This also greatly reduced wiring requirements during installation.)
The ColorBlast units create the effect of glowing monoliths of saturated color. Meanwhile, the Emphasis system controls a series of spotlights at the foot of the towers that illuminate cascades of water flowing dramatically down the tower sides. ETC Sensor®+ GFCI racks, engineered for wet-use locations, handle the dimming of the spotlights and are located under the towers.
LED lighting
According to Jim Baney, a Principal at lighting design firm Schuler Shook, "Based on our experience with other color changing fixtures, the LED solution promised to be the lowest maintenance solution. Several of Mr. Plensa's previous projects had used LED fixtures, so he was comfortable with this technology."
Baney and team chose ColorBlast 12 fixtures; their compact size made it possible to install them where needed to properly illuminate the tower structures and glass. Plensa wanted the towers to appear light and translucent, with their internal structures reflecting light from behind the glass surface. As such, the ColorBlast units were installed on continuous channels mounted between the glass blocks and the structures, aiming straight upwards to illuminate the structures just beyond the glass.
According to Christian Hanke, project architect at Krueck & Sexton, "It was very important to have the ability to change and manipulate the lighting in almost every desired way, depending on the time of day and season. The ColorBlast units were the logical choice, since this piece of art is intended to last a century or more. Longevity, dependability and controllability were key components in selecting an adequate light source for this attraction."