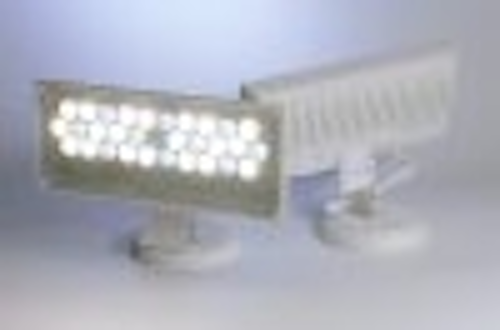 Color Kinetics has designed Cree's XLamp™ 7090 LEDs and Golden Dragon LEDs from Osram Opto Semiconductors into a number of its architectural and entertainment lighting products.
Osram is supplying white and warm-white Golden Dragon LEDs for Color Kinetics' range of white LED-based products, including the iW Blast (see photo). The fixtures contain white LEDs with different color temperatures, and when combined with proprietary control and dimming technologies this enables control of the fixtures' color temperature. Also, the fixtures can be dimmed using standard dimmers, and can also be dimmed without altering color temperature.
These innovations translate to greater white-light adaptability for Color Kinetics customers, whether lighting is controlled according to levels of daylight, to highlight certain attributes of an illuminated object or to alter an environment's ambiance without re-lamping existing fixtures.
"We are pleased to incorporate Osram's Golden Dragon LEDs in our systems. Osram's selections of warm whites, tightness of binning and consistent distribution of the bins are all important variables to achieving optimal performance," said Fritz Morgan, VP of engineering at Color Kinetics. "Osram offered both the performance and a warm-white option necessary to produce consistent results for our products."
Cree supplies RGB
In an unrelated announcement, Cree is supplying red, green and blue XLamp LEDs for Color Kinetics' Color Blast products. These replace devices previously supplied by Lumileds.
"Color Kinetics continually evaluates advancements in LED technology to build high-performance systems around the optimal devices according to application," said Fritz Morgan, Color Kinetics VP of engineering. "We're pleased to incorporate the XLamp 7090 series in several new lighting systems, based on intensity gains, tight color and intensity binning, and ease of use in the manufacturing process and in developing optics."