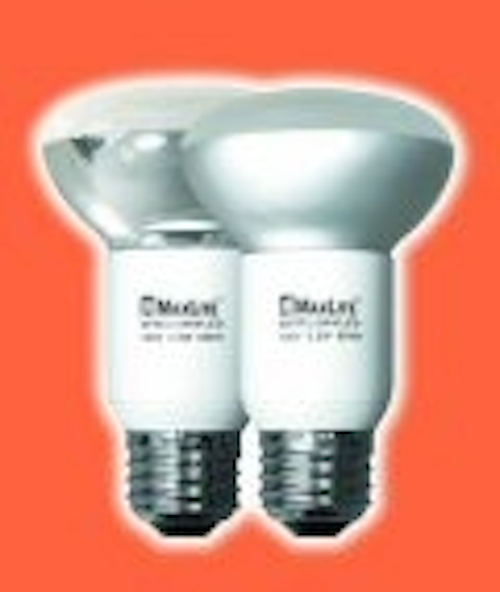 MaxLite and its R&D partner, Toshiba, have developed a line of LED light bulbs in a true 2700 K color temperature. The R20, candle and globe bulbs each contain four white LEDs co-developed with, and manufactured by, Toshiba's Japanese manufacturing partner. The products operate from a standard 120 V socket with internal ac-to-dc conversion, and have a power consumption of 2.2 W.
"While red, blue, green and white LED colors have developed into regular production items," said Yon Sung, MaxLite's president and CEO, "the warm white color has been difficult to manufacture on a consistent basis with a stable lumen package throughout its 50,000 hr life - until now."
"We developed these three 'MaxLite Warm LED' lamps to appeal to a specific market," said Greg Murphy, MaxLite Product Manager. "They will show superior savings in public space lighting, where ceilings are high and fixtures contain multiple bulbs."
Bulbs in chandelier fixtures in high ceilings are routinely changed on a maintenance schedule, involving the cost of a cherry-picker, or hi-lo, and depending on the number of bulbs per fixture, a certain number of man hours per fixture. Typically, the replacement bulb used is a 2,000 to 3,000 hour incandescent requiring maintenance several times a year. Even with a 6,000 to 10,000 hour CFL, the maintenance schedule will be an annual event.
"Now, with MaxLite Warm LED bulbs, the life of the chandelier will be extended to 50,000 hours," said Murphy. "In a 24/7 operation, that means 6 or seven years between maintenance visits."
White LED technology development
MaxLite developed the end user specifications for the light bulbs by working with its reps, distributors, and end-users. The company was already working with Toshiba in other areas, and found that its Japanese partner was willing to give the development time necessary to produce a useable product. "For a while it seemed that half of their lighting engineers were solving a variety of 'LED as general lighting' problems," says Tim Wyatt, MaxLite Marketing Manager.
The secret to the warm white color is in the binning. "The variations in the bins is very slight, but by using the right combination of bins, we are able to accurately reproduce the 2700K color," says Wyatt. "Part of our requirement is firstly to produce the right color; secondly to reproduce this combination, time and time again; and thirdly to have the color wear at the same rate over time. In other words, the lamps have to all look the same when they're put in, and they must keep on looking the same."
A solution with four white LEDs turned out to be the right combination. "The color is right, the size of the package is right, and with 4 LEDs we have a marketable price point," concludes Wyatt.
MaxLite says that the next phase of development is already under way… an LED lamp in a fully dimmable application and an outdoor wet location application.
MaxLite is a New Jersey based global manufacturer and marketer of energy efficient lighting products. The company currently holds a variety of patents in the competitive field of fluorescent technology, and is one of the leading brands in the US. MaxLite is an active ENERGY STAR partner.