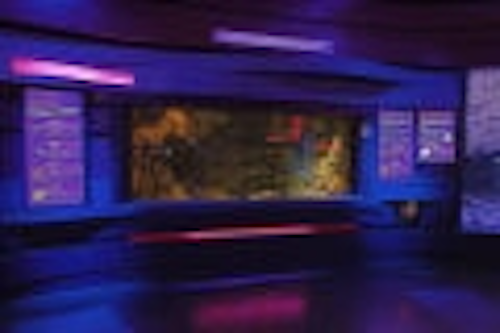 Architectural lighting specialists Lighting Technology Projects (LTP) have commissioned and programmed 130 ColorKinetics iColor® Cove EC fixtures for a new complex in The Deep, the world's only "submarium" in Hull, UK.
The Twilight Zone is a newly opened £6.8 million exhibition within The Deep, exploring the alien life forms found beneath the sunlit zone of the ocean. Lighting for The Twilight zone was designed by DHA's Peter Fordham, who approached LTP's Terry Reeves to commission and programme the ColorKinetics fixtures.
Dark blues, purples and rich UV hues are the predominant colouration in the Twilight Zone. While there has to be enough light for people to negotiate their way around, the environment is sufficiently dark for its exotic residents and also so that visitors can get a real feel for the atmosphere, mystery and drama of the bottom of the sea.
The iColor Cove EC's are 12-inch long RGB colour-changing LED strip lights. Fordham's design includes over 30 slots of light illuminated with these fixtures, ensconced into the display panels around the room.
Terry Reeves explains that the iColor Cove ECs were chosen as the most affordable, lower light intensity cove light in the iColor Cove product family, and also because of their additional reduced running costs. The fixture uses Chromasic technology to further lower the cost of digital LED control, thereby also lowering the cost of the total system.
The strips are designed for producing saturated colours and dynamic effects in under cabinet, edge, and alcove lighting. iColor Cove EC projects a soft-edge strip of light at a 120° beam angle and has a streamlined, low profile housing. Another plus is its easy 'through-hole' mounting feature, and the in-line power and data connections that reduce installation time and hassle.
The Twilight Zone slots contain a variety of iColor Cove EC combinations, some have a pair of strips, and others have 4, 6 or 8 fixtures respectively.
For the original lighting scheme at The Deep, LTP supplied all the above tank and scenic roof lighting, including 62 marine grade searchlights, from 150-watt metal halides to 1 kW xenons.