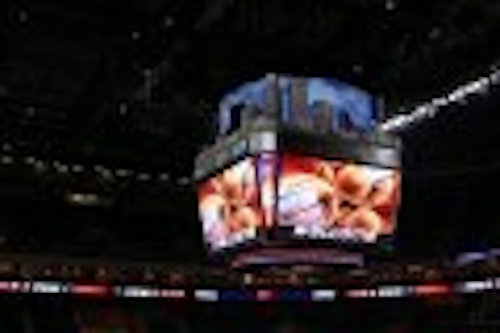 LED display maker Daktronics reported sales of $75.8 million and net income of $5.2 million, or $0.26 per diluted share, for the quarter ended October 29, 2005. Sales in the previous quarter were $72.3 million. In the same period last year, sales were $59.5 million and net income was the same.
"Orders were up significantly in the commercial market, in large part due to the growing interest in outdoor digital billboards and the national account business," said Jim Morgan, president and chief executive officer. "Sports orders also grew, led by the recently announced order for Dolphins Stadium that will showcase the world's largest high definition LED video display. Finally, we were pleased to see a rebound in our small sports facility business."
"A number of noteworthy orders were booked during the quarter. In addition to Dolphins Stadium, we received orders for large sports systems for the Rose Garden in Portland, Oregon, the Delta Center, in Salt Lake City, and the Arrowhead Pond in Anaheim, California.
The commercial market bookings included orders for more than 25 digital LED video billboards, and large systems for the new South Coast Casino in Las Vegas, Nevada, Chelsea Piers in New York, and the Emperor Hotel in Macau which will be a landmark display on the island.
In the transportation market we booked orders for the Nevada, Connecticut, Idaho, New Jersey, and North Carolina Departments of Transportation and various airport and parking systems throughout the country," said Morgan.
Daktronics supplies Charlotte Bobcats Arena
The new Charlotte Bobcats Arena hosted its inaugural NBA game on Saturday, Nov. 5, 2005, providing fans with a Bobcats victory and their first look at an integrated scoring and video system, designed and manufactured by Daktronics, which contains more than six million LEDs.
"We wanted to provide our fans with the ultimate 'wow' factor when they stepped into the seating bowl of the arena," said Barry Silberman, COO of Charlotte Bobcats Arena. "Below the three-dimensional, backlit skyline are the four largest high resolution video displays found in any arena in the country. Complementing the incredible scoreboard are multiple Daktronics fascia displays throughout the facility, keeping our fans and patrons informed and entertained with the latest stats, exciting animation, and video."
Components of the Daktronics integrated system include the one-of-a-kind center-hung scoreboard, super-sized LED fascia displays, shot and game clocks, backstop and end-of-period LED light strips, goal lights for hockey, locker room clocks, ticket window displays, retail store ticker displays, auxiliary scoreboards for the basketball practice court, and two large outdoor video displays.
The center-hung scoreboard incorporates four 16 feet by 28 feet ProStar® LED displays, capable of displaying live and recorded video, scores and game time, statistics, and other information in an infinite number of ways.
Mounted on the lower fascia is Daktronics full-color ProAd® technology, encircling the seating bowl. Two additional ProAd® displays are installed along the upper fascia, running parallel to the basketball court sidelines. Together, the three displays measure 1,265 feet long, providing fans with energizing graphics and animation, video clips, and additional statistics and information. Sponsors are also recognized on these eye-catching displays. Outside, two large ProStar® video displays welcome visitors and promote upcoming events.