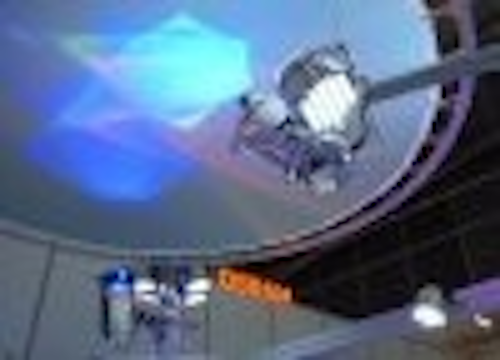 LED technology has seen tremendous growth over the past few years. LED manufacturers have managed to double the luminous efficacy of these electronic light sources every two years. The first red dots of light were followed by brighter and brighter versions in various shapes and colours. Today there are LEDs that emit bright light in any colour and even light at the ultraviolet and infrared ends of the spectrum.
Osram Opto Semiconductors, based in Regensburg, Germany, specialises in these semiconductor light sources and offers LEDs in various sizes and designs. Its products range from micro-components, which include SmartLED, CHIPLED, Micro SIDELED and PointLED products, to large high-power packages. These include TOPLED, Power TOPLED, Advanced PowerTOPLED, Golden DRAGON and the latest development, OSTAR.
All these light sources provide light in various colours, from typical monochrome and colour mixes to different shades of white. Golden Dragon LEDs are available in warm white, with emission that is similar to that from ordinary light bulbs.
LEDs with side-beam characteristics such as SIDELED and Micro SIDELED form a special category. They are providing fresh impetus to the display market, particularly mobile displays, because they make such displays far easier to read.
Technology: warm white LEDsWith the warm-white version of its Golden DRAGON, Osram Opto Semiconductors is opening up new applications in general lighting for LEDs. The warm-white version combines familiar LED benefits such as long life, small size and rugged design with a pleasant warm colour temperature that corresponds to that of a tungsten-halogen lamp.
Unlike LEDs previously available which provided a rather cold light with a colour temperature of 6500 to 8000 K, these new LEDs have a colour temperature of around 3200 K. They can be used as replacements for ordinary light bulbs, for example in reading lights, mood lighting, display cabinets and car interiors.
The warm tone has been achieved by changing the converter mixture in the white LED. White light is normally produced when a blue chip is combined with a yellow converter phosphor. Adding a red converter phosphor leads to a warmer white tone. The colour rendering index (CRI) of the warm white LEDs is 80, and the luminous flux is 23 lm.
Technology: OSTAR OSTAR is a new high-power LED that is available either as an RGB light source or in monochrome versions, in each case equipped with four thin-film chips. It measures just 3 x 1 cm and emits almost all of its internally generated light through the top surface.
OSTAR is ready to install as an RGB light source and consists of one red, one blue and two green thin-film chips, achieving a peak brightness value of more than 120 lm. In the red and green monochrome versions, OSTAR achieves values as high as 160 lm, and an impressive 40 lm in blue.
Broad-based competence
Behind this extensive product portfolio lies the specialist knowledge that Osram Opto Semiconductors brings to areas such as semiconductor technology, manufacturing and chip and package development, coupled with many years of experience in lighting technology that its parent company - Osram - can call upon.
As a globally active company, Osram can pool the research findings of developers from all its corporate divisions throughout the world. This includes in-depth knowledge of converter phosphors that the American subsidiary Osram Sylvania has built up together with specialists at the Osram works in Schwabmünchen, Germany, and the expertise of Osram Opto Semiconductors in using these phosphors in LEDs.
As far as patents for LED converter phosphors are concerned, Osram leads the world with more than 200 relevant patent applications covering the most important markets of Europe, the USA and Asia.
With its extensive know-how in semiconductors, converter materials and packages, Osram brings the three most important factors for the manufacture of high-power LEDs under the same roof. All the products meet the strict quality standards of the automobile industry so they can withstand critical ambient conditions, such as vibrations and extreme temperatures.
Technology: luminescence conversion
In luminescence conversion the light from, say, a blue LED excites a fluorescence phosphor that then emits yellow light. This mixture of blue and converted yellow light appears white to our eyes. In a similar way, all the other colours in the visible spectrum can be produced, including specific corporate colours, by using different phosphor mixtures. These LED solutions are an attractive alternative to conventional costly combinations of white light sources and coloured foil, particularly in illuminated advertising.
Matching of chips and packaging
In-house chip development is based on forward-looking technologies. Thin-film technology, for example, which has been developed by Osram Opto Semiconductors, provides brighter, more powerful chips that are used mainly in high-power products such as Golden DRAGON and OSTAR. These high-power LEDs can be used as miniature and highly versatile replacements for small incandescent lamps, for example.
Technology: thin-film LEDs
Light is generated inside LED chips with a high degree of efficiency. The greatest challenge with LEDs is finding an efficient way of extracting the light from the semiconductor crystal. The substrate, which is used as the template for crystal growth, absorbs a large proportion of the generated light.
Thin-film technology provides an effective remedy. Here, the substrate is used only for growing the crystal and is then removed at the end of this process. All that is left is a thin light-generating layer that is so close to the top surface of the LED that almost no light can escape at the side of the chip. These thin-film chips emit almost all their light through the top of the chip, which means that the radiated output increases in direct proportion to the size of the chip. The OSTAR device contains four thin-film chips.
Developing new chips means matching the chip and packaging perfectly to one another. This ensures that modern LEDs can meet all the requirements relating to brightness, output and heat dissipation. Osram Opto Semiconductors manufactures most of its products using SMT technology (Surface Mounted Technology), including TOPLEDs, Power TOPLEDs, Advanced Power TOPLEDs, SmartLEDs and the high-power LEDs Golden DRAGON and OSTAR. All LEDs manufactured in SMT technology are suitable for standard solder processes and are now being produced in large volumes.
Technology: Thermal managementThe trend towards high-power LEDs with high luminous efficacy is continuing apace. Good thermal management ensures that the heat produced is reliably dissipated. This ensures that even high-power LEDs such as the Golden DRAGON will last up to 100,000 hours.
These LEDs consist of a system carrier (lead frame) with integrated heat distributor and are enclosed in a thermoplastic package. At the back of the package there is a heat distributor that can be soldered to the board. This heat distributor regulates heat removal from the semiconductor package to the substrate.
In addition, external thermal management is needed to optimise the thermal resistances between the heat distributor and the board, and between the board and the environment. The board technology used has a significant effect on the heat dispersal capacity and the efficient removal of heat to the environment via heat sinks. The heat generated is released by radiation and convection from all surfaces that come into contact with the ambient air.
LEDs in any colour you like
Properties of LEDs such as long life, zero maintenance, minimal dimensions and small mounting depth are providing a hitherto unknown degree of flexibility and freedom of design. The trump card, however, is that LEDs produce coloured light directly. With conventional light sources, coloured light has to be filtered from a continual spectrum. This process always has associated losses. As far as colour is concerned, LEDs are therefore superior to conventional light sources in output and efficiency.
Osram Opto Semiconductors manufactures LEDs on the basis of luminescence conversion in all colours, even specific colours (Colour on Demand), for example individual corporate colours. This provides designers and architects with new possibilities in colour design.
Colour creates moods, provides accents, marks out different areas of a building, adds dynamics to walls, columns and facades, and brightens up windows. There is enormous potential for using LEDs, as some spectacular projects have already demonstrated. In all these projects, the miniature light source itself is barely evident; its effect, however, is plain for all to see.
APPLICATIONS: a blaze of light, colours and effects
**
The impressive façade of the
New World Centre in Hong Kong
greets visitors to the Kowloon peninsular arriving at Victoria Harbour. Its constantly changing lighting can be seen from miles away. This complex of buildings, with its mix of luxurious shopping malls, exhibition rooms, apartments and a world famous hotel, is a prominent feature of the skyline of Victoria Harbour thanks to its eye-catching architecture and lighting.
Lighting designer Harry Lee has succeeded in redefining the boundaries of conventional lighting with thousands of LEDs mounted in iColorAccent modules from Color Kinetics. More than 1120 metres of lines of light, covering the fourth to the fourteenth floors of the building, catch the attention of visitors with subtle changes of colour and dynamic effects. An intelligent controller enables the patterns and chases to be easily modified and adapted to suit any type of event or occasion.
** The façade of the Airport Casino in Basle, Switzerland, looks like a flaming red wall that from time to time changes into wave-like undulations and other eye-catching effects. This installation is also based on LEDs, which are now so bright that they can illuminate even very large areas. The LEDs are concealed in rails along the floor and along the ceiling, and the wave motions and other effects are produced by controlling the LEDs in specific sequences.
**
Light and sound come together at the
Hush Night Club in Houston
in a completely new combination. Like a stunning light show at a high-class rock concert, dramatic lighting effects are used to underline the particular style of music and to help create the right mood.
There are various lounge and bar areas around the sunken dance floor, with a large round "light insect" above it as a fascinating focal point. The six legs of this "insect" move up and down in time to the music. The outer ring is formed by 120 illuminated spokes arranged in a circle, each of which contains two iColorAccent modules from Color Kinetics, equipped with LEDs from Osram Opto Semiconductors. Together with the moving-head spotlights, they provide a variety of chases and colour effects to create a unique atmosphere.
** At the Electronica show in 2004, Osram Opto Semiconductors showcased its capabilities by lighting its entire stand with LEDs. The light came from white and coloured spotlights of various sizes, equipped with high-power Golden DRAGON devices.
Canvases on which star shapes appeared in ever-changing colours were the first things to attract the attention of visitors. The effects were provided by six coloured spotlights each with twelve LEDs in red, blue and green, accommodated on a specially designed PCB. Special optics, normally used in traffic lights, enhanced the effect still further.
Elsewhere, 70 spotlights each containing 24 white LEDs were used to provide the background lighting for the stand. LED experts at Osram Opto Semiconductors converted conventional stage spotlights to accommodate LEDs, which were mounted on metallic core boards and attached to a heat sink. This meant that although the spotlights were not originally designed for LEDs, the heat generated could be reliably dissipated.
**
Adults and children alike can discover colour mixing in the labyrinth of light at the
Playmobil park in Nuremberg
. By touching colour selection elements in red, green and blue, it is possible to change the colour of the light in your own space and the spaces around you.
LEDs conquer general lighting
Thanks to their ever increasing luminous efficacy, LEDs are conquering new applications. These miniature light sources continue to penetrate more and more areas of the lighting market and gain in importance as a result. Their specific properties are giving rise to lighting solutions that could only be achieved with classic lamps at great expense or not at all.