TT electronics
OPTEK Technology
offers design engineers an integrated source for visible LED products for solid state lighting applications, including a comprehensive range of industry-standard high brightness and power LEDs for interior and exterior automotive lighting, displays and signage, backlighting and indicator lights, commercial, institutional, residential lighting and general illumination applications.
The company's
VLED business unit
, focused on visible optoelectronics technology, expands the company's offerings in infrared and optoelectronic sensing technologies. The VLED business unit delivers the entire spectrum of visible LEDs, including the revolutionary 10W OPTEK Lednium Series, one of the industry's brightest single-source packaged visible LED assemblies.
In addition, OPTEK offers the following:
Surface mount LEDs in reflective PLCC and chip LED packages, including fully-tunable full-color RGB assemblies for indoor and outdoor displays
High-brightness through-hole AlInGaP and InGaN LEDs available in all colors and viewing angles
cooled™ insured by Anotherm® -- high-power LEDs with built-in thermal management to deliver long life energy efficient full power LED illumination
High flux 4-pin LEDs for automotive and neon outdoor signage replacement
High-reliability LEDs in hermetic packaging (TO-18, TO-46 and pill packs) for military/aerospace, medical or industrial applications
LED replacement bulbs with socket bases for high efficiency long life replacement of conventional incandescent bulbs
OPTEK's Lednium Series 3D LED Array: a new dimension to solid-state lighting applications
OPTEK Technology replaces conventional ideas about lighting technology with its new Lednium Series LED assemblies. By combining high brightness LEDs with a revolutionary three-dimensional packaging technology, OPTEK Technology offers an exceptionally bright 10-watt LED assembly that provides up to 330 lumens of light output from a compact surface mount package (see press release).
One of the industry's brightest single-source LED assemblies, the OPTEK Lednium Series package offers a full 120° viewing angle for its array of amber, blue, green, red, or white LEDs. OPTEK's Lednium Series devices achieve an output of up to 330 lumens with nine 1W LEDs mounted in an anodized aluminum package just 1.3 inches square, with a board mounted profile of less than 0.5 inch.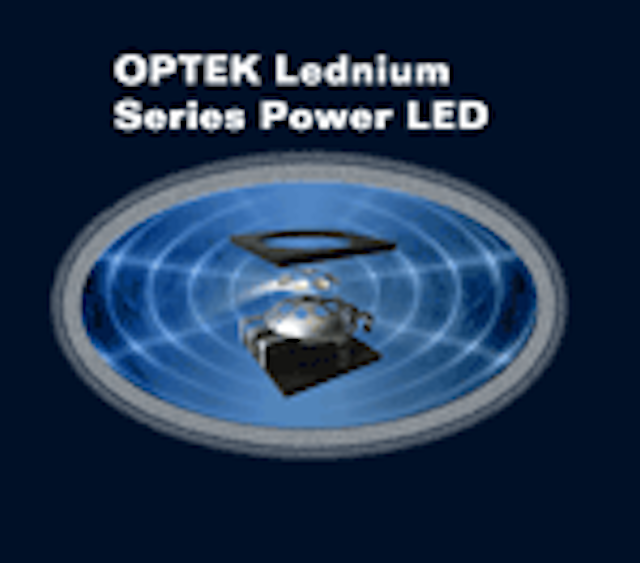 Conventionally-packaged LED arrays with comparable light output often require as many as twelve 1-watt LEDs in configurations up to 8 inches in diameter, which typically consume more power. The wide viewing angle, increased brightness and low thermal resistance of the package enable full-power LED operation with long lifespan -- all critical features for lighting design engineers as they begin to incorporate solid state light sources (LEDs) into applications such as automotive interior and exterior lighting, indoor and outdoor electronic signage and displays, as well as architectural lighting and general lighting applications.
The OPTEK Lednium Series LED assemblies also provide different parallel-serial connections that enable the operation of three, six or all nine of the mounted LEDs, enabling design engineers to vary the light output and power consumption. OPTEK's Lednium Series devices are available in amber (595nm, 330lm); blue (467nm, 60lm); green (524nm, 290lm); red (624nm, 247lm); and white (250lm). All colors feature a full 120° viewing angle in water clear lenses. In development are other visible, as well as UV and IR wavelengths and package configurations, including single-chip "cup" packaged discrete LED lighting units (see 10 W Lednium SMD series data sheet).
In 2005, TT electronics OPTEK Technology signed a joint research and development, manufacturing and marketing relationship agreement with Lednium, an Australian based LED technology company. This strategic alliance combines the strengths of both companies to create a significant presence in the emerging solid state lighting industry (for more information see "Lednium's three-dimensional LED packages provide wide-angle intensity distribution").
Company Background: Delivering the full spectrum of optoelectronic technology
OPTEK established a visible LED business unit in 2005 and currently offers a comprehensive product line that includes industry standard high brightness and high power LEDs. OPTEK Technology is a leading manufacturer of standard and application-specific sensors using infrared, visible, magnetic and fiber optic technologies focused on applications in office machines, industrial equipment, encoders, automotive electronics, military and high-reliability applications, and medical diagnostic equipment.
Headquartered in Carrollton, TX, the company is ISO/TS16949:2002 and BS EN ISO 9001:2000 certified, as well as ITAR registered. OPTEK Technology was acquired by TT electronics in December 2003. TT electronics plc is a global electronics company manufacturing a broad range of advanced electronic components, assemblies and sensor modules for the automotive, industrial, telecommunication, computer and aerospace markets.
For more information about the OPTEK Lednium Series products, contact TT electronics' OPTEK Technology at 1645 Wallace Dr., Carrollton, TX, 75006. Tel. +1 972-323- 2200, e-mail at visibleLED@optekinc.com or visit OPTEK on the web at www.optekinc.com/vled.html.
In Europe, contact JP Delaporte at info@optek-europe.com or call +33-1-34-24-8788.
In Asia, contact T.H. Swee at thswee@optekasia.com or call +852-9190-4641.