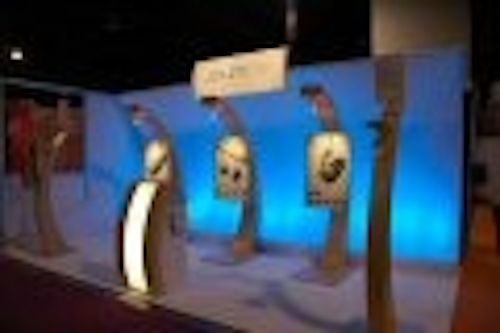 Among the award winners at Lightfair International was a new company,
Journée Lighting
, which won the Best Booth award in the 100-200 square foot category. Journée chose Lightfair to launch its Lotus LED-based fixture, a highly stylish track-lighting product built around a 6-chip Ostar Lighting LED from Osram Opto Semiconductors.
The Lotus produces up to 700 lm, and features WattageAdjust™ - this is a button allowing the user to switch between three output levels. There is also an onboard dimming control as well as thermal feedback to prevent the fixture from getting too hot.
The following products won "Best of Category" awards in the New Product Showcase. A full list of entrants can be found at New Product Showcase website.
>> Specialty Lamps
Luxeon K2 from Lumileds
The award for Lumileds Lighting's Luxeon K2 LED, released earlier this year, coincided with the company's
press release
promoting the benefits of operating the K2 at a current of 1000 mA. Lumileds describes the K2 as setting new standards with the industry's highest junction temperature, drive current capability, moisture sensitivity level and light output characteristics for maximum engineering and design flexibility.
Unsuccessful entrants in this category included CML's 6S6 lamp, Lamina's Titan and Atlas, OPTEK's Lednium series, Osram's 6-chip Ostar Lighting, and PerkinElmer's AcuLED.
>> Downlights, Wallwashers, and Accent Lights
LumeLEX from Lighting Services Inc
Lightfair was the first view in North America of the LumeLEX from
Lighting Services Inc
, developed in conjunction with TIR Systems using Lexel technology. Providing 1000 lumens of useful white light and a 16° beam spread, the LumeLEX™ has a light output which is comparable to a 75W PAR lamp. The output is fully and easily controllable and, unlike traditional lighting sources, can be dimmed down to 10% without any shift in color temperature. With a stepped range of six color temperatures, from incandescent (2700K) through cool white, to a daylight range of 6500K, the LumeLEX™ will enable retailers, for example, to change the color temperature to suit different products and changing seasonal displays. For more information, see
press release
.
This very well-contested category also included the evo LED downlight from Renaissance Lighting, the NeoBulb round recessed light from NeoPac Lighting, and the Enbryten ENBC series from Permlight.
>> Systems
Lexel from TIR Systems
TIR Systems had a pared-down booth at Lightfair displaying products from three manufacturers (Zumtobel, Spectral and Lighting Services Inc) that have integrated the company's Lexel technology into luminaires. Lexel from TIR is the first fully-integrated, dimmable LED-based light source offering 1000 lumens, color temperature control from 2700 – 6500 K, and 100% lumen maintenance in a clean 17° beam angle. Leonard Hordyk, president & CEO of TIR, said "Winning the Systems category demonstrates that the lighting industry recognizes the value of a fully integrated solid state lighting solution for white light illumination."
>> Chandeliers, Pendants, Sconces, Task Lights and Suspended Luminaires
Mira from 3G Lighting
Mira is a decorative pendant that uses color changing LEDs and mirrored acrylic to create a unique lighting effect. The inner diffuser subtly glows through the mirror while creating countless reflections in the mirrored box
>> Landscape, Pool and Fountain
Nalu from Dreamscape Lighting
Nalu is a sculptural formed illuminator that utilizes either a halogen or LED light source to provide general accent illumination on architectural hardscape or landscape vegetation.
>> Theatrical and Specialty Luminaires
Ultimate Architectural Floor Tiles from LightWild
LightWild brings the entertaining impact of colorful LED lighting to floors, pathways, dance areas, and patios with Ultimate Architectural Floor Tiles. Tiles are weather proof for indoor or outdoor use and controllable with DMX or LightWild software.