NGL SSL Competition 2016 (MAGAZINE)
As Carrie Meadows reports, the Next-Generation Luminaires Solid-State Lighting Design competition continues to follow trending technologies and applications; thus this year the judges were also tasked with evaluating two new product categories - connected lighting for indoor use and sports lighting for outdoor use.

Jun 9th, 2016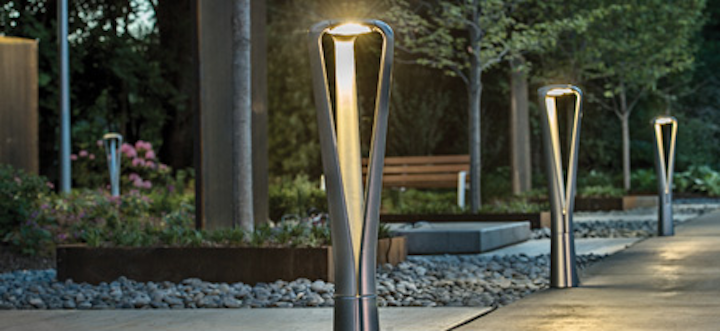 During the LightFair International (LFI) conference and exhibition in San Diego, CA (April 26-28), the winners among the commercial lighting products submitted for the US Department of Energy's annual Next Generation Luminaires (NGL) Solid-State Lighting (SSL) Design competition were announced. Following last year's model, the organizers combined the Indoor and Outdoor luminaire announcements, and the judges have recognized 25 out of 93 submissions, with only five of those luminaires taking home Outstanding honors. As CARRIE MEADOWS reports, NGL continues to follow trending technologies and applications; thus this year the judges were also tasked with evaluating two new product categories - connected lighting for indoor use and sports lighting for outdoor use - and designated five products in total as "Notable."
MORE: http://www.ngldc.org/index.stm
The panel of 11 indoor and 10 outdoor lighting judges, experts in the fields of architectural and outdoor lighting, noted that this year's SSL products exhibited a higher level of lumen maintenance - greater than 85% (L85) at 50,000 hours - than in past years. They also pointed out that for the first time in this competition, 31% of submitted indoor luminaires had CRI greater than 90. Scores were based on color, illuminance, light distribution, serviceability, value, dimming control, and appearance.
Interested in articles & announcements on SSL design?
Outstanding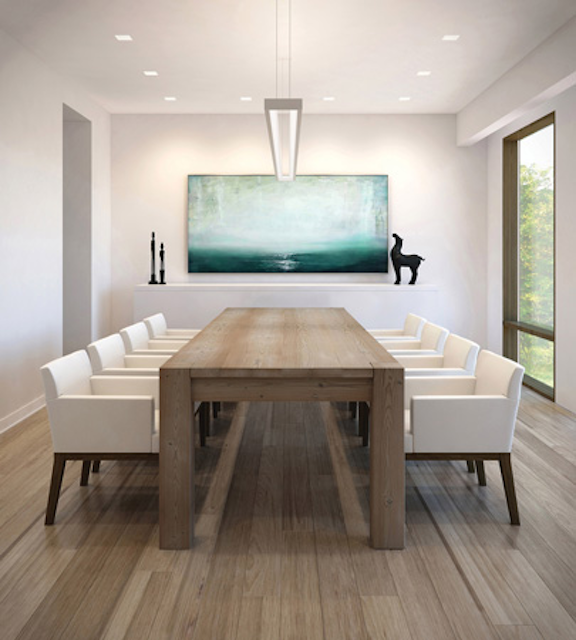 Nera
BY FOCAL POINT
With luminous efficacy of 101 lm/W, 3500K CCT, and CRI of 80, the sleek design of the Nera linear pendant features a hollow center, a design element known as a "visual void" that creates the appearance of lightness. The judges were impressed with the supply of power through the suspension wire as well to enhance the minimalist aspect.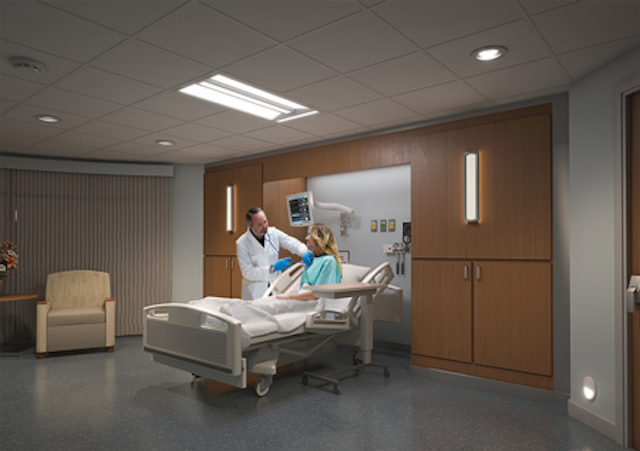 MedMaster Balance
BY KENALL LIGHTING
The MedMaster over-bed, white-tunable LED luminaire is a multifunctional healthcare task master, with color tuning from 2700K to 6500K in ambient and reading modes as well as a fixed CCT for patient exams. Judges praised the fixture's glare control and flexibility. It outputs up to 13,670 lm at input power of 190W, for luminous efficacy of nearly 72 lm/W.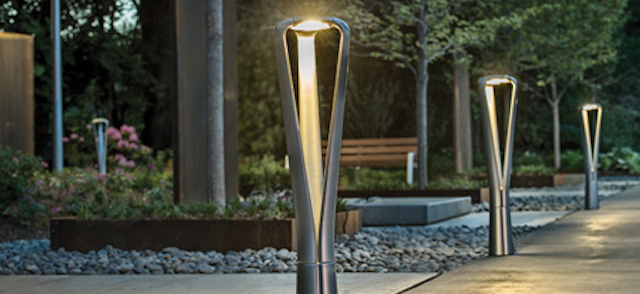 Next-Generation Luminaires SSL Competition
FGP Path Light
BY LANDSCAPE FORMS, INC.
The cast-aluminum bollard achieves thermal and lighting performance to match its modern and innovative aesthetics. The 50-lm/W surface-mounted path light delivers uniform, 3500K-CCT illumination at 81 CRI and reduced glare with specially engineered beam aiming angles. The panel appreciated the availability of installation instructions via a smartphone-scanned QR code.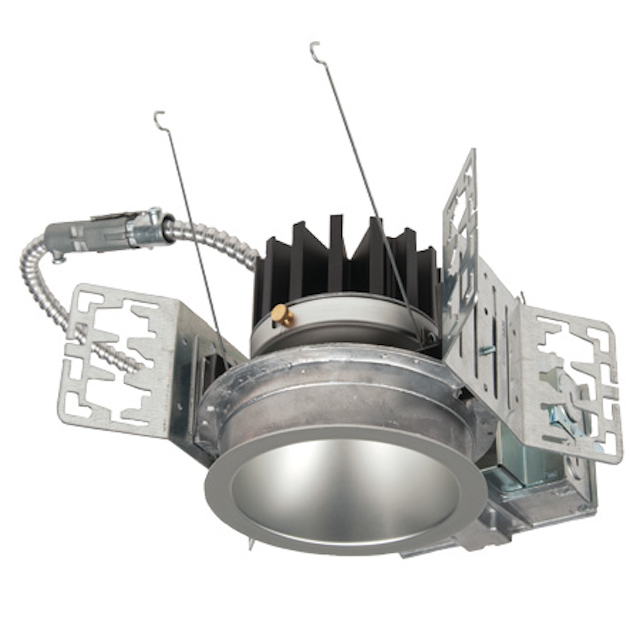 Portfolio Dim to Warm
BY EATON
The 71-lm/W Portfolio LED downlight was honored for its smooth control from dim to warm illumination, producing 3000K-CCT light at full power and maintaining CRI over 90 while dimming and reducing CCT to 1800K. The downlight's diffused optical system enhances light control as well as producing low-aperture brightness. The panel recommended that the lens be factory installed.
RSW Series LED Street Luminaire
BY CREE
Cree's proprietary waveguide technology, called WaveMax, uses optics engineered for glare control and even light distribution, helping to smooth the way for success with the 3000K-CCT streetlight. Judges professed concern about the luminaire's durability but were impressed with its 110-lm/W efficacy, delivering 2800-lm output with 95 CRI at 30W of power while producing high-quality light.
Recognized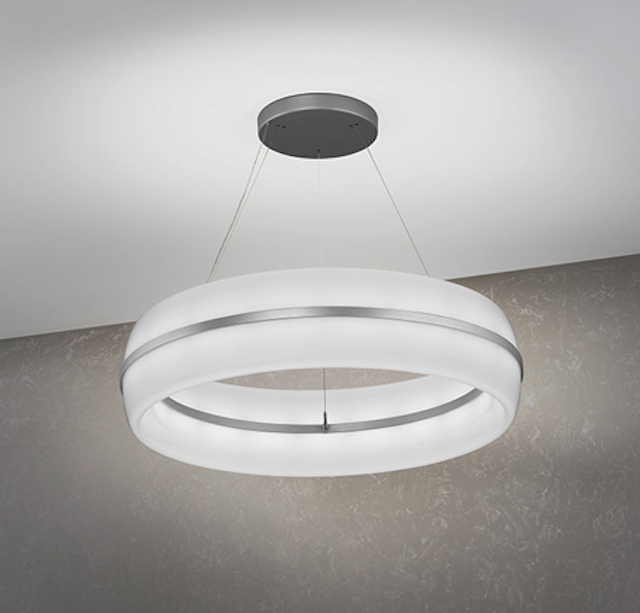 Meridian
BY VISA LIGHTING
The Meridian decorative pendant luminaire produces 9268 lm at 125W of power for 74-lm/W efficacy and can serve in large spaces. The ~3400K-CCT, 83-CRI pendant received accolades for its modern and simple aesthetics, but judges did remark that the cable connection was a distraction from the styling, and that flicker occurred at the low end of dimming.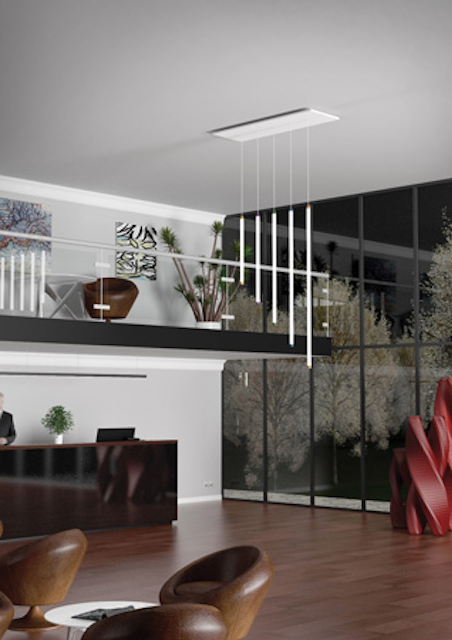 XOOTUBE 38 HD15
BY LED LINEAR GMBH
The clean form factor of the XOOTUBE's 38-mm-diameter linear decorative pendant design is complemented by varying colored end caps for style. Input power is 25W with 1931 lm of 3523K-CCT, 84-CRI light for efficacy of 75 lm/W. Color inconsistencies in the illumination are managed with a "one-bin only" policy. Judges appreciated the dimming quality and aesthetics but noted the high cost.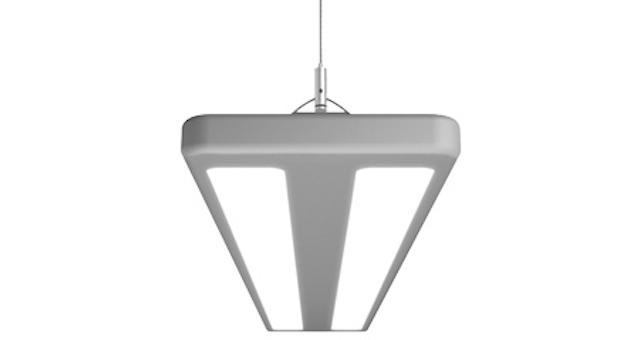 FloatPlane Suspended LED
BY PHILIPS LEDALITE
The FloatPlane linear pendant achieves 126-lm/W efficacy with 3144-lm output and 25W of input power. With curve or edge profiles and smooth dimming, the value-priced luminaire delivers good performance but durability and the low light level were concerns.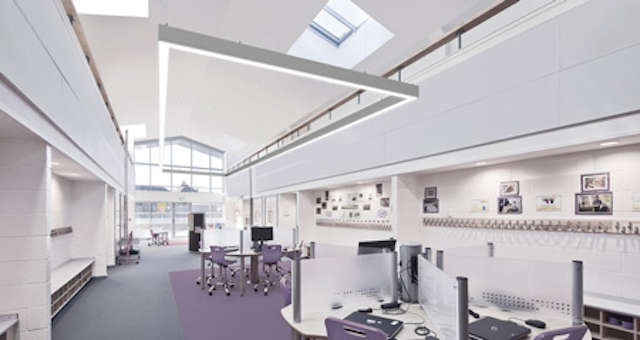 TruGroove Suspended LED
BY PHILIPS LEDALITE
The optics and glare control of the TruGroove luminaire enable a wide-throw batwing light distribution in a linear pendant form factor. Fewer 116-lm/W fixtures can be spaced further apart to reduce cost, energy consumption, and carbon footprint. Dimming performance was described as uneven at the low end of the dimming range.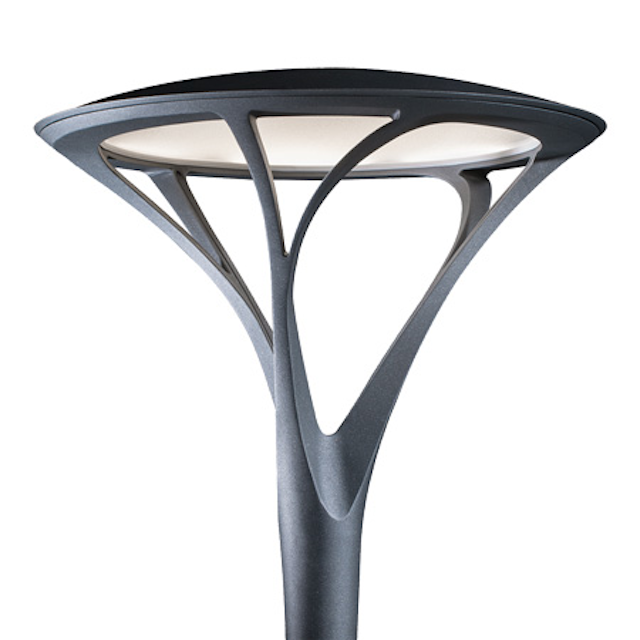 Arbor Decorative Post Top
BY EATON
For pedestrian-scale post-top applications in urban locations, the Arbor luminaire's optic and design radiate style and uniform, 3844K-CCT, 73-CRI light at 98 lm/W (from 9463 lm and 96W). Serviceability and glare concerns were noted by the judging panel.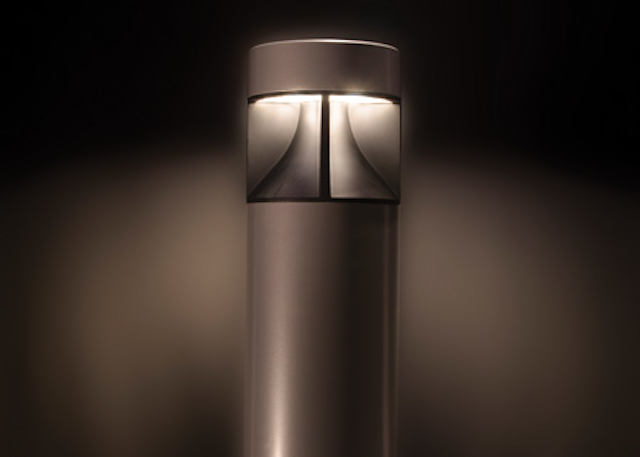 Inula Bollard LED
BY SELUX CORPORATION
The judges praised the light distribution, glare control, and construction of the 2086-lm bollard (at 27W of power, it reaches 76-lm/W efficacy). A recessed light engine, convex cone-shaped light chamber, and matte black finish provide a BUG uplight rating of U0. The judges were concerned about installation difficulties.

M60 MyWhite
BY SELUX CORPORATION
The white-tunable M60 MyWhite luminaire delivers consistent color while dimming and provides 83-CRI light at up to 6357K CCT. The 2054-lm, 30W fixture enables flexibility for zone lighting with its smooth color tuning while dimming; the panel recommended incorporating user-specified CCT into the control options.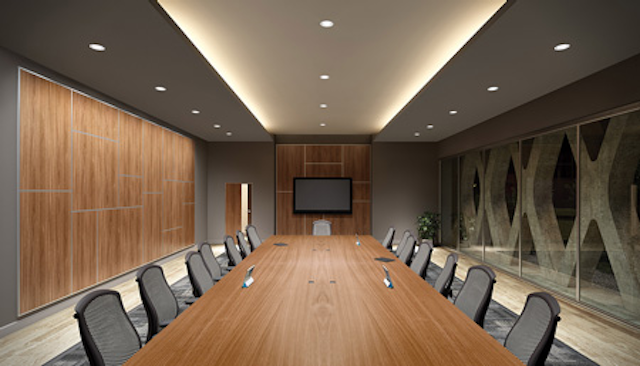 EVO 4-in. Tunable White
BY ACUITY BRANDS LIGHTING, INC.
The white-tunable, 4300K-CCT EVO 4-in. downlight leverages the lighting distributions of Gotham EVO fixtures, creating multiple natural light patterns and colors. With 60-lm/W efficacy achieved from 1801-lm output and 30W of power, the luminaire was praised for its color quality and illuminance although there were concerns about the warm amber-color light in the low dimming range.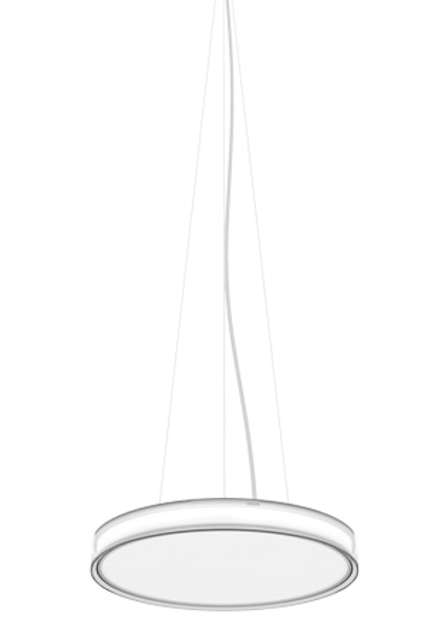 Kju Circle
BY SELUX CORPORATION
The Kju Circle decorative pendant achieves good color at 86 CRI and CCT of 4119K. The 94-lm/W luminaire with 2074-lm output at 22W delivers smooth dimming, but judges observed a bit of flicker when dimming at the low end of the range.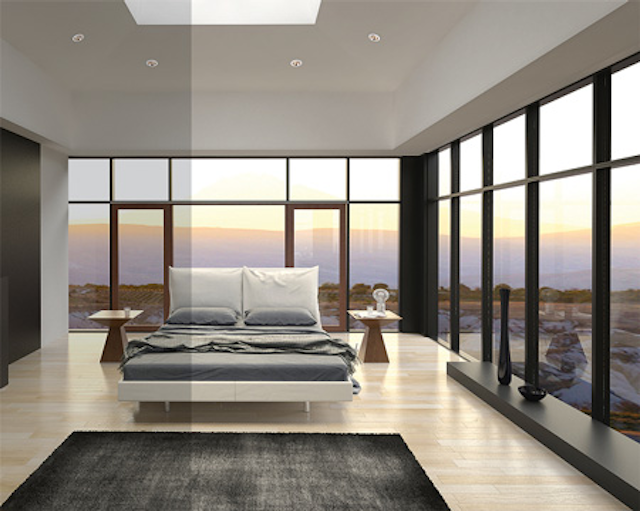 Juno 4-in. I.A. Downlight
BY JUNO LIGHTING GROUP
A slider adjustment mechanism integrated into the recessed accent downlight provides beam aiming at angles up to 35° vertical and 360° horizontal. Multiple trims are available. The downlight's 64-lm/W efficacy is achieved with 15W of power and 974-lm output. The panel praised the color quality at 2914K CCT and 93 CRI, but observed inconsistencies in beam spread.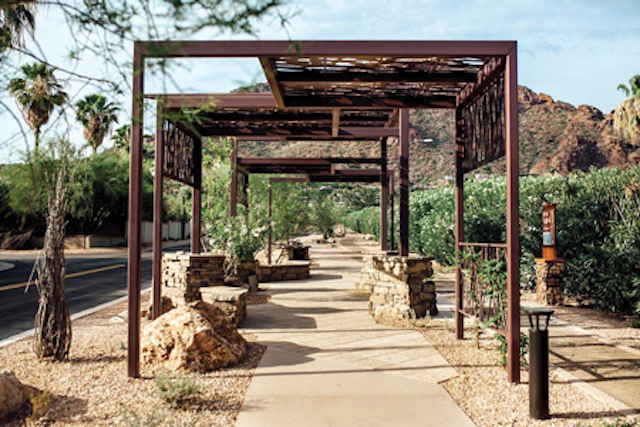 PLB-AC Series LED Bollard
BY FIRST LIGHT TECHNOLOGIES
Pathway and public area lighting applications receive a color quality boost from the sturdily constructed PLC-AC bollard. Color rendering was notable at 74 CRI and 4607K CCT. The luminaire reaches 96 lm/W with 949 lm and 10W of power. The panel agreed that better labeling on the base plate would improve aiming.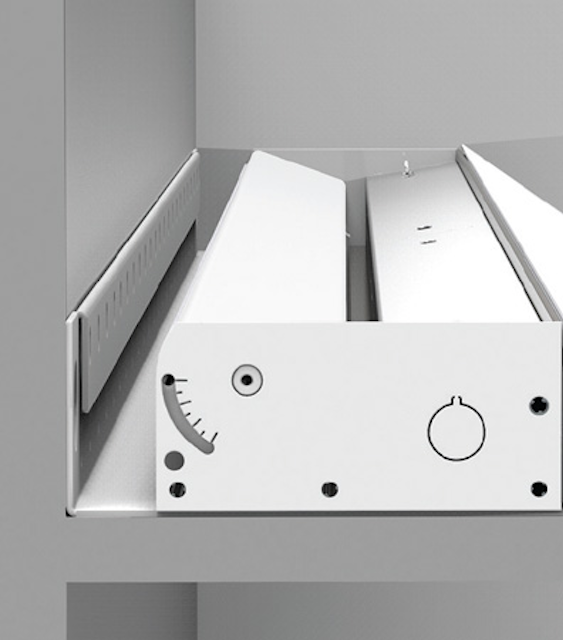 ALCOVE Ramp
BY LUMENWERX
The 125-lm/W cove luminaire can be installed as one individual fixture or in continuous runs, and does not require a site-built cove. Featuring 83-CRI, 3415K-CCT light output at 2305 lm, the fixture received high marks for dimming control and flexibility of mounting but there were concerns about cost.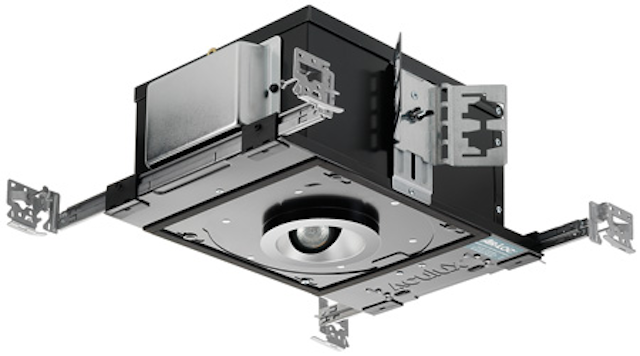 Aculux 3 1/4-in. BBD/TW, Gen 2
BY JUNO LIGHTING GROUP
The Acuity Brands company's luminaire features two modes for controlling intensity and CCT independently: Black Body Dimming and Tunable White. The fixture produces 972 lm of 2811K-CCT, 91-CRI light using 19W of power for luminous efficacy of 50 lm/W. Although the panel was concerned about serviceability, they were impressed with the interchangeable optics with round or square apertures and color consistency.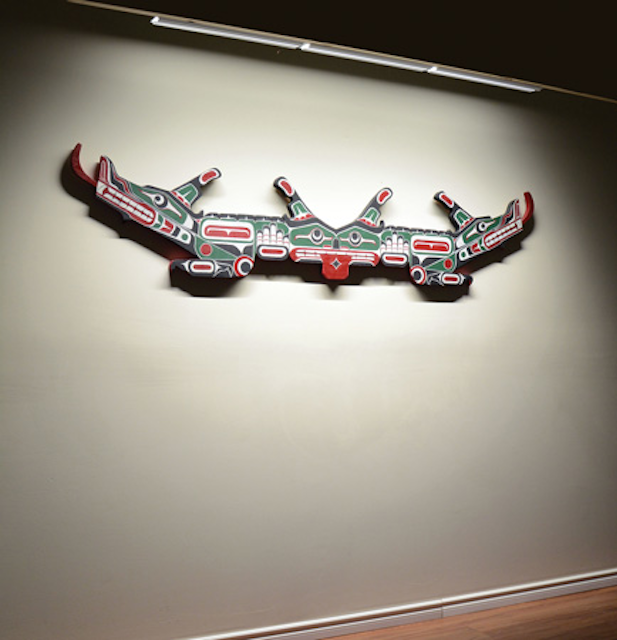 Q-Wall
BY QUARKSTAR IN COLLABORATION WITH EVERLIGHT
Q-Wall and Q-Graze, wall wash and wall graze luminaires in the same product family, were both evaluated by the judges and were noted to exhibit uniform, glare-free light distribution as a result of high-performing optics. The Q-Wall delivers 2200 lm of 3280K-CCT, 85-CRI light from 27W of power for 80-lm/W efficacy.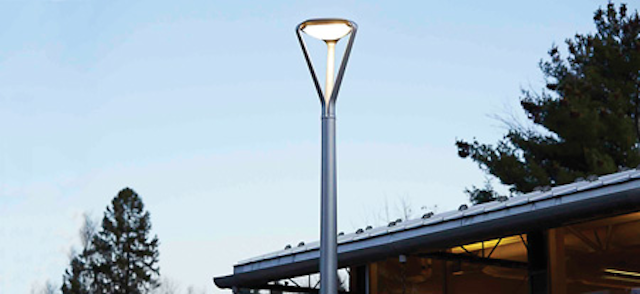 FGP Pedestrian Light
BY LANDSCAPE FORMS, INC.
The 70-lm/W pedestrian-scale post-top luminaire boasts a diffused lens to control glare and optics that distribute light where needed. Available in versions for multiple mounting heights, the 3990-lm-output luminaire with 4000K CCT and CRI of 82 provides good color rendering.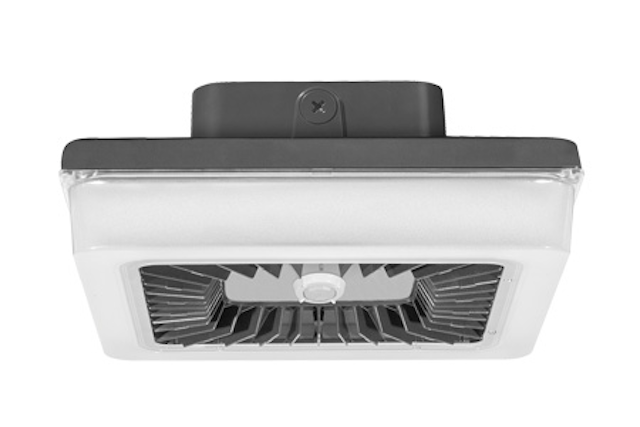 PORTO
BY RAB LIGHTING INC.
Multilevel lighting controls including occupancy sensors and optics that deliver 20% uplight help the parking garage luminaire get good marks from the judges. It delivers 3151 lm of 3886K-CCT, 73-CRI light using 29W of power for 108-lm/W efficacy; however, color quality was questioned.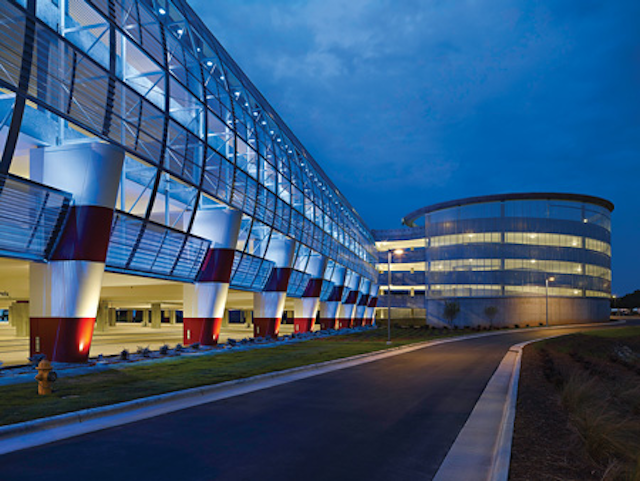 TekDek High Output
BY KENALL LIGHTING
The TekDek luminaire with microwave sensing technology and remotely controllable settings lives up to its high output name with 10,929 lm in parking garages. The panel was pleased with the occupancy sensor's half-dimming function, integrated controls, and the light distribution of the 103-lm/W fixture.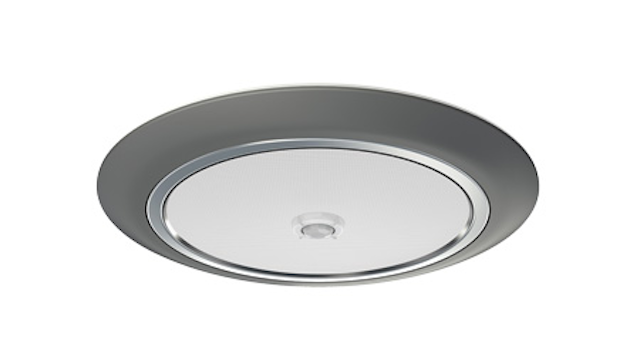 SoftView LED Parking Garage Luminaire
BY PHILIPS GARDCO
Edge lighting with minimal glare enables the SoftView parking garage luminaire to provide visually comfortable lighting. The uplight feature of the 5700K-CCT, 70-CRI luminaire reduces the typical "cave lighting" effect in garage applications. Light output ranges from 3049 lm at 27W to 7911 lm at 85W. The judges' only concern was serviceability.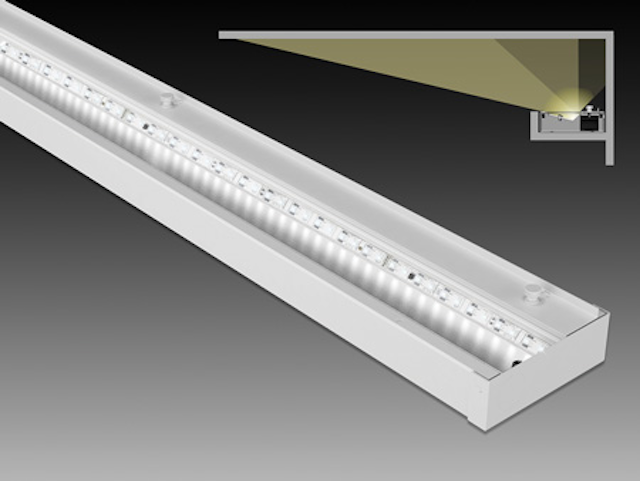 EF600 System
BY LF ILLUMINATION
The small-profile linear cove lighting system is available with three different power densities and features integral through-wiring for ease of installation. The asymmetric system's adjustable back shield helps to eliminate light spill. The 3082K-CCT, 82-CRI illumination is output at 3482 lm from 33W (efficacy is 104 lm/W). Judges noted that during dimming, light output became uneven.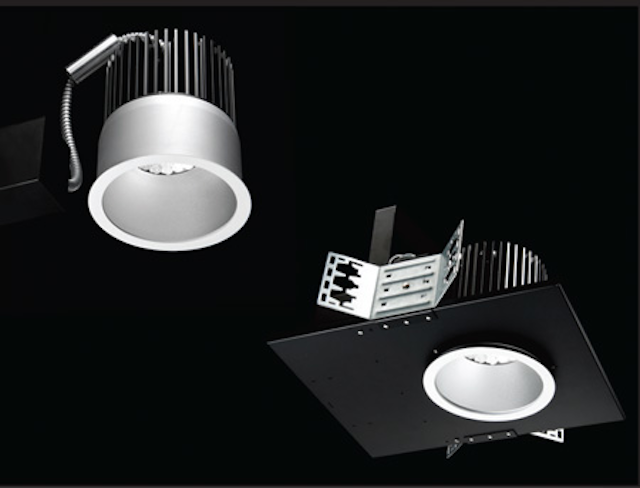 6-in. High Lumen Recessed Downlight
BY METEOR LIGHTING
The high-output downlight delivers 2985K-CCT, 82-CRI illumination at 7722 lm and 86W for 90-lm/W efficacy. A low-glare optical lens combined with multiple LED sources provides uniform light distribution. The judges noted the glare control was still lacking and cost was a factor of concern.
Notable luminaires indicate technology trends
Although the panel did not perceive any one of the connected lighting entries to excel over another, they did note that each had merits in different applications. Submissions included Cree's SmartCast Technology and Philips' SpaceWise Technology, both of which have luminaires that feature integrated network controls; and the Enlighted Control Solution, which uses an external controller with networked luminaires.
The panel also found that Eaton's Ephesus Lighting Stadium Pro and KMV's SUFA-A Sports Luminaire - the two sports lighting products that were evaluated - were Notable as they were appropriate for larger venues, but they did not judge the products to be appropriate for smaller recreational installations.