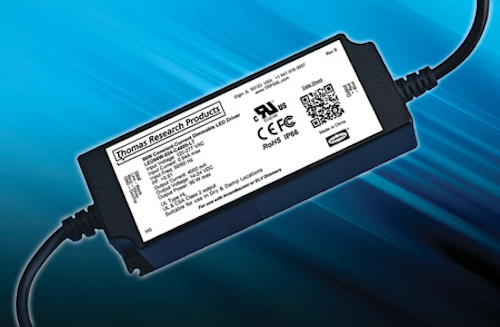 The driver in a solid-state lighting (SSL) product, especially a luminaire, can have almost the same impact on end product performance as does the LED light engine. Indeed, the driver is most responsible for baseline lighting requirements such as flicker-free operation, and also evolving features such as wireless connectivity or current-level programming that are implemented in the driver. The driver manufacturers are tasked with supporting such an expanding array of functionality while also delivering on the common customer expectations of optimum efficiency and power factor that at least meets the requirements of market transformation programs such as Energy Star in the US. In this article that covers some of the latest LED driver products from a number of prominent vendors, we will spotlight state-of-the-art value-added features in drivers. - MAURY WRIGHT
Interested in articles & announcements on LED drivers?

Philips Lighting Xitanium SR Series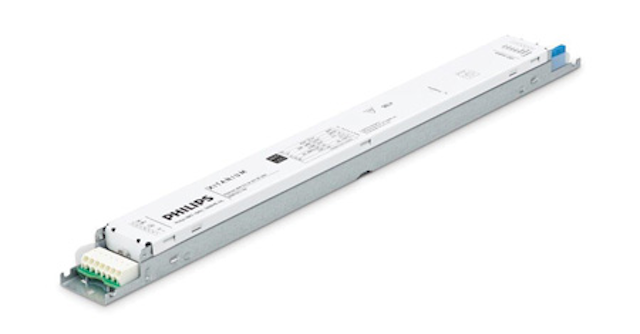 Philips Lighting is one company that has approached driver design with an eye to luminaire developers that might want to add connectivity, sensing, and intelligence features to an SSL product. Indeed, the Xitanium SR series for indoor commercial applications includes a digital addressable lighting interface (DALI) that is not so much intended to connect the driver to a DALI controller but to link the driver inside the luminaire to an intelligent sensor. The SR in the product name signifies sensor ready and Philips is looking to develop an ecosystem of partners that offer SR-compatible sensors. For instance, wireless network and sensor specialist Enlighted has a version of its wireless controller and sensor module that works seamlessly with the Xitanium XR Series products. Samsung also offers a connectivity module for the SR series, and Digital Lumens supports the technology in its building management system. The Philips drivers also offer the ability of precise output current configuration through a current-set resistor, via a dedicated programming tool, or over the SR interface so developers can get the precise current output required in an application.
Acuity eldoLED Dualdrive with LightShape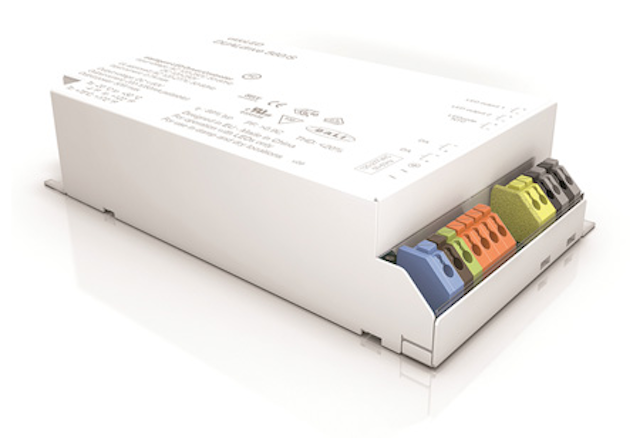 White-point tunable LED luminaires are a growing SSL market segment, and while such products can seem simple with two strings of LEDs delivering variable CCT, driving and controlling such light engines can be very complex. We had a feature article on the topic in our June issue. Acuity's eldoLED driver business unit, however, introduced LightShape technology at LightFair International (LFI) to simplify tunable luminaire development and ultimately make tunable products easy to install and use. The tuning algorithms are ultimately integrated in the company's drivers including the Dualdrive (pictured) and Solodrive series. That integration means that control can come over standard 0-10V or DALI interfaces, while preset color parameters are configured with eldoLED software. Ultimately, user control can be via dual sliders for intensity and color, or via a single slider to follow a preset profile such as warm dimming. The Dualdrive line includes 50W and 100W drivers in various form factors, all with DALI compatibility. Also at LFI, eldoLED introduced new Symbiosis drivers that support visible light communications (VLC) that can be used with connected luminaires in a variety of indoor positioning applications - for example, guiding shoppers to merchandise in a retail setting.
Thomas Research Products LED96W-LT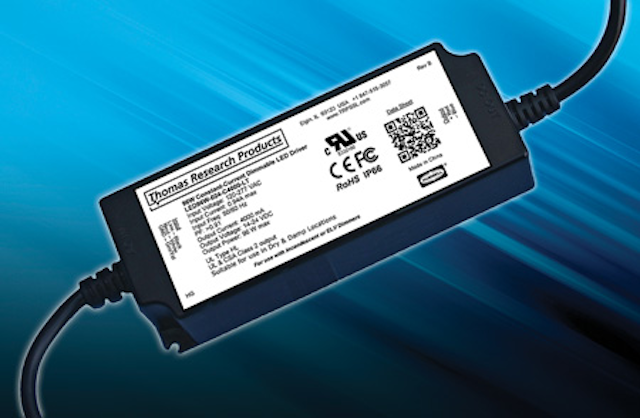 LED driver features evolve for future needs (MAGAZINE)
While digital and 0-10V dimming is increasingly popular, there will long remain a demand for legacy dimming in LED luminaires, and Thomas Research Products (TRP) has introduced a new 96W LED driver that works with leading-edge phase-cut dimmers such as triacs and with trailing-edge dimmers such as those designed for electronic-low-voltage (ELV) lighting products. Such line-voltage-based dimming is simple because it requires no additional wiring or wireless links, and TRP adds to the simplicity of use through a universal 120-277-VAC input capability that makes the product usable globally. UL recognizes the new driver as type HL and that means the product can be used in hazardous locations. Moreover, an IP66 rating for the plastic housing allows use in damp environments. TRP offers a five-year warranty standard.
Lutron Hi-Lume Premier driver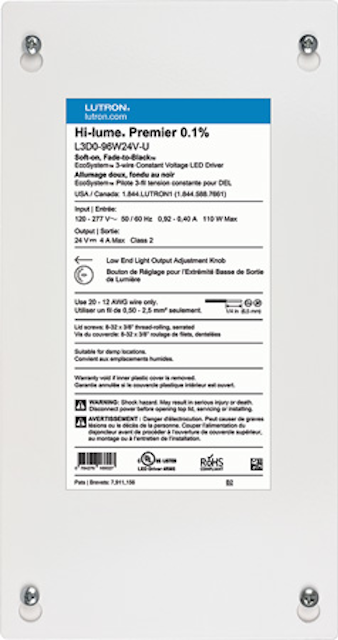 Precise dimming of LED light engines is one of the key functions of most LED drivers and that functionality is increasingly required even in specialty applications such as under-cabinet lighting or cove lighting. Such applications often use constant-voltage drivers combined with linear fixtures and pulsewidth modulation (PWM) dimming. Lutron targets just such applications with the Hi-Lume Premier constant-voltage driver and has added support for dimming down to 0.1% of full output. Moreover, the driver supports features that Lutron calls Soft-on and Fade-to-Black. The series includes models with power capability up to 96W and all deliver 24V out. Furthermore, the drivers work with many standard controls including Lutron's 3-wire and EcoSystem products. The company recommends the drivers for use with its Lumaris Linear Lighting for homes, theaters, step lighting, restaurants, and any commercial space with soffits or coves. The driver can be mounted 100 ft from the light engine.
GlacialPower GP-LS60P Series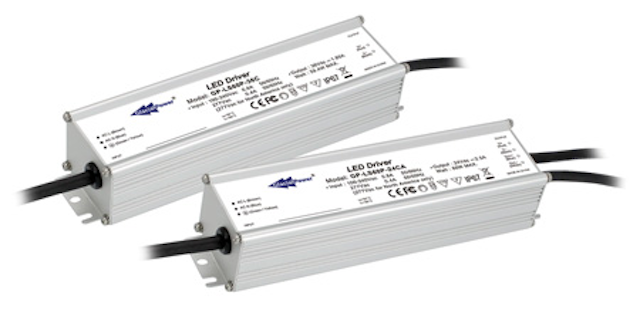 A division of broad-line SSL vendor GlacialTech, Taiwan-based GlacialPower has just announced a new series of drivers for rugged indoor or outdoor applications. Indeed, the 60W GP-LS60P series is IP67 rated for use in a wet environment. The drivers accept a universal input over the range of 90-305 VAC. Different models in the series can deliver 12-57-VDC output. GlacialPower also offers the series in a number of configurations including constant-voltage and -current models. Moreover, dimming is an option on the constant-current models with control delivered via a 0-10V input or a PWM input. Standby power is less than 0.5W when the driver is supplying no output current. Reliability functions in the series include over-voltage, over-current, short-circuit, and over-temperature protection. Output ripple is in the 200-250-mV range, ensuring flicker-free operation with consistent color output from the LED light engine.
Fulham HotSpot Plus All-in-One LED Driver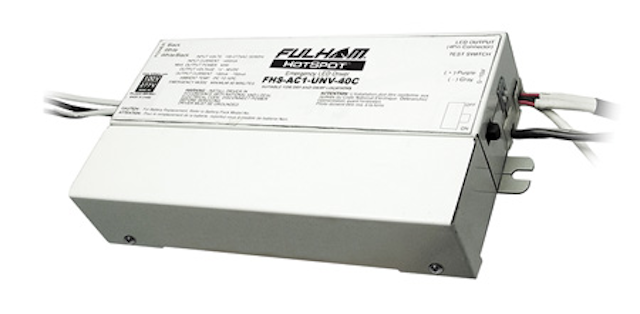 LED light sources have long been a perfect match for emergency lighting applications where the bright and efficient sources can illuminate egress routes under battery power. But LEDs also enable luminaire manufacturers the option of combining general illumination and emergency lighting in the same fixture, and Fulham supports just such applications with the HotSpot Plus All-in-One LED Driver. The 40W driver operates as a typical constant-current source when connected to AC line power. When power goes out, an integrated battery backup system enables the driver to deliver 5W for 180 minutes or 10W for 90 minutes. Fulham offers the products in rectangular and linear form factors for different luminaire types. For normal operation, the driver supports 0-10V dimming, and precise maximum-current output can be programmed using Fulham's handheld SmartSet Controller. The HotSpot Plus was a finalist in the 2016 LEDs Magazine Sapphire Awards.
Aeon Lighting Technology Zeus Series
A relatively new entrant to the LED driver sector, Aeon Lighting Technology (ALT) entered the space with the Zeus series over the range of 150W to 500W. The company has previously been focused on LED-based lamps and luminaires. Still, the Zeus drivers are advanced designs that integrate DALI for control. Moreover, ALT adds 20-kV surge protection, a dual-stage topology for optimum efficiency and stable low-ripple, constant-current output for smooth dimming. The driver can also work with 0-10V controls and is rated for IP68 to support outdoor lighting applications. Indeed, ALT identified street lights as a primary target and the typical efficiency is 92%.
Acclaim Lighting AL Driver 800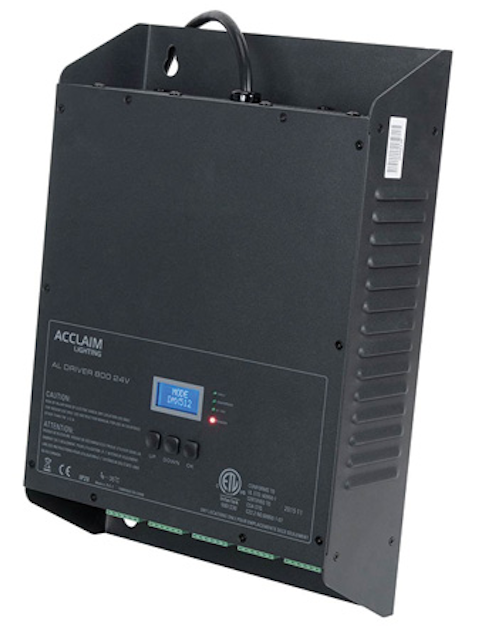 LED drivers are also evolving to meet application-specific demands in SSL projects and Acclaim Lighting has a good example in the AL Driver 800 multi-output driver intended to power many strips of LEDs or what are sometimes called flexible LED tape. Such products might be used for functional ambient lighting or in other cases for entertainment or dynamic lighting, although the driver covered here is only IP22 rated and must be mounted in a dry or indoor location (see an application example in our news on the reading room at Oxford University). The 800W driver includes ten outputs and can be used to control RGB (red, green, blue), RGBW RGB plus white), or tunable-white luminaires or LED strips. The constant-voltage driver can deliver 33A total with a maximum of 6.6A to any single port. Control is via DALI, DMX, or 0-10V inputs. PWM on the output channels controls the individual strips. The output is configurable at 12V or 24V. In dynamic applications, the ten output channels equate to the ability to deliver ten different chase patterns in installed LED lighting. Generally, configuration and control are via one of the aforementioned digital interfaces but there is also a basic control panel on the driver.
FuturoLighting FLPS12 Matchbox driver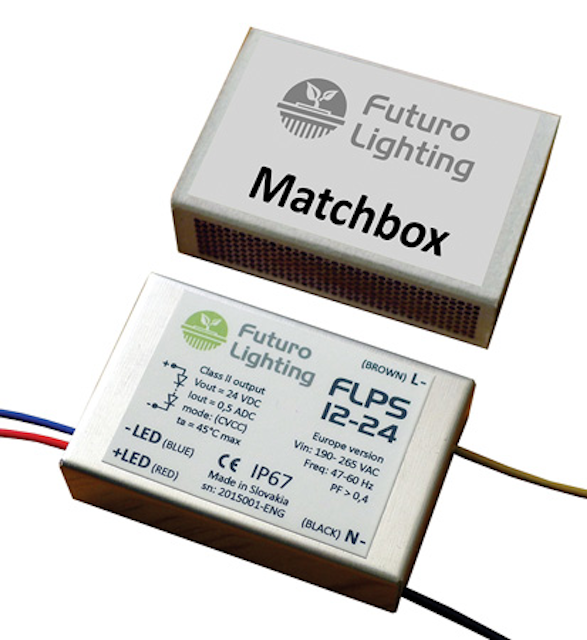 In many SSL applications, luminaire size, or even driver size when the driver is remote from the LED light engine, is a critical concern and FuturoLighting addresses such needs with the FLPS12 Matchbox driver - obviously named based on the size. The driver has a constant-voltage mode that can be used to drive LED strips or tape, and a constant-current mode for more traditional luminaires targeted at indoor or outdoor applications. Indeed, an IP67 rating means that the driver in a plastic case can be utilized outdoors. The company will also supply the product in printed-circuit board (PCB) form. The 12W driver measures 49×36×16 mm and delivers 24V output with an efficiency of 83% at full load. The company also sells a companion PWM dimmer module that can be utilized with the driver. The company has also developed what it calls a desktop version of the driver in less rugged packaging that can be used to drive innovative LED-based products including a medical biolamp.
Mean Well high-bay LED driver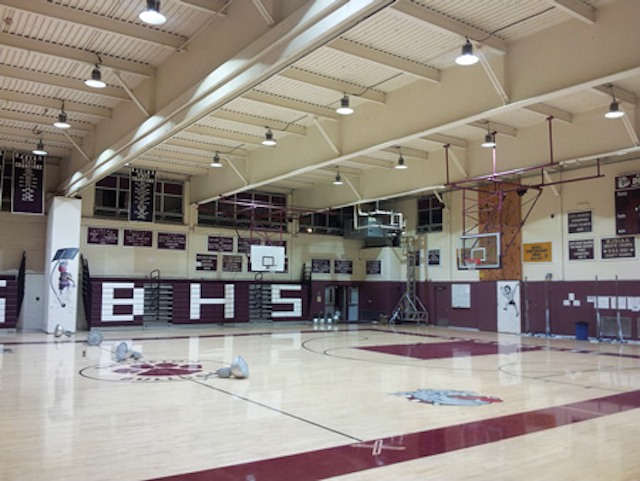 High-bay SSL luminaires come in numerous form factors, but many LED-based designs have been implemented in the same form as metal halide fixtures with a round reflector. Mean Well designed the HBG-60/100/160/240 series of 60W, 100W, 160W, and 240W drivers specifically for that round form and indeed the drivers are circular. In some cases, developers can apply the drivers in PCB form although Mean Well also offers a more traditional plastic case. The PCB version can be installed in some products directly to the heat sink behind the LED light engine. The latest HBG-100P/160P/240P series has pushed output current up in the same form factors used previously and increased efficiency to 93.5%. Typical usages might be in high-ceiling applications such as the school gymnasium depicted nearby where the drivers were integrated into fixtures from Tiger Lights.
GlacialPower RS10P and RS15P drivers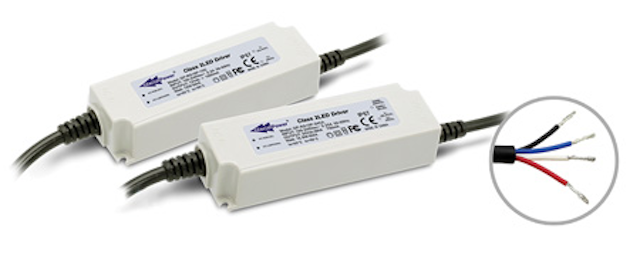 Low-power SSL applications that require a fully-isolated driver can utilize the RS10P and RS15P drivers from GlacialPower. The 10W and 15W devices are IP67 rated and can be deployed indoors or out. Moreover, the products are rated to work over a temperature range of -20°C to 60°C. The company touts a three-in-one dimming feature as important to many applications. Typical PWM and 0-10V controls are supported by the drivers. But for applications that simply need some luminaires at lower levels of brightness and don't have the budget for controls, a resistor can be used to set the dimming level. The products work over a universal input-voltage range for global usage, and GlacialPower offers both constant-voltage and -current models.
TRP programmable LED55ET5PR1 drivers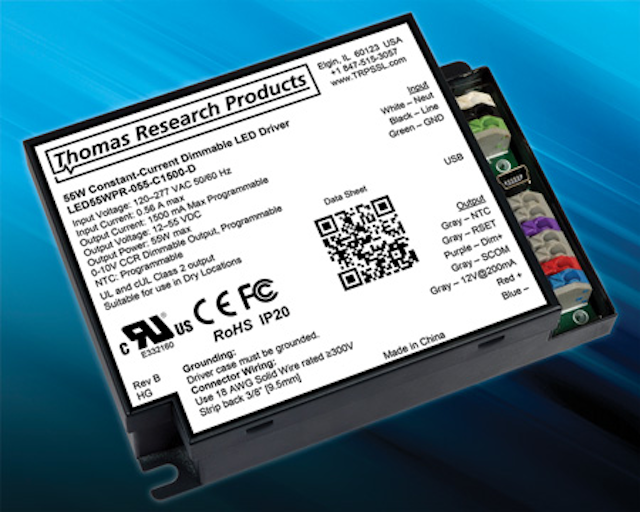 One supply-chain issue that luminaire developers and manufacturers face is the need to stock many different driver models to get the precise power/current output required for a specified fixture lumen package. But that situation has changed dramatically as more and more driver manufacturers offer programmable current output that can be configured at the end of a luminaire manufacturing line. The TRP programmable LED55ET5PR1 is one such example that allows the luminaire maker to stock one driver for use in many different luminaire models. The various drivers in the new TRP series can be programmed with a resistor or using a PC over a USB interface. A 55W 12V-ouput model can be programmed over the range of 100-1500 mA. TRP packages the drivers in a form factor similar to that of T5 fluorescent ballasts to match the demands of products intended to replace linear fluorescent lighting.
Acclaim Lighting Universal Dimming Module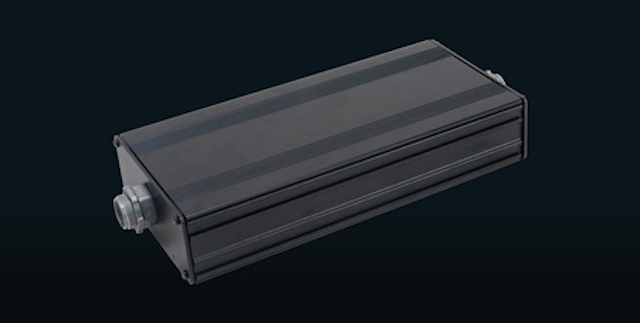 While not technically a driver, the Acclaim Lighting Universal Dimming Module (UDM) is designed to work side-by-side with drivers in an intelligent SSL product providing an interface, or translator if you will, of the various network control schemes used in LED lighting. Acclaim does refer to the product as a driver, but it primarily passes through AC power at levels to 200W while converting between control protocols. The UDM has 0-10V and DMX inputs, and DMX, 0-10V, and PWM outputs. Moreover, the unit can handle 8- or 16-bit dimming. The product is IP66 rated for challenging environments.