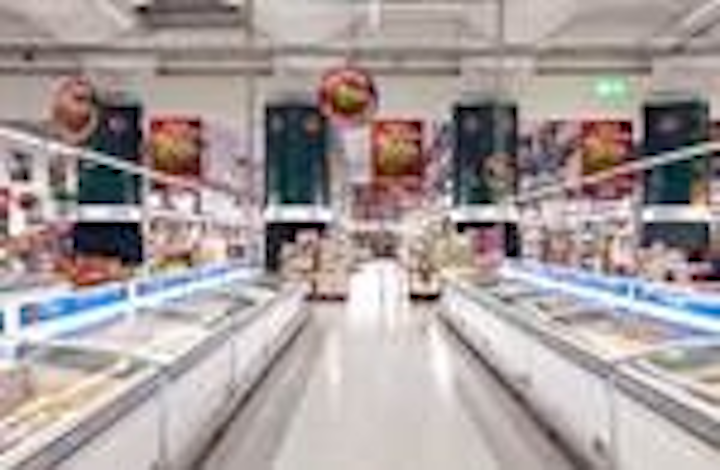 +++++
This article was published in the October 2012 issue of LEDs Magazine.
View the Table of Contents and download the PDF file of the complete October 2012 issue, or view the E-zine version in your browser.
+++++
Refrigerated display lighting (RDL) represents one of the more perfect applications for LEDs. Because fluorescent tubes can be replaced with LED strips and reduce energy usage by 60%, retailers are beginning to implement LED case lighting on a wider scale. Typically, a store can realize return-on-investment (ROI) after 2-3 years using LED-lit coolers. In addition, since LED fixtures give off little heat relative to a fluorescent tube, an additional energy break is realized on compressor cooling. "LEDs love the cold; the colder they are the longer they last. We are able to design fixtures that are rated for 100,000 hours," said Jamie Pearson, senior value stream manager of Lithonia Lighting, part of Acuity Brands.
Fluorescent tubes provide a diffuse light in all directions, whereas LED lighting fixtures have been designed to provide directional illumination at 70-160° as needed in the case. Importantly, the quality of light in the case can also be improved to reduce glare, eliminate hot spots and make the food and packaging more appealing through better color rendering. "We recognized early on that many company's products would be within 10% of each other in energy savings. So we focused on providing the best light with the best color rendering and greatest uniformity," said Paul Kelly, vice president of market development for Nualight.
This merchandizing effect of LED lighting is being applied beyond the refrigerated cases themselves. Many grocery stores, specialty shops and convenience marts have decided to implement LED lighting throughout the store and in outside parking lots and gas stations. For instance, Jerónimo Martins Group (Fig. 1 and 2) recently installed LED lighting inside and outside its supermarkets in Portugal, which we will cover in more detail below. Notably, Walmart has set a goal to use 100% LED lighting in all of its 5366 stores through new construction and retrofitting.
As will be discussed, the adoption rates of RDL differ among Europe, North America and Asia. The fastest adoption has been seen in North America, where incentives have shortened the time to ROI.
Refrigerated case lighting options
Refrigerated display cases are available in many styles and sizes, but the market overall generally comes down to vertical freezer cases with doors and horizontal refrigerated cases without doors. The lighting in the vertical cases run vertically along each side of the door, and is generally 5-ft tall. In horizontal cases, typically there are one or two 4-ft fixtures that run at the top of the case (canopy lighting) and the base of the case (shelf lighting). In Europe, another common design employs a row of vertical coolers on top and horizontal coolers on the bottom.
The worldwide market for lighting in refrigerated display cases is huge, especially the retrofit market. Case makers such as Hussmann and Kysor/Warren are selling new refrigerated cases with LED lighting already equipped in the case. But for existing stores, new cases cost in the range of $5000 for a three-door unit, so most managers choose to retrofit the case lighting.
In a study from 2010, Osram Sylvania estimated that there were roughly 10 million vertical case freezer doors available for retrofit, and nearly 20 million horizontal linear 4-ft fixtures in open refrigerated cases available for retrofit in the US. The study estimated there were 14 million single-lamp fixtures and 6 million dual-lamp fixtures in horizontal cases available for retrofit, according to Cheryl Ford, vertical marketing manager for Osram Sylvania.
The vertical units are used for packaged foods, while the horizontal cases are used for fresh dairy and meats. Though an ingress protection (IP) rating is not common for the freezer lighting fixtures, many users specify an IP rating of IP64 or IP65 for the horizontal cases to ensure the fixtures can withstand wet cleaning.
At first glance, it would appear that food and beverage retailers have countless options when it comes to choosing a provider of LED refrigerated display lighting. Providers include well-known companies such as Acuity Brands, GE Lighting, Nualight, Osram Sylvania, and Philips Lighting, but there are numerous other providers from Europe, North America and Asia. The qualified product list of the DesignLights Consortium (DLC), which includes both vertical and horizontal RDL, contains products from 19 manufacturers.
The DLC relies on LM-79 data from a qualified third-party testing lab to demonstrate that fixtures meet minimum performance criteria. These include a luminous efficacy of 55 lm/W, CRI of 70, light output of 50 lm/ft for end fixtures or 100 lm/ft for center fixtures, and a zonal lumen density of 90% from 0-90°. Fig. 3 shows a typical light distribution when zonal lumen density is concentrated in this way.
A 5-ft fluorescent tube uses 60W of power (total wattage for 58W lamp and ballast). Today's 5-ft LED fixtures typically use 12W (right or left end unit) or 18-24W (center unit). Both bi-pin and bracket-based versions are offered (Fig. 4). A driver is needed to step down from mains power to 24V. It is typical that one driver is required per door (2 fixtures).
Some LED fixtures use a series of low-wattage LEDs, typically 0.5W or 1W, along a strip, while others use high-powered LEDs spaced along a metal fixture. Most units have specially designed optics. Some companies offer broad product lines in a range of sizes and color temperatures, while other companies target only the most common case sizes and product depths.
Retailers typically choose LED fixtures with cooler color temperatures for freezers whereas a warmer CCT of 3000K is more suitable for meats, fish and seafood. Products with a color rendering index (CRI) of 70 to as high as 95 are commercially available, which compares to a CRI of 85 for fluorescent lamps. For instance, Philips offers its Affinium LED modules (Fig. 5) in color temperatures of cool white (5600K) or neutral white (4100K).
Though a higher price is associated with the higher CRI LED fixtures, retail store owners understand the greater visual appeal associated with better color rendering. While initial use may be confined to high-end products such as meats and cheeses, the more LED pricing comes down, the easier it becomes to afford the better light.
Susan Fowler, LED refrigerated lighting product leader for GE Lighting summarized the design of the Immersion RV40 LED fixtures (Fig. 6), as products that "optimize energy savings while providing 750-1100 lx, hiding the view of the light source, focusing light on the packaging versus spilling onto the floor or doors, and creating uniform light in the case." GE offers these fixtures in 3500K, 4000K and 5000K color temperatures and sizes of 30, 36, 48, 60 and 70 in. The 60-in, 4000K model produces 1070 lm (213 lm/ft) and requires 18W of power.
Regional differences
Retailers in North America, Europe and Asia are at different stages of RDL adoption. The types of cases and sizes differ by region as well. Fowler noted that North American stores tend to be larger in general than stores in Europe. She stated that while all regions are interested in reducing energy cost and maintenance cost with LED fixtures, western countries tend to focus on energy and light quality, while eastern regions tend to focus more on payback.
In North America, the utility rebates have accelerated adoption. "North America is miles ahead of Europe," said Kelly. "Perhaps 40% of the North American market has been retrofit in the freezer segment," he added. Kelly predicted that LED lighting for all refrigerated cases will become the de facto standard in North America by 2014.
Another difference is that product tends to be situated closer to the door in cases in the US. Some companies offer a product line that accommodates these differences. Speaking to Osram's approach, Ford said, "The distance of the lighting fixture to the merchandise is key. If your shelf depth is up to 4 in – one product is used, 4-8 in – a second product and 8-10 in – a third product."
Brief history of case lighting
Refrigerated cases have been lit by T8 fluorescent tubes for several decades. GE Lighting was the first company to install LED lighting in refrigerated cases at Walmart in 2006. At that time, the LED fixtures used 41W of power each, replacing 59W fluorescent tubes. "Because LED refrigerated display lighting was one of the first LED categories created for grocers, the technology has had time to evolve and drive the payback down significantly," said Fowler.
Such early installations are just now passing their warranty period of five years or 50,000 hours of operation. Fowler stated that testing of these systems has shown they currently perform at or better than the predicted values after five years. However, many customers are opting to upgrade to the newest LED fixtures because of the higher efficiency. For instance, current generation GE fixtures require 45% less power than the fixtures produced in 2008.
In 2006, the Lighting Research Center at Rensselaer Polytechnic Institute conducted a study comparing LED and fluorescent lighting in refrigerated cases. The study determined that shoppers overwhelmingly preferred the LED-lit cases for displaying packaged foods of many different colors. The shoppers found the LED lighting made the merchandise more appealing, more comfortable to look at and more eye catching.
Recent case studies
Three recent installations of refrigerated case lighting took place in grocers in different parts of the world: the Jeronimo Martins Group in Portugal, Sainsbury in the UK and Food City in the US.
The Jerónimo Martins Group was among the first European retail companies to equip its new stores entirely with LED lighting, including the outdoor parking lots and gas stations. The first installation took place in 2011 in its Recheio store in Torres Vedras, a region north of Lisbon. For its refrigerated shelf lighting, Arquishelf luminaires were designed with 56 Oslon SSL LEDs from Osram Opto Semiconductors. Energy savings was estimated at 50% for the Recheio facility. The all-LED lighting facility will be used as a model for the chain's other stores. The second installation is scheduled to take place in a store in Tavira, Portugal.
Sainsbury, a supermarket chain in the UK recently selected Nualight to supply refrigerated case lighting for all its new and retrofit store projects. Nualight stated that its LED lighting will reduce lighting-related energy consumption for Sainsbury's by 70% in low-temperature cases and by 40% in medium-temperature cases. Sainsbury was the first retailer to use Nualight's Perfino fixture, which is designed to address the challenges of reflective packaging and visibility of the LEDs in multi-deck cases.
Food City first evaluated vertical-case LED lighting systems in its Abingdon, VA store and later retrofitted 89 stores using GE's NV40 fixtures (Fig. 7). In total 7400 display cases were upgraded, providing a lighting energy and refrigeration cost savings of $337,000. Keith Norton, director of engineering for Food City said in a statement, "The biggest expense was not replacement lamps and ballasts, but sending contractors to the stores to begin with. Preventative maintenance measures were costing Food City more than $5 per door per year, or $37,000 annually. The reliability of an LED system was a critical factor in our payback equation, as was the impact energy savings would have on shortening that time period." GE's Fowler noted that for retrofit, ROI strongly impacts the lighting selection.
ROI and energy savings
As shown with these case studies, the energy savings for LED lighting in refrigerated cases typically averages 60% and can be 70% or greater when occupancy sensors are used. In the US, the upfront cost of LED lighting retrofits can be offset by federal tax savings and local utility rebates.
Under the Energy Policy Act (EPAct) Section 179D, commercial property owners who make qualifying energy-reducing investments in new or existing locations can obtain tax deductions of up to $1.80/ft2. The current law is effective for projects completed by December 31, 2013.
Local utility rebates for refrigerated case lighting vary by state (see ). One prerequisite for accessing these rebates is that the product chosen is listed in the qualified product list of the DesignLights Consortium.
Rebates can impact ROI considerably. Rebates are provided on a per door or per fixture basis. For example, utility provider Sacramento Municipal Utility District (SMUD) in California offers a rebate of $55 per door in vertical cases. In a 5-door case, 6 fixtures are used so the savings amounts to $45 per fixture. With occupancy sensors, SMUD makes available a rebate of $85/door, or $425 per 5-door freezer, which amounts to $70 per fixture.
Lithonia's Pearson sees widespread interest in occupancy sensing and dimming, especially among stores that operate 24/7. GE's Fowler commented that the customers most interested in the technology are those that pay the most for electricity. "Retailers who really watch their power usage will adopt occupancy sensing to further reduce costs. However, we also see that some retailers have concerns about the impact of dimming on brand image," she said.
As retailers worldwide evaluate and gradually adopt occupancy sensing, the technology in the sensors continues to advance. Whereas earlier sensors led to abrupt changes in lighting levels, the newer sensors and programming in LED fixtures allows more gradual changes in light level. "We have what we call follow-me dimming, where light levels are boosted as a person approaches and walks past the display case," said Ford. When no person is detected for some period of time, dimming the light levels by 50% will significantly reduce energy cost.
Lifetime, maintenance and reliability
Maintenance savings and cooling savings also contribute to ROI. The fluorescent tubes in a freezer environment typically last only 6-12 months and the difference in heat generated between LED fixtures and fluorescent tubes can amount to 100 BTU per door. Most of the LED fixtures are rated for 50,000 hours or five years. Maintenance costs will vary by the size of the installation, but as we discussed with the Food City example, maintenance cost can be significant.
The other factor that grocers and other retailers evaluate closely, beyond ROI and color quality, is the speed of installation with refrigerated case lighting. "This is a very fast paced industry, so a retailer can sometimes provide only 6-7 weeks' notice for a facility that wants installation within 3-6 months. You need a very flexible supply chain to do that," said Kelly. He added that while speedy installation is needed, so is careful installation.
"I think the major technical challenge is not associated with the LED fixtures themselves but the ease of installation – it has to do with the design of the peripherals, the cabling, the LED driver, the robustness of brackets/clips you use," said Kelly. "By having the flexibility in your fixture design to suit any case interior profile, you can adjust the lighting before and after installation to create the optimal impact. That's becoming increasing important," he said.
To ensure reliability, most manufacturers are very select about the LEDs they use, or they use in-house LEDs. The LEDs are fully tested for reliability under IES LM-79, then the fixtures are reliability tested under IES LM-80.
Next steps for food retailers
The retrofit of fluorescent tubes to LED lighting in refrigerated cases is delivering an energy savings of 60%. The next generation coolers have been designed with integrated LED lighting, and as occupancy sensors improve it is likely that dimming will be used to further reduce energy use.
Increasingly, retailers are looking to differentiate their stores and spotlight specific foods or products. While the adoption of LED lighting in refrigerated cases was driven by energy savings and incentives, the adoption of LED lighting throughout the stores is more driven by the merchandising effect of LED lighting.
The brighter LEDs available today are increasing the chances that ambient LED lighting can be used to bring out colors and textures of produce and specialty items. For example, the Zest accent luminaire from Nualight (Fig. 8) has been specifically designed for food retail environments and features a CRI >90. The color temperature may be tuned via remote control from 2700K to 5000K to suit the display merchandise allowing the retailer the flexibility of re-configuring display layouts without needing to change the light fixture. The 8-ft model produces 1600 lm at 30W power.