LEDs Magazine Review – October 2005
Packed with feature-length articles, the October 2005 issue of LEDs Magazine Review is now available.
Oct 10th, 2005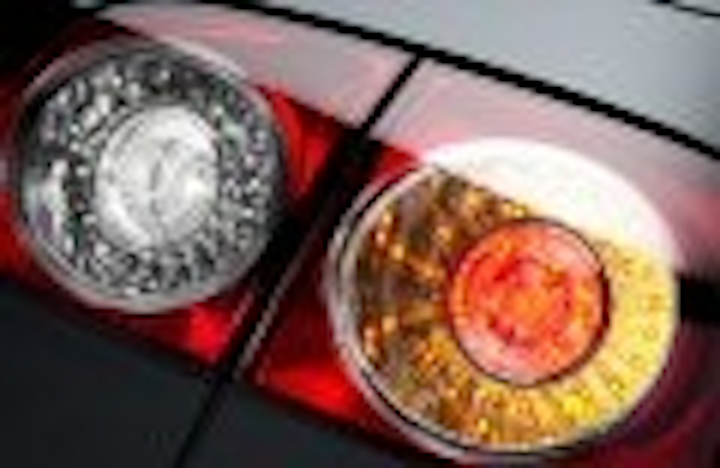 NEWS & ANALYSIS
News & Analysis
Super Vision suffers major setbacks in patent battle against Color Kinetics, Philips takes control of LED maker Lumileds, US Energy Policy Act provides funding for solid-state lighting.
VEHICLES
Hella demonstrates white-LED headlamp technology suitable for production cars in 2008
By 2008, all the major technical and regulatory barriers to implementing LED headlamps in production vehicles will be overcome. LEDs Magazine spoke with Norbert Schiermeister, who is head of LED development for front-lighting applications at Hella.
LIGHTING
LEDs in the mainstream: technical hurdles and standardization issues
Discussions at a recent conference in the UK focused on the latest developments in LED technology and ways in which LEDs can be moved into the mainstream lighting market. Tim Whitaker reports.
HIGH-POWER LEDs
Multi-Watt LED light engines offer challenges and opportunities
Multi-Watt class LED array light engines are emerging as viable replacements for current light sources. As Gareth Jones of Enfis describes, this brings new opportunities for application developers, as well challenges for systems designers.
PATENTS
Small companies fight for a foothold in white LED sector
The white LED area is a minefield of patents, cross-licensing agreements and infringement lawsuits which can prove extremely daunting for new manufacturers, writes Andrew Phillips of phconsult Ltd.
PATENTS
EPO aims to improve patent classification in LEDs field
COLOUR CONTROL
Dimming method affects chromaticity of white LEDs
A study of dimming methods indicates that the lowest chromaticity shift among high-power white LEDs is observed for phosphor-converted white LEDs dimmed using pulse-width-modulation.
LIGHTING DESIGN
Accurate modeling of LED colors: a scientific approach
Ian Ashdown describes techniques to minimize the difference between how LED-based lighting projects are rendered by a computer and what the client will see with the finished project.
DRIVERS
Microcontroller-based LED drivers: topologies, tradeoffs, and limitations
LED drivers based around microcontrollers can be simple to design and offer a number of advantages, although some limitations remain, as Pedro Pachuca and Rod Borras of Freescale Semiconductor discuss.
LIGHTING
Cyberlux matches LED attributes to market needs
Emergency lighting and defense-related products have set the stage for US solid-state lighting specialist Cyberlux to begin to penetrate the general lighting market. LEDs Magazine spoke with Mark Schmidt, president and COO of Cyberlux.
INTERVIEW
IP issues influence fixture makers and LED suppliers
Jed Dorsheimer of Adams Harkness tells LEDs Magazine that resolution of the Color Kinetics-Super Vision patent dispute could have a positive effect on the industry. Meanwhile, the emergence of new phosphor technologies could force LED makers such as Nichia to reassess their approach to protecting their IP and markets.
CONFERENCES
LED experts converge at Solid State Lighting conference
General illumination, white LEDs and pulse-width modulation were among the subjects discussed during the Fifth International Conference on Solid State Lighting, writes David Nicol.
PRODUCTS
Products
Selected new products from PLASA 2005 are among those featured in our Products section