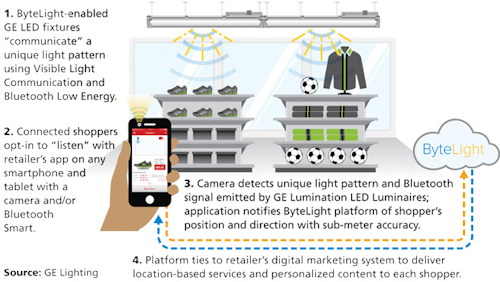 Research shows that retail shoppers increasingly rely on a smartphone or tablet while shopping, reports MAURY WRIGHT, and LED lighting vendors plan to enhance that experience with visual light communications.
Indoor location services for smartphones, tablets, and similar devices promise to enable new applications in retail stores and other public places such as museums or airports. Moreover, LED-based lighting is seen as a natural enabling technology that can be used to convey location data to a mobile device via what is called visual light communications (VLC). Now major solid-state lighting (SSL) manufacturers including Philips Lighting, Acuity Brands, and GE Lighting are pursuing VLC with the primary target application being in large-scale retail stores. The SSL makers hope to provide retailers with reasons beyond energy efficiency to adopt LED lighting on retail floors.
Using LEDs to convey data in the optical domain is a popular concept. With fast on-off switching times, LED output can be modulated in a manner that conveys data to some type of sensor while humans wouldn't perceive anything more than uniform white light. Therefore, LED-based lighting could serve the dual purpose of providing lighting and communications.
LEDs for communications
Some researchers and companies are pursuing the use of LED-based VLC as a way to augment Wi-Fi for high-speed data connections within a small area with a clear line-of-sight between a light fixture and a device such as a notebook PC. That technology is not ready for commercialization and we won't address it further in this article. But VLC could more easily be applied in lower-data-rate applications such as in location services. Indeed, modulated LED light captured by a mobile device camera is a technology that is very near ready for deployment. The operation of GE's system is depicted in Fig. 1.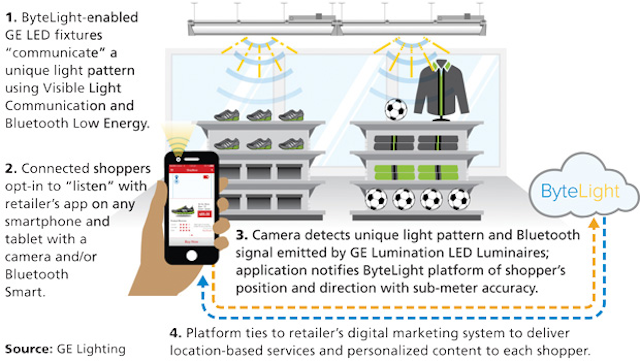 FIG. 1. VLC works by modulating LED light in patterns than can be detected by smartphone cameras as shown in this GE Lighting illustration.
Ready uses for VLC could include lighting systems that could help guide tourists through a museum or passengers through an air terminal. But retail is the big target, as was made perfectly clear in GE, Philips, and Acuity demonstrations at LightFair International (LFI).
Retailers are interested in the technology as a way to increase the size of the sale to any given customer. A mobile device app combined with location data offers a retailer many ways to engage the customer. The retailer could offer a custom sale item to a shopper based on the spot in the store where the customer is browsing. A shopper could use the app to locate items of interest. And retailers could target shoppers with specials based on prior shopping data.
During LFI, GE hosted some roundtable press meetings in which several of their LED lighting customers participated. One of those discussions included Ralph Williams, Walmart senior mechanical, electrical, and plumbing systems engineer. Williams said the retailer is investigating the location technology in its Walmart Innovation Lab. Moreover, he said the company has documented that 40% of its in-store customers actively use a smart device as part of their shopping process. So the data clearly indicate a receptive potential customer base, leaving SSL manufacturers and retailers to iron out the details.
Why VLC?
Of course, there are plenty of ways to communicate with a customer using a mobile device, so why VLC? The answer is a relatively simple opportunity to add minimal cost to a light fixture, thereby enabling communications. LED light fixtures are already gaining great traction in retail environments and lighting is located on every shopping aisle, providing the opportunity for blanket coverage. Moreover, lighting is more and more often installed with a network for adaptive control and that network could work to also feed the data link between the light fixture and a mobile device.
As you might guess, however, the approaches to enabling location services differ. Philips and Acuity are demonstrating systems that use VLC alone to convey the location data. Acuity is collaborating with mobile wireless leader Qualcomm and that company's Lumicast location platform. The GE demonstration at LFI used VLC technology combined with Bluetooth Low Energy (BLE) RF communications from ByteLight, and the BLE implementation is compatible with the Apple iBeacon platform.
Philips first showed its location platform, which the company developed in house, at the retail-oriented EuroShop trade fair in Düsseldorf, Germany. The value proposition is that LED lighting is being installed by retailers for energy efficiency in any case, and the VLC feature can be added with little or no extra cost.
Acuity was even more vocal about their technology and its readiness for deployment. Steve Lydecker, senior vice president of applied integrated solutions at Acuity, said the company will add no hardware to existing LED fixtures to support the Qualcomm Lumicast platform. Qualcomm has yet to formally announce Lumicast, although it certainly gave Acuity the greenlight to discuss it at LFI.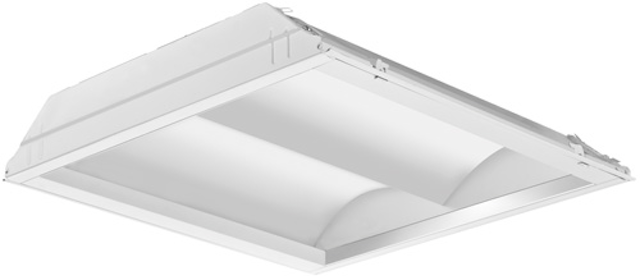 FIG. 2. Acuity demonstrated its Breez LED luminaire enhanced with VLC at its LightFair exhibit.
To support Lumicast, Acuity simply has to modulate the light from an LED fixture in a manner that is compatible with the Lumicast platform. Lydecker said in the case of the Breez LED fixture (Fig. 2) from Acuity's Lithonia brand that was demonstrated at LFI, the EldoLED ECOdrive driver used in the fixture has the capability of implementing the modulation. The microcontroller (MCU)-based driver would require a firmware or software addition to support Lumicast but no additional hardware. Acuity could offer Lumicast support as an option across its luminaire line.
Bluetooth assist
The one issue with a VLC-only system is the line-of-sight requirement. Indeed, ByteLight has been promoting a VLC-only system for several years but just recently added BLE into the mix to support instances where the VLC may be blocked. But the combined VLC and BLE approach requires more hardware. GE integrated a ByteLight IC into a fixture to enable the LFI demo using the Lumination IS Series fixture that coincidentally — or not — Walmart is deploying on its retail floors.
Acuity's Lydecker said the primary benefit of BLE would be the ability to connect to a smartphone that is in a customer's pocket or purse. Of course, since any such retail-oriented location application requires the customer to opt in to the services and download an app, the customer would presumably have the device out and available when shopping. Lydecker said Acuity will add BLE support if retailers ask for it, although he also added, "The light fixture may not be the best place for a Bluetooth beacon."
Clearly, you could do a location platform with no VLC. Indeed, Apple is pursuing just such uses with its iBeacon platform for which third parties can build compatible beacons and apps. For now, GE is hedging its bets with support for the Apple platform. Qualcomm also has a similar BLE-based platform that it calls Gimbal.
With the huge players in mobile wireless focused on the retail application, it's again worth asking, why use LED lighting as part of the equation? Dedicated BLE iBeacons do cost money. Some are projecting beacon cost under $10, although today the reality is higher. Startup Estimote sells a developer's kit with three beacons for $100. The beacons also generally run from batteries requiring maintenance cycles.
Still, the biggest advantage for VLC may come down to accuracy. Qualcomm asserts that Lumicast, enabled by software on the mobile device and in the cloud, can determine the location of a mobile device to within 10 cm in three dimensions. Moreover, the technology can detect the orientation of the device so a retailer could discern on which side of the shopping aisle the customer is focused. BLE beacons would not be deployed granularly enough to enable near that level of accuracy.
Still, it's entirely possible that a mix of BLE and VLC will be used in retail location services. Moreover, a company such as Qualcomm with both VLC and BLE platforms could enable such an integrated approach. Or the actual desires of shoppers could make the level of detail possible with VLC overkill.
Indeed, no one really knows exactly how shoppers would like to use mobile devices or location services in store, and retailers have varying ideas on the matter. Philips has said it is testing its system with several large, unnamed retailers. The company has used a grocery store scenario involving searching for ingredients based on a recipe as a sample application (Fig. 3).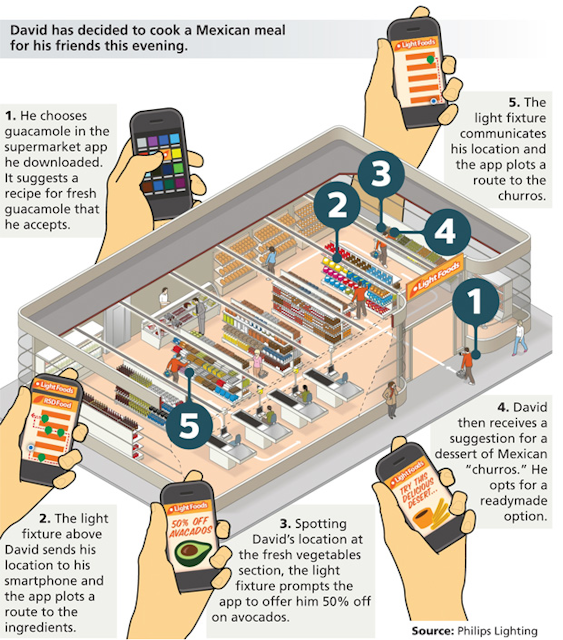 FIG. 3. Philips' VLC system leads to fresh guacamole in the illustrated grocery store location-services app.
Acuity also said that it was testing the VLC technology in a large mock store with an unnamed major retailer. Moreover, Acuity has been perhaps the boldest among the SSL makers in discussing chronology for a rollout. Lydecker said an actual deployment with a retail customer should happen in this calendar year.
Shopping experience
But shopping with a mobile device could take many different turns. A Seattle, WA-based company called Hointer is both developing mobile-centric technology for retail applications and operating a test store where it sells high-end jeans.
Hointer is taking a decidedly different approach to retail, displaying only a single item of each type in its store as opposed to racks and stacks of apparel. A near-field-communication (NFC) or RF identification (RFID) tag is attached to each item displayed for sale. When a shopper taps their mobile device on the tag, the action instigates a chain of activity including delivery of the item in the appropriate size to a changing room.
Once again, the idea is to increase the size of each customer order. Hointer says its technology does exactly that. But there is growing proof that the location services work as well. Walgreen's Duane Reade brand has installed iBeacon technology in a number of stores in the New York City area. The retailer's app supplies coupons, location of items, prescription reminders, and even the ability to scan a barcode and check a price.