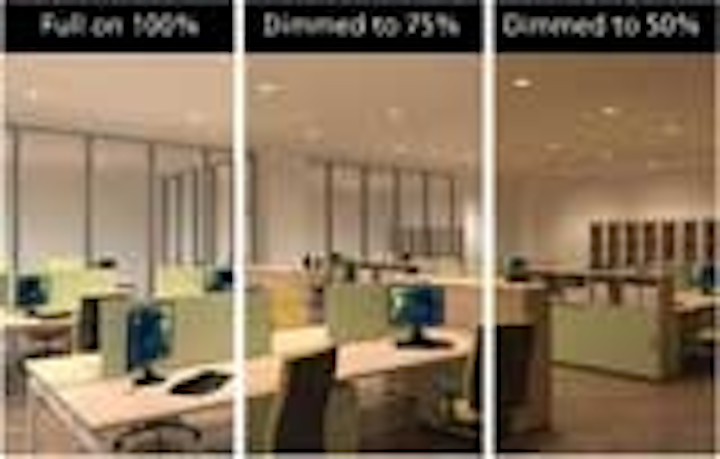 +++++
This article was published in the June 2013 issue of LEDs Magazine.
View the Table of Contents and download the PDF file of the complete June 2013 issue, or view the E-zine version in your browser.
+++++
Solid-state lighting (SSL) products again dominated the exhibit floor at Lightfair International, with the most compelling demonstrations involving tunable LED white and color lighting and adaptive controls. Indeed, SSL retrofit lamps took a back seat at Lightfair International (LFI) 2013, with the emphasis on more functionality such as tunable features in LED-based integral luminaires. The exhibits revealed more evolution in form factor and functionality and little lingering concern as to whether LEDs are the best light sources for general illumination applications.
Tunable lighting

Tunable LED lighting seemingly has progressed from what was considered a far-future concept to almost mainstream technology in a single year. Some dim-to-warm products were on the market a year ago that could mimic the way incandescent and halogen lamps dim to a very warm color temperature. However, tunable white-point CCT, more a prospect than a reality a year ago, is now in products that can be adapted to boost worker or student productivity, optimize retail lighting for specific merchandise or time of day, or increase patient wellbeing in medical facilities. Moreover, dynamic color-tuning products are close behind, including the Acuity Aera concept that was especially impressive. Acuity also demonstrated tunable-white technology in the EVO downlights from the Gotham brand and the Veil ceiling troffers from the Mark Architectural lighting brand.
1. USAI LIGHTING announced products that are capable of two different types of white-point dimming that the company calls Warm Glow Dimming and Color Curve Dimming. Warm Glow Dimming targets ambiance and mimics the black body curve of an incandescent lamp transitioning from 2700K or 3000K at full power to 2200K at low light levels. Color Curve Dimming targets productivity or wellbeing, providing whiter 3500K light at full power while warming to 2200K when fully dimmed (pictured). The company offers the technologies in its BeveLED 2.0 and BeveLED Mini downlights and in its BeveLED 2.0 and NanoLED NXT pendants. With tunable lighting comes additional color uniformity concerns, but USAI says that it offers fixture-to-fixture consistency within a two-step MacAdam ellipse.
2. JUNO LIGHTING also supports tunable white light and black-body dimming in its Indy LED ChromaControl-enabled luminaires. The CT-Series allows commissioning of the luminaires to a CCT in the 1600K to 4000K range using a RF remote control and maintains that CCT over the dimming range. The BBD-Series follows the black-body curve from 3000K to 1600K when dimmed. Juno offers the technology in 4-, 6-, and 8-in. luminaires in downlight or wall-wash configurations. The company also released its third generation dim-to-warm downlight retrofit kits with flux output up to 900 lm.
3. PHILIPS COLOR KINETICS introduced the SkyRibbon family of linear luminaires that can deliver tunable-white accent lighting and dynamic full-color light shows and effects. They are designed to be recessed into walls or ceilings for wall-wash, wall-graze, and linear-direct applications. The fixtures can produce white light at a choice of 2700K, 3000K, 3500K, or 4000K CCTs and CRI greater than 80. Philips calls the tunable, color-mixing technology IntelliHue, surely leveraging the Hue-branded color-capable lamps, and you can expect IntelliHue in future products.
Controls and drivers

As we discussed in the executive viewpoint article about LFI (*need link for the executive feature*), controls were prevalent at the show and in fact controls are an inherent requirement in tunable lighting. However, the controls space is broad and fragmented, which was abundantly clear at LFI. Here, let's consider products ranging from centralized control systems to controls-oriented drivers that were demonstrated at LFI.
4. LUTRON is a controls specialist and offers both wired and wireless networks including the EcoSystem wired interconnect that is a proprietary version of the digital addressable lighting interface (DALI) standard. At LFI, Lutron expanded its Quantum Total Light Management System that can control all lighting and powered window shades in a building to leverage daylight and minimize energy usage. The software now supports all of Lutron's sensors, controls, ballasts, and LED drivers, as well as the company's wired and wireless networks. Lutron also demonstrated its new 50W Hi-Lume A-Series LED driver designed for high-output LED lighting applications. The company said that the driver is optimized to work with high-power LED light engines such as the Philips Fortimo and Xicato 3000-lm products.
5. PHIHONG USA is primarily a manufacturer of LED driver modules that lighting makers integrate into their SSL products. But the company has been touting wireless controls for its drivers over the course of the last year. Indeed, the company has previously displayed drivers with built-in Wi-Fi network support. At LFI, Phihong demonstrated control via a small remote that utilizes a wireless infrared link much like those used in TVs. The company can also supply the technology embedded in wall switches and other dedicated controls.
6. LEVITON demonstrated its HAI control system at LFI including the HAI Omni-Bus Scene Controller (pictured). Each scene controller can enable 32 custom lighting scenes while controlling 256 load-control modules that are connected via the Omni-Bus network, and accept input from eight different inputs such as touch pads or wall switches. Moreover, the Omni-Bus technology can be used alone in a room or can be tied into a larger home or building network managed by one of the company's Omni or Lumina control systems.
Planar lighting

Planar lighting is a form factor that is clearly being enabled by the transition to SSL. We've long had fixtures with planar diffusers — even some that use LEDs mounted directly behind the diffusers. But those products are recessed into the ceiling. Light-guides that are edge lit with LEDs, and OLED panels enable truly thin fixtures that can be surface mounted to a ceiling or suspended elegantly in a pendant. It looks like LED planar fixtures are ready for commercial deployment while OLED technology still needs to mature for broad usage.
7. ACUITY BRANDS continues to be the lighting company making the biggest push into OLED technology. OLEDs remain very expensive, but are planar by nature and inherently produce glare-free diffuse light. At LFI, Acuity demonstrated an expanded OLED portfolio including the square and rectangular Modelo products from Winona that can be used to implement customized wall and ceiling installations in applications such as hospitality and retail (see cover photo). The OLED Marker Series from Winona targets low-level lighting for installation in devices such as wall-mounted controls (pictured). And the Peerless brand demonstrated the personal Lumen Being lamps.
8. COOPER LIGHTING brought its WaveStream Technology to the commercial market at LFI 2013 after having exhibited prototypes a year ago. The LED edge-lit products use what the company calls AccuAim optics that are embedded into the injection-molded light-guide material to deliver precise and diffuse light. The first products to use WaveStream are the SkyRidge and Encounter (pictured) troffers from Cooper's Metalux brand. In those products, the planar technology looks almost like a diffuser in a fluorescent fixture. Cooper showed a suspended luminaire from Corelight due later in the year that uses planar blades with a minimum bezel to conceal the LED sources. When powered on, the planar light guides deliver uniform diffuse light. When off, you can see right through the planar surfaces as if they were glass. WaveStream is based on technology Cooper licensed from Rambus.
9. GE LIGHTING also exhibited planar products that are ready for commercial deployment based on its own licensing deal with Rambus. The company calls its planar, edge-lit technology Intrinsx, and the first family of shipping products is the Lumination EL series. While at LFI last year, GE showed planar products with the surface parallel to the floor, but the company took a different approach with Lumination. The pendant has a top bevel that conceals the LEDs along the length of the light guide with the guide extended perpendicular to the floor. The blades extend as much as 10 in, and GE offers the products in 48- and 72-in. lengths that can also be cascaded for longer runs. The luminaires are dimmable and rated for 50,000 hours of life.
Outdoor lighting

In outdoor applications, SSL has been winning over many legacy lighting technologies based on energy savings both from efficient LEDs and dimming ability. But LED-based designs are now evolving to go far beyond what we have seen in legacy sources both in terms of form and function, and such products were prevalent at LFI.
10. GE LIGHTING won a Lightfair Innovation Award for the Evolve LED Scalable Cobrahead roadway product line. The product uses a modular light engine, and as many as four such modules can be combined in one fixture. The scalable approach and different fixture sizes allow GE to serve a broad array of applications. The company also has a scalable Evolve area lighting series.
11. PHILIPS LIGHTING demonstrated the SlenderForm family from its Gardco brand that brings a stylish look to outdoor applications. All of the products use the same square light engine, but Gardco realizes a number of square, rectangular, and circular luminaires using the light engine. Moreover, the rectangular and square versions can combine multiple light engines for more light output. The product profile is a sleek 3 in., and Philips supports a variety of beam patterns.
12. CREE LIGHTING took a step back to a legacy look in an LED-based product, demonstrating its new CPY Series for lighting canopies in gas stations, bank drive-through lanes, airport arrival/departure areas, and similar applications. The luminaire includes a diffuser that provides more uniform and glare-free light. The design does not rely on the total internal reflection (TIR) lenses on each LED that are prevalent in most outdoor SSL products.
13. LIGHTING SCIENCE GROUP is utilizing amber LEDs, providing a high-pressure-sodium look, in the Costal Light demonstrated at LFI. The light is designed for use in areas where wildlife can be harmed by broad-spectrum white light. For example, the company says that 20,000 turtle hatchlings are disoriented by white light each year, and many die. The Costal Light can be utilized in other areas where excess white light is an issue including around observatories.
Innovative form

One promise of LED-based lighting is the availability of new form factors for luminaires and a break from the legacy look. While progress is slow, LFI did reveal a number of products that could only be realized with LED sources. And the products combine energy efficiency with good looks.
14. SOLATUBE INTERNATIONAL is best known for residential skylights, but the company has found that LEDs and daylighting are a perfect match for maximum energy savings in residential or commercial applications. Indeed, the Solatube Smart LED System can deliver as much as 94% savings in a commercial setting where the sun provides natural light during the day, and the LEDs integrated in the product provide light on cloudy days or at night.
15. COOPER LIGHTING introduced the Ametrix Asyx series of luminaires that have a unique wall-mount form factor that can deliver light upwards either for ambient direct light reflected off the ceiling or for highlighting architectural features of a high-ceiling room. The company also offers the technology in pendant form. The design uses the same AccuLED Optics modular light engines with TIR lenses for beam control that are also used in linear products and outdoor lighting. Cooper offers Asyx in a 3000K version with 80 CRI or a 4000K version with 70 CRI, and rates the products for 50,000 hours of life.