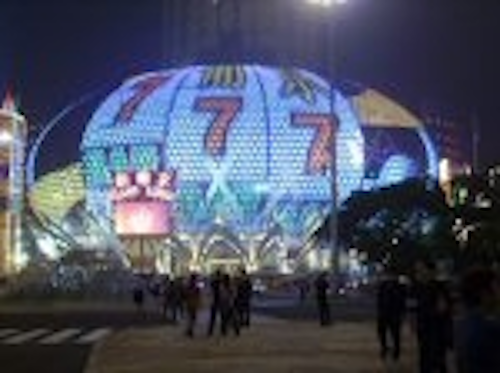 Casinos in Macau Special Administrative Region (SAR), China, are known for dazzling lights and extravagant structures, rivaling those in Las Vegas.
The Grand Lisboa Hotel has installed an intelligent lighting system, using LED technology from Daktronics, that combines outdoor lighting effects with the ability to create and display custom text messages, graphics, animations, and video images.
The Grand Lisboa's exterior was inspired by the yellow lotus flower, which is regarded as an official emblem of the Macao SAR. The building, still under construction will feature a tall tower rising from an egg-shaped podium base.
The egg-shaped podium, which measure 56 meters (184 feet) high and 189 meters (620 feet) wide with an area of approximately 10,609 square meters, is completely lit up using over 59,000 ProPixel® LED lighting elements from Daktronics.
Each circular ProPixel "puck" is individually addressable and contains 20 LEDs (8 red, 6 green and 6 blue) – see news item for more details. The podium is made up of 12,000 triangles of different colored triangle-shaped glass with ProPixel® elements engineered to custom fit the spaces between the pieces of glass.
Click here to view a video on YouTube of the Casino display in action.
ProPixel® lighting elements will also accentuate the facility's marquee entrance display, using a total of 2,543 elements for the veins on the leaf-like structure and the channel letters that spell "Grand Lisboa" in both English and Cantonese Chinese.
"We reviewed the proposals from many companies worldwide, before choosing Daktronics' ProPixel to light up our property. We have been pleased with the results," said Alan Ho, Management Committee of Sociedade de Jogos de Macau (SJM), owner of The Grand Lisboa.
Daktronics says that its ProPixel RGB LED lighting elements were chosen over conventional lighting methods for their superior brightness, long lifetime, low power consumption, and unique visual effects.
Also instrumental in the project success was Keyframe®, a division of Daktronics that delivers the creative vision and technical expertise to help customers maximize the impact of spectacular display systems. Keyframe® creative services was responsible for building all creative content for the initial project opening ceremony and building a creative content foundation. This foundation enabled the customer to open the property with a full menu of display content that created an immediate impact.
Daktronics ProPixel LED elements offer the ability to design and build freeform, video-capable architectural elements and channel letters with out the constraints of traditional square LED modules. The technology is essentially a video display system with true video processing in 100% digital, 19-bit processing and is capable of displaying more than 4.3 trillion colors.