Philips demonstrates Future of Light in new Massachusetts HQ
A new headquarters building for the former Color Kinetics demonstrates green building principles and of course widespread use of LED lighting.
Dec 17th, 2007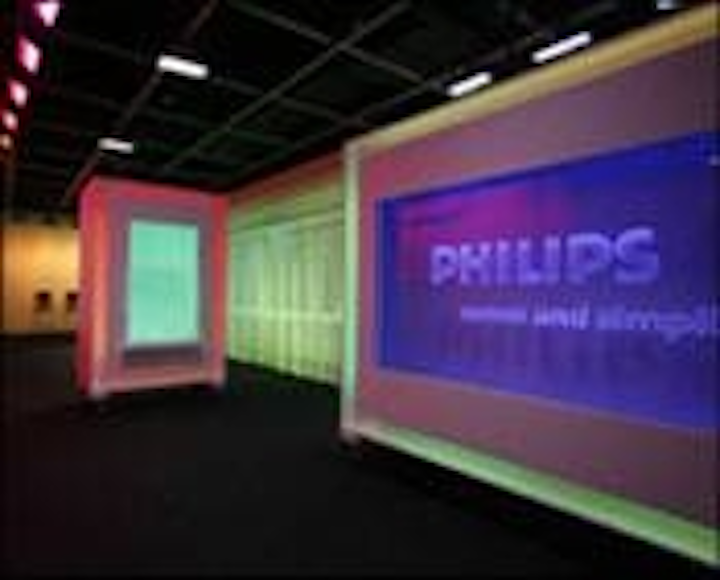 Philips Solid-State Lighting Solutions, the new entity formed by Philips' acquisition of Color Kinetics, has completed the finishing touches and officially unveiled its new 50,000-square foot corporate headquarters in Burlington, Massachusetts - merging the principles of "green" design with innovative uses of its LED lighting technology throughout.
As the leading global R&D center for Philips' entire LED luminaires business, the new space is both a testing ground and showplace for the future of light.
Construction of the new space was managed by J. Calnan & Associates with architectural design by Sasaki Associates and lighting design by Focus Lighting, Inc. of New York.
"The unveiling of our new multi-million dollar headquarters is a fitting end to our 10th and brightest year in the business," said Bill Sims, CEO, Philips Solid-State Lighting Solutions. "We've brought a whole new category of industry-changing technology to the famed 'tech corridor' of Massachusetts' Route 128, and we're well equipped to grow and foster on-going innovation in our one-of-a-kind showplace. It's truly a canvas for the future of light that LEDs will enable."
The new facility incorporates many special features designed to showcase both existing and forward-looking applications of LED lighting, in addition to cutting-edge amenities for product design and development. These include:
• A visually striking showroom that's lit entirely by LED sources and designed to mimic various market applications
• Conference rooms and common spaces that incorporate both color and white LED lighting systems
• Dynamic "portal" passageways lined by 24,350 individually controlled LED nodes for dramatic effect
• A state-of-the-art workshop, optics lab and machine shop for product design and testing
• A commemorative wall of history displaying LED product innovations through the years
• Prominent, projected images of the company's many notable lighting installations
• Colorful LED lighting throughout workstation areas
• Exterior LED accents and a color-changing sign that create visibility from Route 128
Green standards
In addition to these unique touches, the entire space was designed to meet high standards of environmental design. This includes the use of energy-efficient LED lighting wherever possible, with a plan to be entirely LED-lit in the future. The central lighting system incorporates wall switch occupancy sensors to eliminate wasteful light.
Energy Star-rated appliances are used throughout the space, including computers, printers and copiers, and water-saving and energy-saving devices are installed in the restrooms. This effort aligns with Philips' EcoVision program, which aims in part to increase the energy efficiency of Philips' operations by 25% in the next five years, among other goals. In addition, all carpet, flooring, wall board material, paint and workstations meet green standards. Many other conservation efforts are also being practiced.
"Our new home is the perfect reflection of who we are today, and where we want to go," said Sims. "The solid-state lighting market is projected to reach $20-30 billion by 2025, and who better to demonstrate the power of this flexible and energy-efficient lighting technology than Philips, right here at the center of its global SSL innovation."
Performance trends suggest that LEDs have the ability to ultimately leapfrog other efficient light sources, such as fluorescent, given their longer source life, durability, non-toxic materials, lack of radiated heat and UV, higher quality of light output and flexibility to accommodate wide-ranging fixtures and form factors. Moreover, as inherently digital devices, LEDs produce light that can be intelligently controlled to dynamically customize environments, from restaurants and casinos to retail shops, city beautification projects and even offices, as creatively demonstrated throughout Philips' Burlington facility.