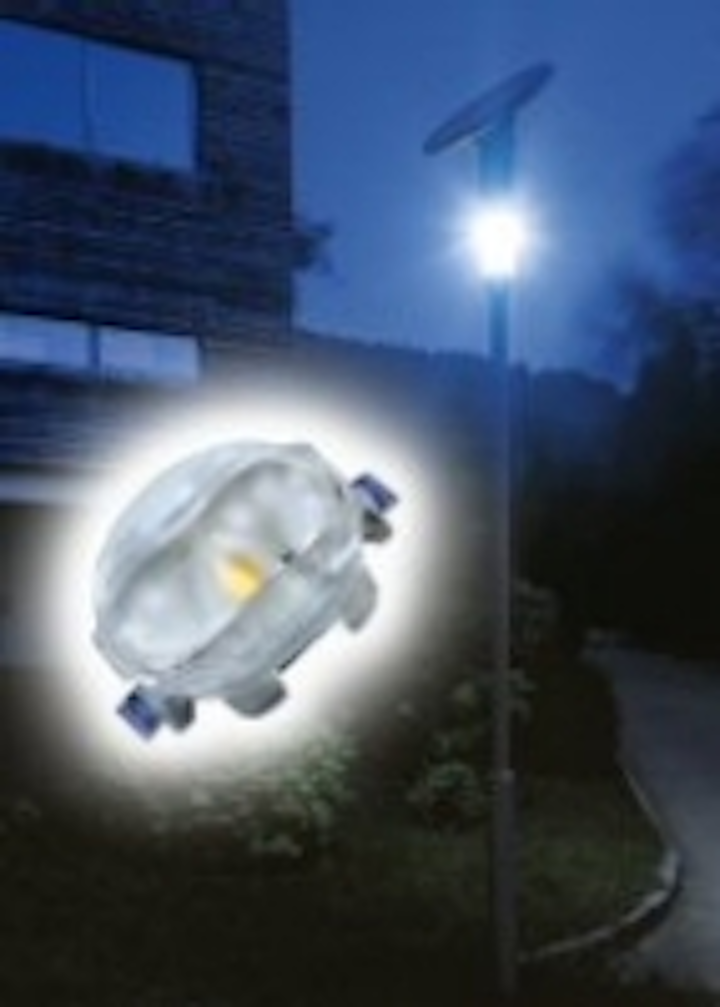 The Austian towns of Diex and Hörbranz place great value on solar energy and low-power consumption for their street lighting. Fixtures were manufactured by EPS Soltec and incorporate Golden Dragon Oval LEDs from Osram Opto Semiconductors.
Osram Opto developed special oval lenses for this application to direct the light accurately onto the street. The lenses distribute the light down at an angle of 80° x 120°. This means that no light is lost sideways away from the path, as is the case with the usual circular distribution of light from conventional street lights. The result is reduced light pollution.
Only twelve Golden Dragon Oval LEDs per street light are sufficient to illuminate cycle paths and footpaths from a height of 3.4 meters. The devices produce 60 lm each at 350 mA, but for this application they are operated at 130 mA with a power consumption of 0.35 W.
The manufacturer EPS Soltec uses solar power to supply the lamps, which is ideal for LEDs. The devices require a voltage of less than 10 V, and the commonly-used 230 V AC power supply and inverters can be eliminated.
The LEDs do not require secondary optics and can be integrated in almost any luminaire design. The lighting can be adapted to ambient light conditions through dimming, and the color temperature can be adapted by combining white and yellow LEDs.
New Dragons with optics
New versions of Osram's Golden Dragon LED incorporate 20- or 40-degree lenses, creating a powerful light source for medium or flood beam characteristics with white or colored light.
The devices have typical light output of 60 lm at 350 mA and 1.12 W, with typical efficacy of 54 lm/W. The Dragon with the 20-degree beam pattern has a luminance of 155 cd, while the 40-degree version has a luminance of 81 cd.
Even with their integrated lenses these light sources are less than 1 cm high.