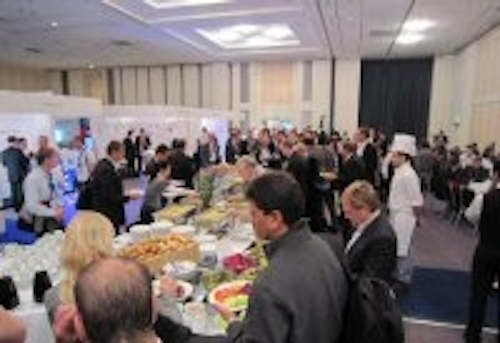 The latest LED market numbers from Strategies Unlimited show that total sales of packaged LEDs are expected to grow by an amazing 68% in 2010, reaching $9.1 billion.
The new forecast was revealed by Strategies Unlimited's Vrinda Bhandarkar at last week's
Strategies in Light Europe
meeting in Frankfurt, Germany, which had a registered attendance of more than 600 visitors from 44 countries.
Despite fears of an industry slowdown in some quarters, Strategies Unlimited has raised its forecast for 2010. In February this year, the market research firm predicted that the LED market would grow 52% in 2010 to reach $8.2 billion.
Looking forward, Bhandarkar said that the industry would experience a compound annual growth rate (CAGR) of 27.8% from 2009 to 2014, to reach $18.4 billion.
LED backlights for LCD TVs and monitors will be the biggest growth driver, said Bhandarkar. The slowing LCD TV market may reduce projected shipments of LED TV backlights, but the penetration of LEDs will continue to increase.
Meanwhile, the penetration of LEDs into the lighting market has achieved substantial momentum. "We expect this momentum to pick up speed in 2010, with a growth rate of 34% compared to 31% in 2009," said Bhandarkar. Outdoor lighting and replacement lamps will be the fastest-growing segments. The longer-term outlook continues to be highly positive, with a 5-year CAGR forecast of 48%.
The same results were also presented by Strategies Unlimited's Bob Steele at last week's LED Japan/Strategies in Light conference and exhibition.
Strategies in Light Europe
The first Strategies in Light Europe event featured a strong conference program over three days, including two workshops, one discussing standards and the other looking at key considerations for building the perfect LED luminaire. A total of 38 companies participated in the exhibit.
The well-attended Keynote session featured Martin Goetzeler, President & CEO of Osram, along with Jan Denneman, President of the European Lamp Companies Federation (ELC), and John Magan, Deputy Head of Photonics Unit G5 of the European Commission (EC), who spoke about the role of solid-state lighting in the Digital Agenda for Europe.
Among many other highlights was a well-received presentation from Wu Ling, General Secretary of the China Solid State Lighting Alliance, who spoke about her country's desire for cooperation on an international scale. Of course, the Chinese market is already immense; around 1.05 billion LEDs were used in Various installations in the Shanghai World Expo, for example. Also, a municipal showcase project involving 21 cities around China has already seen the installation of 1.7 million LED fixtures, and has resulted in an energy saving of 0.16 billion kWhr.
A detailed review of the presentations at SIL Europe will be published in the Nov/Dec issue of LEDs Magazine.
Tim Whitaker, SIL Europe Conference Director and Editor-in-Chief of LEDs Magazine, was very pleased with the quality of the speakers and the level of discussion generated by the presentations. "The European lighting industry is heavily involved in the transformation to LEDs and other energy-efficient lighting technologies," he said. "However, this transition is still at an early stage, and there are many important areas that require in-depth discussion, for example the development of standards, the role of the European Commission, and the importance of market segments such as modules and retrofit lamps. The conference presentations covered these and many other subject areas, and we expect that Strategies in Light Europe will develop into an important forum for debate in the years to come, as the industry continues to develop."
Next year, Strategies in Light Europe will take place on October 3–5, 2010 at the Crowne Plaza Milan Linate in Milan, Italy.