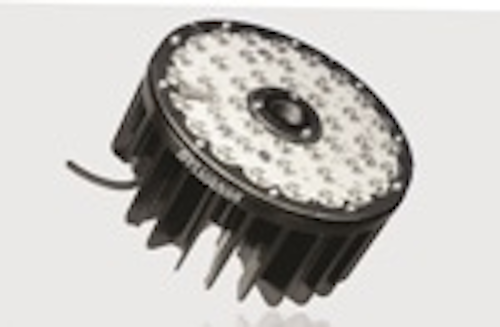 EvoLucia (a subsidiary of Sunovia Energy) supplied 48W EvoLucia LED post-top retrofit kits to the city of Corunna, Michigan to replace existing 175W metal halide lights. OSRAM Sylvania will also enable retrofits of area lighting with its new solid-state-lighting (SSL) D6 Area Light LED Retrofit Kit.
The Corunna Department of Public Works handled the city's LED retrofit project and hopes to significantly reduce energy consumption. "The current tracking of our electric bills shows that our electric wattage consumption has been cut in half," said Corunna City Planner Merilee Lawson. "In fact, we received a letter from Consumers Energy last month declaring us to justify why our electric usage had dropped so drastically. Current electric bills are showing a wattage usage reduction of more than 50%."
The EvoLucia kit allows simple replacement of existing pole-top area lights with SSL technology. The Corunna Public Works personnel were able to remove the existing globes, replace the metal-halide lamps with the retrofit kits, and then reinstall the original globes.
Corunna received two grants totaling $100,000 from the Michigan Department of Energy, Labor, and Economic Growth (DELEG) to help fund the project.
"The city of Corunna loved the EvoLucia retrofit kit because it really is as simple as changing out a light bulb, but less than half the cost of changing out the entire fixture," said EvoLucia sales representative Mike Bay. "The fact that they were able to use their existing poles meant that they could stretch their grant money further and retrofit twice the number of lights they originally thought they could."
Osram Sylvania SSL retrofit kits
Osram has introduced the second generation of its D6 Area Light LED Retrofit Kit that targets replacement of HID legacy lights. The 35 and 55W kits can replace up to 175W lights in street and area lighting fixtures.
The retrofit kits come in a choice of 5600K, 5000K, and 4100K color-temperature options. Osram offers the 55W kit in a Type III oblong beam pattern, and a Type V circular pattern (see SSL luminaires must deliver reliable beam patterns in outdoor applications for more information on beam patterns). The 35W kit is only available with a circular pattern.
The retrofit kits are rated for 50,000-hour life. Osram states that the kits deliver as much as 68% in energy savings relative to the HID lights they replace. The kits have an outer diameter of 6.5 inches and Osram states that they fit in most existing area-lighting fixtures, and are usable at pole heights up to 30 ft.
The kits include the Osram Optotronic power supply to drive the LEDs. The supply delivers 85% efficiency and a power factor of 0.9.