Outdoor Lighting: Allentown installs GE and Cooper LED street lights
PPL Electric Utilities and Allentown, Pennsylvania partner on an LED-based street light trial replacing 53 high-pressure sodium lamps.
Nov 2nd, 2010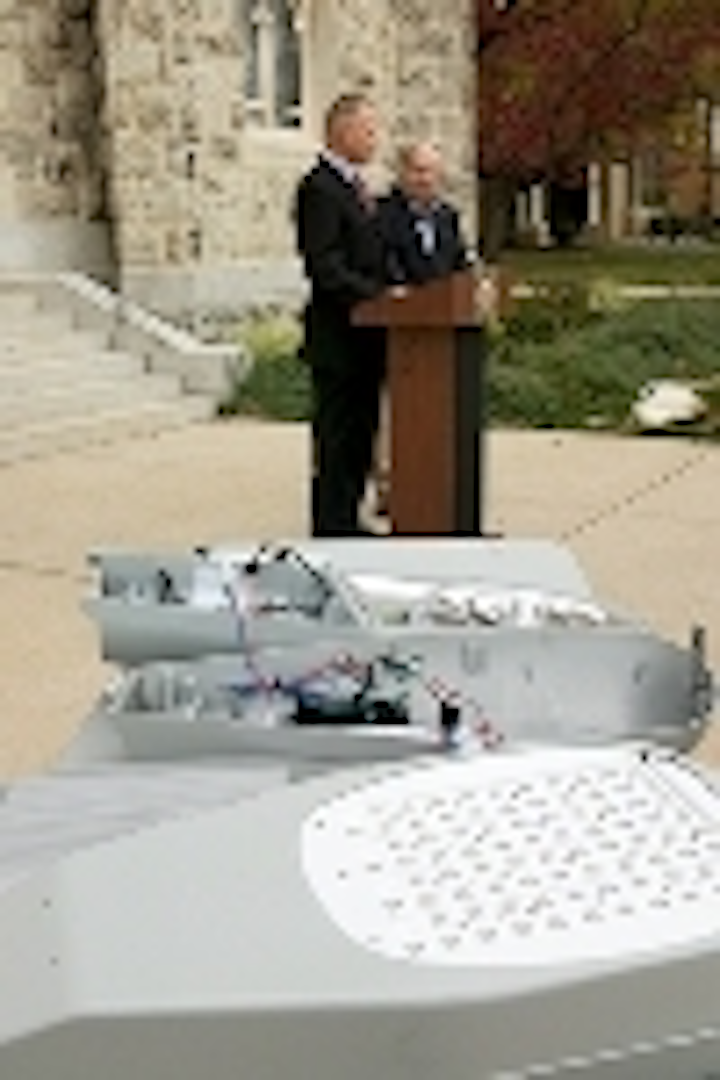 Allentown, Pennsylvania is installing its first LED-based street lights in a 53-fixture retrofit that the city projects will save enough electricity to power 1.5 to 2.5 homes. Allentown and PPL Electric Utilities are partnering on the project that will rely on solid-state-lighting (SSL) luminaires from General Electric (GE) Lighting Systems and Cooper Lighting.
The retrofit project will cover a seven-block section of Hamilton Street in Allentown. The partners believe the retrofit will generate 50% energy savings relative to the high-pressure sodium (HPS) lights being replaced.
The 53-fixture project represents a small portion of the city's 8000 street lights, but both the city and utility believe the trial is an important first step in evaluating SSL. "The average street light is on about 4,300 hours a year, so the savings potential is evident, said Allentown Mayor Ed Pawlowski. "LED lights currently are more expensive to buy than traditional street lights, but the gap is narrowing. We'll examine how these lights perform with an eye toward the future."
"We're backing this effort so municipalities across our 29-county service territory in eastern and central Pennsylvania can see the results in Allentown and make more informed decisions," said Bob Geneczko, Vice President of Customer Services for PPL Electric Utilities. "This demonstration also will allow us to gather information and evaluate performance."
Allentown will replace 250W HPS lights with 157W LED alternatives, and 150W HPS lights with either 95W GE lights or 103W Cooper lights. It currently cost the city $54 per year to operate a 150W HPS light and that cost is expected to drop to $29 per year for the LED-based alternative.
The city is also expecting the SSL luminaires to last 12 years or longer whereas the typical HPS lamp lasts six years. The city and the utility also believe the LEDs will offer more pleasing and uniform illumination. The first fixture was installed by an Allentown Traffic Planning and Control Bureau crew in a public ceremony last Friday.
Acuity supplies LED street lights to Rock Falls
In Rock Falls, Illinois, meanwhile, Acuity Brands' Holophane business unit will supply SSL luminaires for the City Hall parking lot and the city hopes to ultimately retrofit the entire downtown area. The city will install 150W Utility Tear Drop LED luminaires mounted on Holophane's SiteLink poles.
The city's stated objective is "to obtain high vertical illumination with no less than .5 footcandles of horizontal illuminance and cutoff optics." The installation will also utilize control technology from Acuity's DTL brand to optimize energy efficiency and extend the life of the luminaires.
The LED street light trial in Gaylord, Michican that we covered previously gets underway this week. According to the Gaylord Herald Times, three different companies will install LED luminaires allowing the public to provide input on the look of the product and the performance. Subsequently, the city will select one of the three to handle a larger retrofit project.