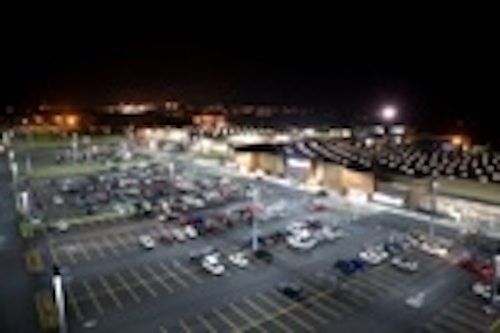 Funded by an American Recovery and Reinvestment Act grant, the city of Waukesha, Wisconsin is beginning a solid-state-lighting (SSL) retrofit of 1200 street lights using Cooper Lighting Lumark RC LED Cobrahead Luminaires. The city evaluated LED-based luminaires from 14 vendors before selecting the Cooper products, placed an order with Cooper in October, and will install the new lights between now and next June.
The city tested the products from 14 vendors over a six month period. The tests monitored the power used by each fixture as well as lighting performance. "Testing revealed that Cooper Lighting's LED luminaires provide the controlled distribution and color quality of light as well as the calculated energy savings that will not only meet, but exceed our goals," said Katie Jelacic, P.E., Project Engineer, City of Waukesha.
The Cooper luminaires use the company's Lightbar technology and the individual TIR (total internal reflection) optics, that Cooper calls AccuLED Optics, that form the desired beam pattern. According to Cooper, the Lightbar technology delivers 30-75% energy savings compared to legacy HID lights and the IP66-rated SSL products are projected to last 50,000 hours.
"Replacing outdoor lighting with more energy-efficient options is one of the most practical upgrades a city can make to save energy and reduce costs," said Mark Eubanks, Vice President and General Manager at Cooper Lighting. Jelacic from the city added, "We had it in the back of our minds that this would function as a perfect stimulus-funded project. Our goal was to further expand our commitment to sustainable upgrades that lead to significant cost and energy savings for the City of Waukesha."
Walmart chooses GE Evolve in Puerto Rico
In Puerto Rico, Walmart continues with it's commitment to SSL with plans to install LED parking lot lights at 22 island stores. The retailer will utilize GE Evolve LED Area Lights and hopes to realize 48% energy savings along with a 75% reduction in maintenance costs.
"Many of our stores are open 24 hours a day, seven days a week, so replacing traditional metal halide parking lot lamps every couple years is costly," said Charles Zimmerman, vice president of international design and construction for Walmart. "We like the idea that GE's outdoor LED systems only need to be replaced about every 10 years. In fact, we're counting on that performance."
"In 2009 alone, Walmart Puerto Rico's operational energy efficiency initiatives saved more than 8.0-million kWh, equivalent to USD $1.4 million. A large portion of these energy-efficient initiatives are tied to the continuous lighting improvements that Walmart is working with GE to help us achieve," said Zimmerman. "Our latest initiative in Puerto Rico turns a high cost area such as outdoor lighting into an energy efficiency bellwether not only for our company on a global scale, but for the industry as a whole. We know outdoor LED lighting represents a huge opportunity for retailers to make strides economically and environmentally."
Pittsburgh airport SSL purchase makes waves
Earlier this year we carried an item about a plan to install LED lights at the Pittsburgh International Airport. Evidently that project has yielded nice lighting in the airport's parking garage while creating some conflict about the buying decision. The Pittsburgh Post-Gazette is reporting that some lighting specialist in the area have questioned the selection of LED lights and the manufacturer chosen to supply them.
It's not clear whether the bigger gripe is with LEDs or the vendor of choice. But the article implies that the Airport Authority paid more than it should have for the lights. Moreover, the vendor was in part selected because they established a local manufacturing facility but apparently that facility has not created the expected number of jobs.
The questions aren't the type of news the LED lighting industry needs, even if the root of the issue is simply unhappy incumbent lighting businesses that lost out on a contract. The story appears to question the reliability and energy saving attributes of LEDs although it appears most trial installations are verifying that LEDs hit projections and goals in those areas.