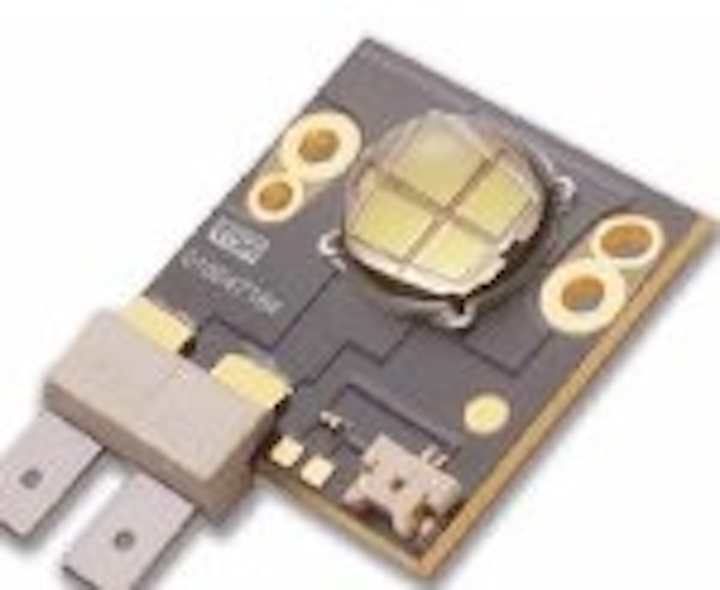 Luminus Devices and Epistar announced a licensing agreement that will allow Epistar to manufacture LEDs based on Luminus' PhlatLight technology platform. Luminus has focused on the larger PhlatLight LED chips that can usurp the need for arrays of LEDs in solid-state-lighting (SSL) applications ranging from projectors to street lights.
"Epistar is at the forefront of solid-state lighting development and PhlatLight technology will improve their LED performance," said Alexei Erchak, CTO, Luminus Devices. "Meanwhile, Luminus will continue to focus on manufacturing big-chip LEDs for applications where LED arrays don't provide enough brightness."
"We are pleased to broaden our partnership with Luminus as their strong IP portfolio includes LED patents that enable unmatched levels of brightness and reliability," said Ming-Jiunn Jou, president of Epistar. Erchak added, "This licensing agreement further strengthens the existing partnership between Luminus and Epistar and enables Epistar to commercialize LEDs based on the PhlatLight technology platform."
Luminus cites the agreement as validation of their patent portfolio that numbers 40 issued patents with more than 100 applications pending. Luminus has previously licensed PhlatLight LED technology to Forepi (Formosa Epitaxy) in March 2010, and also signed a cross-licensing agreement with Nichia in February 2009.
Epistar, meanwhile is the leading LED chip maker in Taiwan and has been involved in a flurry of recent partnerships and licensing agreements. Just this week Epistar invested in Oree – a company focused on SSL panel lights.
Back in January, Epistar invested in Huga Optotech – another Taiwanese LED chip maker. Around the same time, Epistar announced a collaboration with LED packaging expert Everlight Electronics and display maker TPV Technology. Presumably that partnership is focused on backlight products for TVs and computer displays.