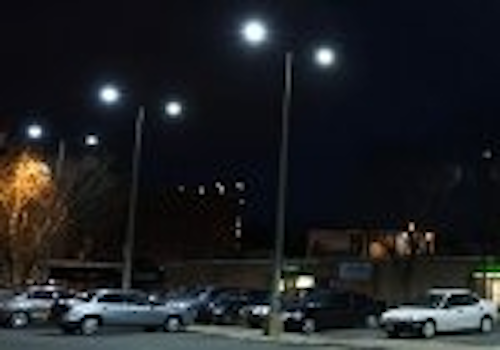 The City of Boston, MA just installed 20 Everlight SL-Dolphin LED street-light fixtures in the city's first cobra-head replacement project. The 128W fixtures replaced 250W high-pressure-sodium lights.
Boston installed the LED lights in a parking lot in the Jamaica Plain neighborhood. The cobra-head deployment comes on the heels of a trial of acorn-style LED lights on Boston Common. As chronicled in our story on the Common trial, the city indicated it was in the process of identifying potential sites for cobra-head lights.
In the Jamaica Plain deployment, Boston projects greater than 60% energy savings based on the efficiency of the LED lights. The 50,000-hr projected life of the LEDs will also cut maintenance costs.
It turns out that the LEDs have also improved the coverage of the light in the parking lot. Bryan Glascock, Environment Commissioner for the City of Boston, said, "The high pressure sodium lighting we had in our municipal lot here in Jamaica Plain looked pretty dated and didn't cover the lot well. The shadowed areas along with the strong orange hue made for a surreal scene at night. But these new LED cobra heads are sleek looking and provide even light levels across the parking lot without shadows, colors aren't washed out, you'd think the lot was brand new."
According to Everlight, LEDs provide several other advantages relative to legacy street-lighting technologies. There is no mercury or other hazardous substance in LEDs. Issues with shock, vibration, and impact are diminished since there is no arc, tube, or glass that can break. The LEDs are instant-on and –off devices and offer better color rendering.
For the city, LEDs cut greenhouse gas emissions through the energy savings. The city's Glascock said, "LED lighting is emerging as an important component of Boston's efforts to reduce energy costs, shrink our carbon footprint and help meet Mayor Menino's energy goals."