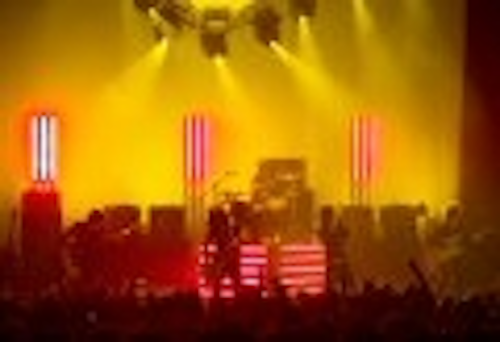 New York rock kings The Strokes are back on tour and wanted minimal front lighting and no follow spots to create a moody but spectacular design. This was achieved by set designers Troy Giddens and Chris Ragan using PixelRange LED fixtures from JTE of the UK, along with conventional moving fixtures and strobes.
The design includes 39 of JTE's PixelLine 1044s, 1.2 m linear battens that produce a seamless wash of colour. They were used for effects lighting focused directly at the crowd, creating a large array of colour that can be viewed from all angles without losing any density. The tight LED configuration ensures that the colour output is true to the colour source, rather than looking like a mixture of red, green and blue dots.
The only front lights in the design are 6 PixelLine 110s, which are mounted on the back of the downstage towers to produce saturated colour washes across the stage. These units were chosen for there capability to provide four-colour RGBA output, while several PixelPar 90 projector units were at the last minute as truss toners. The PixelRange fixtures were programmed and controlled via JTE's PixelDrive system.
"Neither of us has been happier with a fixture of any kind after the first use," said Giddens. "They have done everything we wanted and much more. We will probably use them in all our future designs in some form or another."
Dancing on Ice accompanied by LEDs
Some 700 LED fixtures also formed part of the spectacular lighting design developed by British company HSL for the UK television show "Dancing on Ice". The set design is based on 109 large 3D "crystals" overhanging the ice rink, and the lighting designers spent months researching how these structures would reflect and refract the output from different types of light source.
The result is a lighting design that is heavily based on LED elements. First, a selection of ChromaStrips from Pulsar were used on each crystal, designed to highlight perceptible movement as well as colouring inside the crystal block. ChromaStrips were also used to illuminate the edge of the ice rink.
A total of 80 PixelLine 1044s from JTE were also used in a number of locations -- to illuminate the floor of the "kiss or cry" area, light the mirrored surface of the judge's area, and front-light the crystals -- while more than 60 PixelPars were also deployed in different parts of the set. The LED light sources, along with conventional moving lights, were controlled by the designers via a WholeHog II console with three overdrive units.