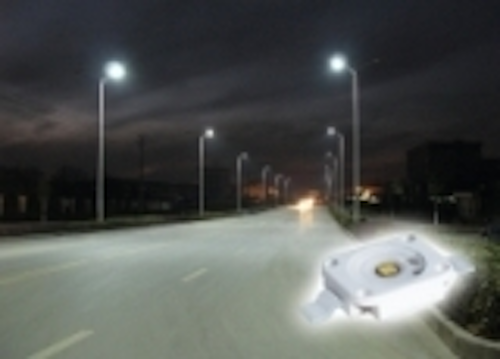 LEDs overhead in China
OSRAM Opto Semiconductors has announced that its Golden DRAGON LEDs are lighting up a major thoroughfare of Jing Jiang City in the Jiangsu province of China.
The 180W prototype LED streetlights were installed by Jiangsu Hua Jing Photoelectronics for replacing traditional 250W HID lamps. Based on Hua Jing's testing, these Golden DRAGON based-street lamps can offer over 37% energy savings with improvement in night visibility.
Jiangsu Hua Jing's pilot project in Jing Jiang City is to install fourteen 8-meter-high street lights with Golden DRAGON LEDs on Fuyang Road. There are currently ~8000 street lights in Jing Jiang city and its development zone.
In China, the Ministry of Science and Technology is pushing to replace traditional incandescence lighting with energy-efficient LEDs and has set an objective of achieving RMB260 billion in energy savings by 2015.Getting the new LED lamps approved in Jing Jiang will be a combined effort of the government and the local community, working closely with Jiangsu Hua Jing.
Beat the heat online
OSRAM Opto Semiconductors is now providing thermal models for computing different LED designs as downloads. In addition to electrical, mechanical and optical data, a compact model for Flotherm software is now permanently available online for calculating thermal behavior.
Customers can find all the documents and latest data needed for calculating thermal variables at www.osram-os.com/thermal-files. Different designs can be tested without having to build costly prototypes or carry out time-consuming measurements.
The data is available for standard high-power LEDs in the visible range, particularly for the DRAGON family, for the Advanced Power TopLED range, the Power TopLED range and some OSTAR versions.
The compact model available on the website is a simplified thermal geometry model that can be integrated in "Flotherm" software and used for customer-specific calculations. It is suitable, for example, for calculating the temperature distribution in a planned system. With extended application support, it is possible to design all end applications including display backlighting in terms of thermal criteria.