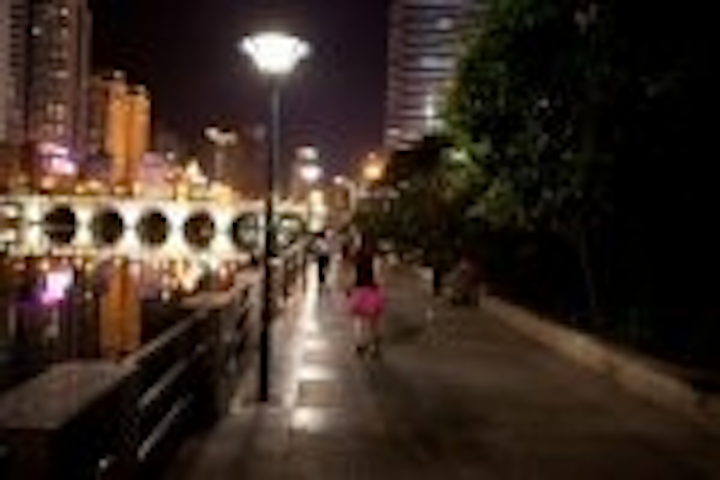 LightSavers, an international program to evaluate the use of LED lighting and smart controls in outdoor spaces, has been launched by The Climate Group at the UN climate talks in Copenhagen, Denmark. The Group's (see
press release
describes several other initiatives launched simultaneously.
LightSavers will test how LEDs and smart controls perform in real-world applications, while working with its members to plan for scale-up and to encourage LED-friendly policies and financing products.
The Climate Group says that LED lamps, combined with smart controls, can cut CO2 emissions by 50 to 70%. LED lighting also reduces costs, enhances public safety, minimizes light pollution and makes public spaces friendlier at night.
The program was started by the City of Toronto and the Toronto Atmospheric Fund, which is already running a series of local projects. LightSavers is funded generously by the HSBC Climate Partnership.
LightSavers has launched a global trial to test the efficacy and cost savings of outdoor LEDs in a series of cities, beginning with Adelaide, Guiyang, Hong Kong, Kolkata, London, Mumbai, New York, Tianjin and Toronto (see details below).
The launch of the New York program was announced in September 2009 – see LED pilot projects get green light in the Big Green Apple.
The Climate Group is an independent, not-for-profit organization working internationally with government and business leaders to advance smart policies and technologies to cut global emissions and accelerate a low carbon economy.
Speaking in support of the LightSavers announcement from the C40 Mayors event in Copenhagen, the Mayor of London, Boris Johnson, said, "London is pleased to be working with The Climate Group to progress trials of energy-busting street lighting to speed up their uptake.
"The potential to cut the city's carbon emissions and energy bills with new technologies is huge. By working in partnership, cities have the clout to catalyse the market for greener technologies and drive down procurement costs. We are already taking a series of ambitious yet practical steps to cut carbon in London by 60 per cent by 2025 which includes the installation of 3000 LED traffic lights from 2010." [See News].
More information on the LightSavers program is available at www.theclimategroup.org/programs/leds. Details of the international trials are:
New York City, United States
The New York Department of Transportation is testing nine LED products in Central Park and on FDR East Side Drive.
Toronto, Canada
Four City of Toronto agencies are testing parking lot, parking garage, and pedestrian pathway LED lighting products, some with smart controls.
London, United Kingdom
Transport for London is testing high powered LED roadway lights in demanding applications on their Red Routes.
Adelaide, Australia
Pedestrian pathway LED retrofit in the northern parklands of Adelaide.
Hong Kong, China
Two municipal universities are testing and comparing Japanese, Chinese, and American made LED pathway luminaries on their respective campuses.
Guiyang, China
The municipal government is testing two Chinese-made LED street light luminaires, one on a riverside pedestrian pathway and another on a local street (see details below).
Tianjin, China
Local government agencies are testing two Chinese-made LED street lights products in a new ecocity development and on a university campus.
Kolkata, India
The Kolkata Municipal Corporation is testing over a 100 Indian made LED street light luminaries in several locales.
Mumbai, India
The Thane Municipal Corporation will install a trial of LED streetlights in the Greater Mumbai Region with support from the national government's Bureau of Energy Efficiency.
Guiyang, China (Guizhou Province, in southwestern China)
The Naming River winds through Guiyang's downtown and is a major recreational asset for local residents. Many important cultural resources are located along its banks, including the Jiaxiu Lou Tower, and pedestrian paths along both banks are popular with local residents, which are lit along their 8 kilometer length by 150-watt high pressure sodium (HPS) post-top luminaries.
Guiyang has procured and installed 130 LED luminaires of the post-top variety designed and manufactured by Hiyu in Tianjin, and using Cree LEDs. The new luminaires are rated at 120 watts and produce a warm white light, as well as decorative striations on the pavement. There are two Study Areas, one consisting of 4 baseline luminaires, and the other comprising four Hiyu LED luminaires. Monitoring began in November 2009. Interim results will be available in March 2010.