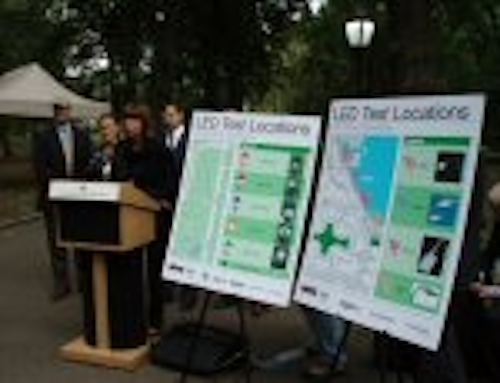 The New York City Department of Transportation (NYCDOT) in partnership with international non-governmental organisation The Climate Group has launched its first LED lighting pilot tests in two of the City's iconic urban settings, namely Central Park and the FDR Drive expressway.
Both locations are under evaluation by the US Department of Energy's (DOE) Gateway Solid-State Lighting Demonstration Program, whose purpose is to provide independent, third-party evaluation of LED products installed in real-world applications.
The LED pilot projects are part of NYC DOT Commissioner Janette Sadik-Khan's continuing plan to develop "world class, sustainable streets" in the City of New York. With help from the Gateway program, the new LED pilot projects will quantify the financial savings and performance of LEDs while visibly demonstrating the improved illumination for Central Park's 25 million visitors and FDR Drive's 150,000 daily drivers.
Working with The Climate Group and Gateway, the City will gather reliable data on the lifespan, power consumption and lighting performance of 9 different LED products over a 12-month testing period. Products undergoing testing in Central Park include those from King Luminaire, Lumec, Sentry, Spring City and Sylvania, while the suppliers of products on the FDR include BetaLED, eLumen, LED Roadway Lighting and LSI.
As part of The Climate Group's global LED pilot program, a partnership of more than 10 major cities including London and Mumbai, the City of New York is the first participating city to begin pilot testing.
"Energy-efficient lighting is a common-sense approach to tackling global climate change, and New York continues to lead the way as an internationally recognized leader in sustainability." says Commissioner Sadik-Khan.
The City of New York is very active in the 'greening' of the Big Apple and in exploring opportunities that will achieve this mandate. Rohit Aggarwala, Director of NYC Mayor's Office for Long-term Planning and Sustainability, said, "Achieving a greener, greater New York will require all City agencies and all New Yorkers to take those steps where they can cost-effectively improve efficiency and the environment in the areas they control."
DOE estimates that LED lighting can substantially reduce energy costs, by as much as 60 percent, compared with existing streetlights. The actual savings achieved always depends on the particulars of the individual installation, including what was installed previously, what product is replacing it and the site details. They also provide a whiter light than the high-pressure sodium (HPS) lights typically used that allows pedestrians and drivers to see more clearly at night.
Additionally, as LEDs last longer than the existing lights, so fewer required bulb replacements on roadways like FDR mean fewer lane closures and improved convenience for drivers. The combined benefits of cost, convenience and safety are what the Central Park and FDR LED pilots aim to test.
"The opportunity to reduce electricity use across the nation by implementing advanced street and outdoor area illumination technologies like solid-state lighting is tremendous," stated James Brodrick, DOE's Lighting Program Manager. "The deliberate, measured process being undertaken by the New York City Department of Transportation is exactly the approach we recommend for other cities considering similar lighting evaluation efforts. LED products are still in a relatively early stage of commercialization, so conscientious and thorough evaluation efforts such as these are essential to providing invaluable field experience and a current status check on product cost and energy performance."
Dasha Rettew, who leads The Climate Group's US Cities & Technology Program said, "We are proud to partner with the City of New York on this groundbreaking new LED pilot project. By working with the world's largest cities, we will establish a series of outdoor LED pilot tests that will unlock critical data, independent from manufacturers, to demonstrate the real-world return on investment, performance and carbon saving benefits of this transformative and scalable clean technology."
Phil Jessup, Global Cities and Technology Director, The Climate Group, said, "LED lighting and smart controls remain relatively untested outdoors for long periods. Our pilots will create a compelling body of verifiable information for cities and businesses looking to cut costs and carbon but still sceptical about how they perform. If LEDs and smart controls can achieve acceptance and scale in large cities, substantial carbon emissions reductions will follow."
Almost two-thirds of outdoor lighting is owned by municipal and regional governments, areas where the Climate Group's city and state members can have a major impact by driving demand through scaled up LED projects.
Founded in 2004, The Climate Group is an independent, not-for-profit organisation working internationally with government and business leaders to advance smart policies and technologies to cut global emissions and accelerate a low carbon economy. Relative to the NYC announcement, The Climate Group is coordinating a global series of pilot projects designed to demonstrate the business case for LED lighting to city decision makers, with the aim of scaling up the global market for the technology.
The low carbon lighting program forms one key component of The Climate Group's strategy on the Global Deployment of low carbon technologies that will have a large impact on reducing global emissions if brought to commercial scale. The LED programme is funded by the HSBC Climate Partnership. As one of its aims, the five-year, $100 million partnership works to realize cleaner, greener cities across the world.