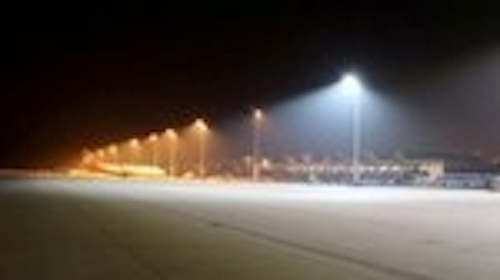 Ewo, a manufacturer of LED lighting systems for use in public spaces based in Italy, has installed LED flood lights for the apron and taxiway areas of the Munich airport. The installation indicates a reduction in energy consumption of 46 percent relative to the high-pressure sodium (HPS) fixtures that were replaced.
The project involved two high masts; each mast used six F32 flood light luminaires. In the apron areas, 32 DP31 light modules were installed (consuming 542W), while 24 DS32 light modules (consuming 406W) were used in the taxiway. Nine Cree XP-G LEDs were installed per module, each with an output of 130-lm-per LED at a color temperature of 5500K.
In total, the flood lights illuminate a 95 x 350-meter area (33,000 m
2
or 357,000 ft
2
) in accordance with the standards of ICAO guidelines and in compliance with the EN 12464-2 standard (lighting of outdoor work places). Cost and complexity of the project were reduced by using the existing masts and fixtures; mast height is 24 meters. In some cases, optical lenses were added to ensure the taxiway behind the apron was also illuminated according to specifications. The LED flood lights also use a digital addressable lighting interface (DALI) control system to provide further energy-saving potential through dimming. Illuminance is 30 lux at ground level.
Ewo performed a calculation of the energy savings associated with installing seven high masts in the airport. Total power consumption for the LED flood light fixtures would be 18 kW. Relative to the HPS lights, which use four 100W and three 400W bulbs per mast and consumed 38.5 kW, the savings is 46 percent or 86.1 kW/yr based on an energy cost of 0.12 €/kWh and 4200 hours of lighting per year. The estimated savings in greenhouse gas emissions is 51,600 kg CO
2
/yr based on an energy mix of 600 g/kWh.
ewo has also installed LED flood lights at the Innsbruck airport in Austria. This larger installation involved 14 high-mast systems. The energy savings was estimated at 70 percent.