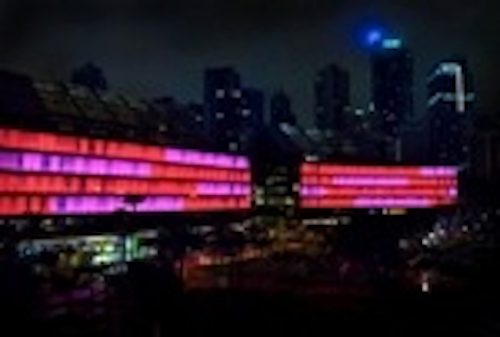 Klik Systems supplied LED-based linear light fixtures mounted in office windowsills to implement the new Luminous at Darling Quarter interactive lighting display in Sydney, Australia. The RGB solid-state lighting (SSL) in 557 windows spread over four stories and spanning 150m enables dynamic nighttime presentations six nights a week, and allows visitors, in person and via the Internet, to interact with the lighting.
The Commonwealth Bank of Australia, Sydney Harbour Foreshore Authority, and Lend Leases partnered to create the dynamic facade-lighting project that they say is the largest permanently-installed interactive light display in the world. The 150m canvas is meant to entertain visitors to the entertainment-oriented Darling Quarter precinct.
On Tuesday through Thursday, the light system displays peaceful animations such as clouds or waves. On the weekends the presentation is more upbeat and dynamic and can be synchronized with music. Moreover, visitors can try their hand at creating light-based art using consoles in a precinct park. And virtual visitors can control the lights, albeit with a short time lapse.
Each of the windows in the display is essentially a pixel. The installation relies on louver blinds in each of the windows to reflect light. The linear fixtures are angled upwards with a 10° spreader lens. Pixel-by-pixel controls allows for simple animations. The fixtures have red, green, and blue LEDs, along with a white LED to maximize the color palette.
Energy-efficient LEDs make the Sydney display economically feasible in terms of energy usage. Moreover, solar panels mounted on the roofs of the buildings that house the display offset the energy used in the nighttime displays.