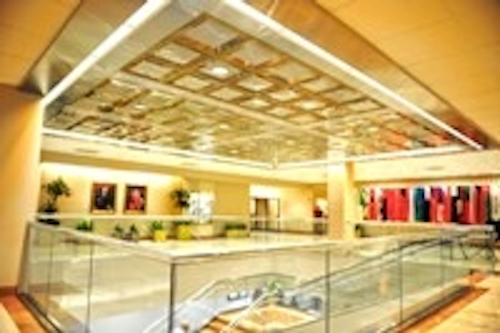 Marriott International's headquarters located in Bethesda, MD, has installed LED lighting from GE Lighting Solutions based in East Cleveland, OH. The indoor and outdoor lighting upgrade began in 2006 when Marriott decided to seek LEED certification for the 30-year-old facility. Security and energy savings are expected to amount to 860,000 kilowatt hour (kWh) reduction in electricity use and more than $120,000 savings in energy and maintenance costs per year. The payback period should be slightly more than two years.
Outdoor security system
Security and energy savings were top priorities when considering new lighting to cover the nearly two million square feet (45 acres) of parking and garage space at Marriott headquarters. After testing competitive exterior garage fixtures, parking lot lights and contemporary post tops, Marriott selected GE's family of high-efficiency Evolve LED lighting systems.
"We preferred the exceptional output and uniformity of GE's Evolve LED lighting," says Jim Young, vice president, corporate facilities for Marriott International, Inc. "GE performed a comprehensive lighting audit of our existing system, provided photometric analysis with 3D renderings of the new system, and forecasted our energy and maintenance savings. GE excelled as both a trusted strategic consultant and solutions provider."
The outdoor lots are lit by more than 230 Evolve LED area lights, while inside the parking deck nearly 400 Evolve LED garage light fixtures and several Evolve LED tunnel lights are used in addition to efficient GE T8 fluorescent lamps. Collectively, a 280W reduction per outdoor lighting fixture is expected to reduce electricity use by 580,000 kWh/yr, equating to $70,000 in utility cost savings.
"Our LED area lights consume between 97 and 220 watts and were designed to replace traditional 400- to 1000-watt high-intensity discharge systems that can spill and waste light," said Steve Briggs, vice president of product management and marketing for GE Lighting Solutions.
Marriott is also using dimming in the garage lighting by utilizing motion sensors and GE's ProSys lighting control system. When the garage is vacant, light output is reduced by 60% and adjusts to 100% when motion is detected. The controls alone are expected to produce nearly $11,000 in energy savings (88,000-kWh reduction) each year. The control system also interfaces with Marriott's video surveillance center, alerting guards to after-hours movement in the deck and focusing the nearest security camera to where motion is detected.
Indoor fixture replacement
Inside the eight floor, 900,000 square foot headquarters building, GE replaced 1000 65W incandescent bulbs with 7W LED PAR20 lamps in all hallways. The 58W difference will deliver a nearly $18,000 difference (150,000-kWh savings) in electricity expense over 261 working days.
In the foyer, special scaffolding is needed to reach fixtures in the high ceiling (Fig. 1). Marriott would change the lights, which lasted just one to two years on average, only once a year at a cost close to $3,000. Maintenance savings will now add up after GE replaced 12 90W bulbs with 20W LED PAR38 lamps. Rated for 50,000 hours of life, GE's LEDs could keep the scaffolding away for up to seven years.
In the company's auditorium, combined halogen and CFL lighting was inadequate for Marriott's dimming needs. While the halogen lights could be dimmed, the CFLs could not. A fully dimmable system using 140 GE 12W LED BR30 lamps now provide higher light levels and $2300 in annual energy savings.
In the building's lower level, 72 GE Lumination recessed LED troffers, which were introduced last month, were added. When illuminated, the 2x2-ft fixtures produce an even glow. While off, they appear free of a light source and blend in with the ceiling.
Marriott's comprehensive LED update will decrease annual electricity use by 66% (680,000 kWh outside, 180,000 kWh inside) at its headquarters, reducing energy expense by an estimated $104,000. Maintenance mitigation will yield an additional $210,000 savings over the next decade for a total return exceeding $120,000 a year. To offset the upfront cost, Marriott will also receive more than $130,000 in utility rebates and EPACT savings.