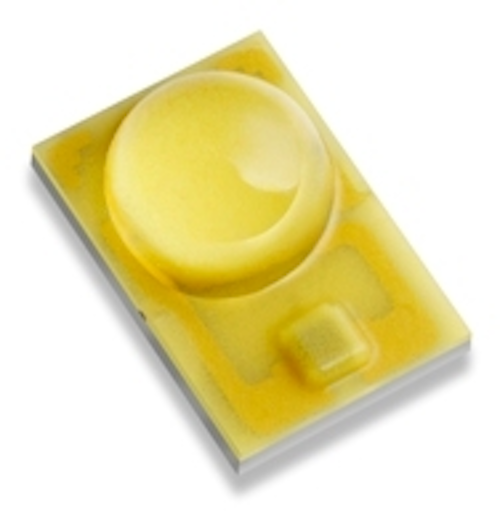 Philips Lumileds has added the Luxeon R to its LED portfolio with devices that range in output from 160-200 lm, and target outdoor lighting. Sunovia Energy Technologies announced that the DesignLights Consortium has certified the EvoLucia cobrahead and shoebox outdoor solid-state lighting (SSL) fixtures. And the California Department of Transportation (Caltrans) plans to deploy as many as 67,000 LED roadway lights in the next two years.
Luxeon R
Lumileds says that the Luxeon R offers higher efficacy and more light output than the existing Luxeon Rebel and ES LEDs, while using a compatible footprint. The company sees those advantages as specifically important in applications such as roadway and parking-area lighting.
The new LEDs are available across a wide range of CCTs from 3000K to 6500K. The efficacy ranges from 105 lm/W at 3000K or warm white to 128 lm/W at 5000K and above. Note that the efficacy specs are based on 350 mA drive current while the lumen output specs are based on 700 mA of drive current, and efficacy will drop at the higher current level.
All of the Luxeon R LEDs are hot tested at 85°C and binned within a 5-MacAdam-ellipse range as part of Philips Freedom From Binning program. The complete line offers a minimum CRI of 70.
DLC certification
Meanwhile, DLC certification can be critical for luminaire vendors selling their products into municipal and utility markets because the certification is often used as a de facto approved vendor list. Sunovia expects the certification to open up business, especially with customers seeking rebates and incentives from government and utility energy-efficiency programs.
"The Design Light Consortium has established a set of performance requirements for luminaire manufacturers that are not covered by the Energy Star requirements," said David Martin, vice president of engineering at Sunovia. "This has led to higher-quality LED lighting products being created which demonstrate improved electrical performance, improved uniformity in photometric characteristics, and a more stringent definition of product lifetimes."
Caltrans' plans
According to the Caltrans website, the agency plans to retrofit 67,000 lights with SSL in 24 months – beginning this summer. The agency is counting on 50% energy savings and extended lifetime of 15-20 years from the products. Caltrans has said that it may opt for lights that include adaptive-control technology.
The New Streetlights website also reported on the development and said that the first phase would target 30,000-40,000 lights in the state highway system. The project will total $4-$5 million and will be paid for with existing Caltrans funding. The agency said it had not selected a vendor but will be issuing a specification for an RFP.
In a separate development, Leotek announced that Caltrans used the Leotek GreenCobra luminaires in a recent project retrofitting the Dumbarton Bridge over the San Francisco Bay. Caltrans replaced 400W high-pressure sodium (HPS) lights with 183W LED lights.