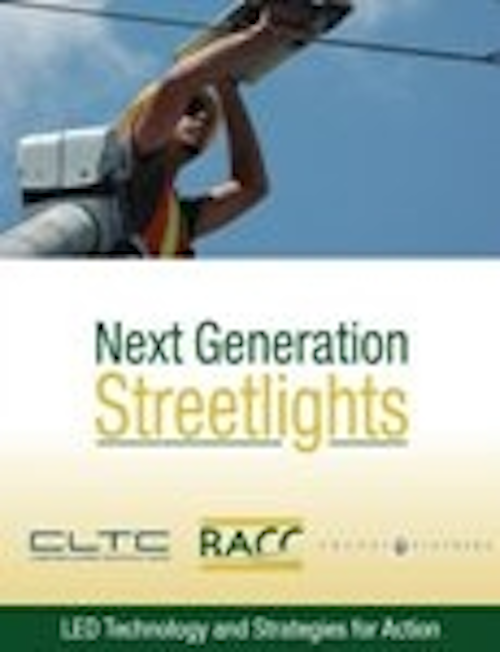 "Next generation streetlights: LED technology and strategies for action" is a new guidebook intended to help municipalities that are considering installation of LED-based street lights. The Bay Area Climate Collaborative (BACC) and Energy Solutions co-authored the solid-state lighting (SSL) guide with assistance from the California Lighting Technology Center (CLTC) at the University of California at Davis and support from Public Financial Management.
The guide was written primarily to assist San Francisco Bay area municipalities that are considering SSL installations. But the guide would be informative to any municipality considering LED-based roadway lighting. The document covers topics ranging from the basics of LED lighting technology to the use of adaptive controls in roadway applications to financing options for SSL projects.
The BACC and Energy Solutions have identified more than 240,000 municipally-owned fixtures in the Bay area that are ripe for conversion. "Upgrading these street lights to LEDs would yield annual energy savings of 60 million kWh, enough to power 10,000 single-family California homes," said Ted Pope, vice president at Energy Solutions. "Furthermore, advanced controls networks that tune light levels, communicate status and provide other features can generate additional energy and maintenance savings through smarter management of street-light systems."
A number of SSL manufacturers and the Pacific Gas and Electric utility are also partners in the BACC-led Next Generation Streetlight Initiative that's focused on catalyzing the conversion of more than 200,000 lights. For example, GE Lighting recently announced its participation, and Swarco Traffic Americas made a similar announcement back in August.
The partners announced the new guide at the recent Next Generation Streetlight Workshop held in Hayward, CA. Hayward is in the process of upgrading 8000 street lights to SSL. "We know how beneficial the upgrade to advanced street lights is to a city's budget, to the environment, and to public safety," says Morad Fakhrai, director of public works for the City of Hayward. "We also know that a successful transition can be complex. This guide is a great resource and will be of great benefit to all forward-thinking cities."
"A city such as Hayward with 8000 lights could save $450,000 per year or more in power and maintenance costs, improve lighting quality, and reduce its climate impacts," said Rafael Reyes, BACC executive director. "This is a good time for cities to act given the currently substantial incentives available, low cost of financing and very attractive payback times."
The new guidebook is available in PDF form on the BACC website.